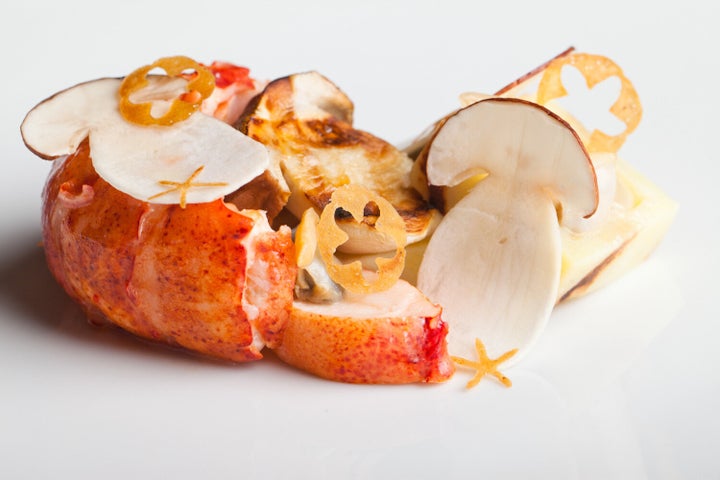 Last year, chef Matthew Kirkley grew frustrated with Chicago's geography. He worked at L20 in Chicago, a renowned fine dining restaurant known for its seafood, but how could he possibly serve coastal-quality seafood on a consistent basis at a restaurant nowhere near an ocean? When shellfish products would get delivered to the restaurant, Kirkley recalls, they would be in a state of shock and paralysis from their long journey to Chicago. The quality of the meat would deteriorate, hindering the kitchen's ability to work with it. Abalone, for example, lose 40 percent of their body weight when they come out of the water.
"I want the best environment I can create for the animals," Kirkley told The Huffington Post. He wanted fresh, just out-of-the-water species. Starting last October, to begin compensating for Chicago's unavoidable lack of ocean, he began planning for an in-house aquarium at L20. But this wasn't going to be a hokey tank full of colorful fish or an algae-ridden aquarium you could find in any restaurant in Chinatown. Kirkley balked at the idea of most conventional tanks, which he described as "sad, death row kind of chambers." He literally wanted to re-create the ocean in a tank.
Kirkley found a designer that believed in his vision, and soon tracked down a metal shop and an aquarium supplier to work with. No one knew exactly how it all would work in a commercial space, so much of the design work was uncharted territory. They had to figure out how to clean and maintain the water, how the animals would take to the water and which animals would be compatible with each other. This project, of course, was on top of his full-time duties as executive chef.
Two hundred gallons of saltwater later, they decided to create one big chamber that would be partitioned into two tanks and two separate systems. The tanks would live at different salinity levels -- one mimicking the British Channel and one closer to the California/Oregon coast. The water around the British Isles tends to be quite shallow, with a lot of cold water pushing into it. That's where you find great turbot and dover sole, among other fish. For now, Kirkley has blue lobsters from Scotland in the British Channel tank.
In the Pacific tank, the abalone from The Abalone Farm in California have been doing well enough that he's ready to introduce geoduck soon. "The goal is to get as much diversity as possible," he says, but it's always a risk when adding species. What happens when the geoduck are introduced? When he adds langoustines to the British Channel tank, will the blue lobsters be too agressive? Will the langoustines have a place to hide? "The whole thing is a bit of a process," he explains.
The abalone has been "killer quality," and he can now use it for sashimi. On his blog, Kirkley describes the process of introducing the abalone, which required placing them in different trays of different temperatures before entering the tank. Otherwise, the shock of the tank temperature could kill them.
Diners reaction has been positive, says Kirkley. They often get a tour of the restaurant before the meal so they can see the tanks in action. A meal at L20 runs $120 for the prix fixe menu and $180 for the tasting menu.
So how did Kirkley get the go-ahead to embark on such a costly project? "In a marketplace like Chicago where the pork and oyster restaurant seems neverending...I'm lucky that I have the support from the partners to let me go more fine dining," he says. "It was a gift from [L20 owner] Rich Melman to me."
"We're not out to make money at L20, we're out to be the best restaurant we can be," Kirkley says.
See photos of the tanks and menu items below. All photos by Anjali Pinto.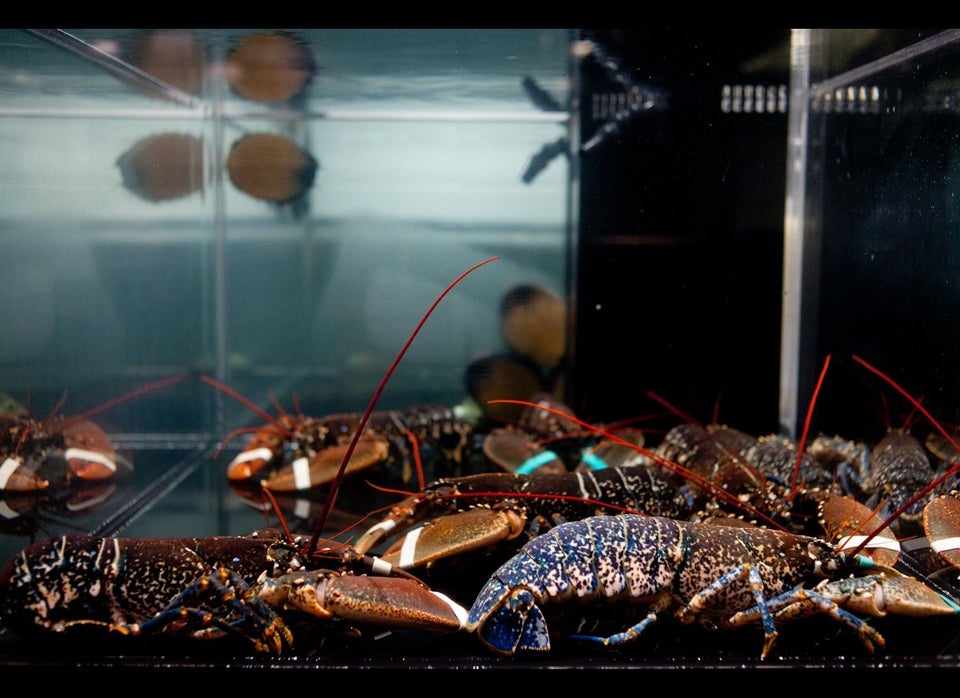 L20 Fish Tanks
Popular in the Community