Matthew Marks and Ellsworth Kelly are two names that need no introduction. The gallery owner and artist have shared a close relationship ever since the first Matthew Marks Gallery opened in 1994 with a showing of Kelly's work. When it came time to open up a new location in Los Angeles, Marks turned to Kelly once again to set the tone for what is sure to be a great addition to the local art scene.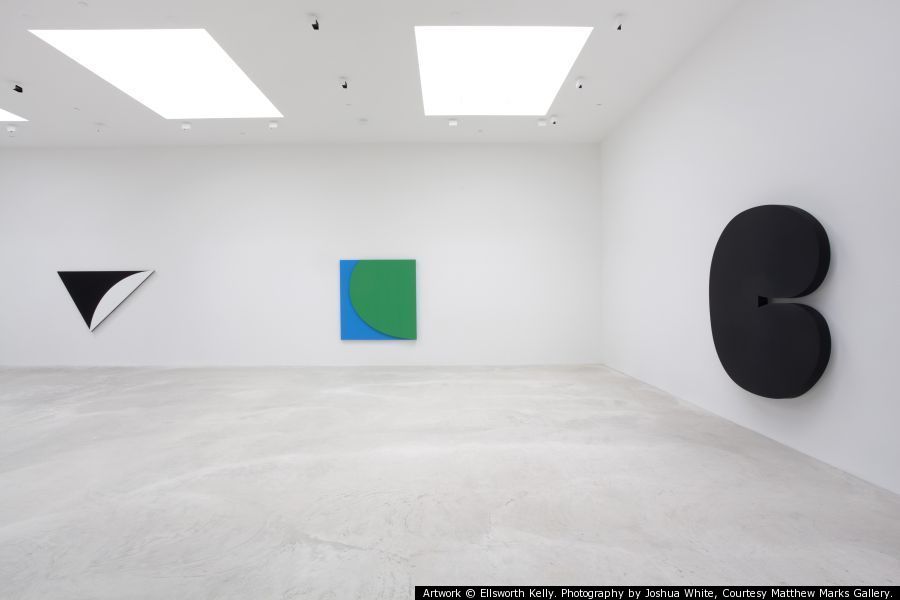 Installation view of Ellsworth Kelly: Los Angeles, Matthew Marks Gallery, Los Angeles, January 20 – April 7, 2012.
For Ellsworth Kelly: Los Angeles, six new two-panel paintings by the artists will be shown for the first time. The work, exemplifying Kelly's perspective on color and shape, pops against the serene blank walls of the new space. Also showing are collages from Kelly's time in Paris during the early to mid-fifties that inform his sculpture that adorns the facade of the freshly-built space.
This extra consideration to create an encompassing experience is characteristic of Marks' reputation of making the art primary and business secondary as opposed to other dealers whose ears only open for the phrase 'blue chip.' We caught up with Matthew Marks where he discussed wrangling Kelly, opening up the new space in LA and why it might be a good idea to open exhibitions on Saturdays again.
Was it an obvious choice to recruit Ellsworth Kelly for your inaugural exhibition, this being his 15th solo show with Matthew Marks Gallery?
I've represented Ellsworth for more than twenty years and he inaugurated my gallery in Chelsea in 1994 with a show of new paintings. I wouldn't say it was an obvious choice, rather an instinctual one. This is a great moment for Ellsworth Kelly because he has three large touring retrospective exhibitions on at the moment. One of them is at LACMA where he is showing more than half of the prints he has made in his lifetime as well as an important group of paintings and a sculpture. He hasn't shown in Los Angeles in more than fifteen years, and I thought it would be good to have a show of new work alongside a historical show so that the public could see the full 50-year span of his work.
How did you want to differentiate this location with the Matthew Marks galleries in New York and what did you want to keep intact?
Unlike my galleries in New York, the space in Los Angeles is completely new -- built from the ground up. Los Angeles was an opportunity to take the best elements from the many spaces I've renovated over the years and put them into one new building. There is a lot that will feelfamiliar to anyone who knows my galleries like the concrete floor and the skylights. Here though, everything is a little more refined than in New York. The skylights were designed to deliver even light all day long without casting shadows.
Could you talk a bit about integrating Kelly's sculpture with the facade of the building? What were some of the challenges and what was the desired effect?
I wasn't certain that Ellsworth would agree to the commission, so that was the principal challenge. I took a model of the building to his studio in upstate New York and asked him if he would like to make a sculpture for one of the exterior walls. By the end of the visit he hadn't given me any indication one way or the other if he was interested. I left feeling a little defeated, but when I went back to see him a few months later, I saw that he had put a large black bar across the facade of the building. It looked like a famous painting of his from 1966. Initially I had imagined one of his shapes, perhaps in a color, floating on the facade, but with this single gesture, he turned the whole building into one of his sculptures. Ellsworth worked closely with our architect, Peter Zellner, in order to make sure that all of the details were perfect.
How do you see Matthew Marks Gallery fitting in with the LA art scene?

Among an artist's primary audience are other artists. LA is a great city in which to open a gallery because there are so many artists and art schools here. Since many of my artists have not shown here for a long time and some, like Katharina Fritsch and Brice Marden, have never had one-person shows in Los Angeles at all, I think that our program stands to contribute quite a lot to the scene.
Lastly, how has the transition been opening up the gallery in Los Angeles? What will take some getting used to?

The words "traffic" and "parking" seem to come up a lot in conversation. Thirty years ago some of the dealers would have their openings on Saturday afternoons, and I'm thinking about bringing that back. It's a little easier to get around during the day on weekends.
PHOTO GALLERY
Ellsworth Kelly: Los Angeles At Matthew Marks Gallery
Calling all HuffPost superfans!
Sign up for membership to become a founding member and help shape HuffPost's next chapter
BEFORE YOU GO