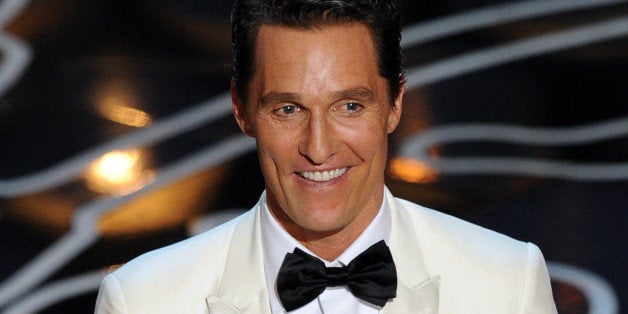 Yesterday was a big day for Matthew McConaughey. It was both the 86th Academy Awards, where he won Best Actor for Dallas Buyers Club, and the penultimate episode for water cooler fodder True Detective on HBO. Both have generated substantial waves on the Internet and beyond.
Few have had the sort of career renaissance experienced by McConaughey. Particularly with his exemplary work as Rust Cohle on True Detective, it is clear audiences are witnessing an actor in his prime. But, more than a performer hitting a stride, the plaudits surrounding McConaughey's recent body of work have reached a fevered pitch.
We are, the pundits say, in the midst of a historic McConaissance.
This career about-face fuels the perception that McConaughey has entered a realm untouched by any thespian, ever. Recent chatter places him in the same league as cinema's titans -- Hollywood's Mount Rushmore -- individuals who helped pioneer acting as both a craft and a calling, not merely a profession. So how unprecedented is it?
Hyperbole is the calling card for many covering the entertainment industry. Now, to be sure, McConaughey's recent body of work is impressive. In addition to Dallas Buyers Club and True Detective, 2013 also featured his tone-setting cameo in Wolf of Wall Street. And then there's his stunning work in Mud, Bernie, Magic Mike and Killer Joe. But how does it rank up to some of the most famous stretches of acting in the history of movies?
Exhibit A: Brando, Marlon
Acting streak: 1950-1957
Highlights: At the risk of being hyperbolic, few will ever touch the raw ability of Marlon Brando. While his screen debut (1950's The Men) only hinted at his influence, Brando's next role as Stanley Kowalski in A Streetcar Named Desire was revelatory. He did not win an Oscar for Streetcar, but he did three years later for another iconic performance: Terry Malloy in On the Waterfront. Brando was also nominated during this period for playing Emiliano Zapata in Viva Zapata!; Marc Antony in the 1953 film adaptation of Shakespeare's Julius Caesar; and as Air Force Major Lloyd Gruver in Sayonara (1957).
Even his misfires during this period are noteworthy. The trite The Wild Ones essentially created the rebel teen heartthrob archetype later embodied by the likes of James Dean and Luke Perry. And his single foray into musical fare (a very cringeworthy Guys & Dolls) provided a template for future Method actors and their own attempts at awkward singing (see also: Crowe, Russell and Day Lewis, Daniel).
Brando, it should also be noted, later delivered perhaps the greatest back-to-back performances in the history of movies: Vito Corleone in The Godfather (1972), and his searing autobiographical work in Last Tango in Paris.
Exhibit B: Nicholson, Jack
Acting streak: 1969-1975
Highlights: After a decade of Roger Corman C-movies and writing for The Monkees, few seemed less destined for superstardom than Jack Nicholson. But with his breakout role in the trailblazing Easy Rider, Nicholson forged ahead with a furry of roles that eventually culminated in both an Oscar, and a persona he'd utilize for the rest of his career. Following Easy Rider, he balanced understated independent productions with more high profile roles that continued to earn him praise.
Five Easy Pieces established him as a leading man, while additional turns in The Last Detail and Chinatown affirmed his range and emerging on-screen presence. By 1975's One Flew Over the Cuckoo's Nest, the Nicholson blend of brooding machismo and brash humor had been cemented. Years later, films such as As Good As It Gets failed to truly capture the vulnerability Nicholson tapped into before his official transition into becoming a full-fledged movie star.
1971's Carnal Knowledge is also essential viewing, which pairs vintage Nicholson with none other than Art Garfunkel.
Exhibit C: Pacino, Al
Acting streak: 1972-1979
Highlights: Still fairly unknown before his breakout role in The Godfather, the famed meteoric rise of Pacino need no description. His work during this period is a shopping cart list of some of the '70s best films: Serpico, The Godfather: Part II, Dog Day Afternoon. He concluded the decade with only two other roles: Bobby Deerfield and And Justice for All.
That's six films and five Oscar nominations in a nine-year span.
While Nicholson evolved into a full-bodied movie star, and Brando embarked on his own tumultuous career path, Pacino's hot streak ended abruptly with 1980's gay-baiting Cruisin'. His career would not fully recover for at least a decade (and even then, the legend is prone to fits of hamminess).
Exhibit D: De Niro, Robert
Acting streak: 1973-1986
Highlights: After early-'70s Nicholson, perhaps there is no greater heir to Brando's throne than Robert De Niro. Today's audiences are accustomed to a portrait of Bobby D teasing Ben Stiller, or otherwise sleepwalking through his roles. But when he burst onto the scene as the original muse for Martin Scorsese, there was nobody better.
What is striking about De Niro is the extent to which he continued disappearing into his roles years, even decades after achieving notoriety (see: Awakenings, Cape Fear). But Golden Age De Niro is roughly Mean Streets to anything he did before Angel Heart and his scene chewing work in The Untouchables.
In between, his films include classics such as: Bang the Drum Slowly, The Godfather: Part II, Taxi Driver, The Deer Hunter, Raging Bull, True Confessions, The King of Comedy, Once Upon a Time in America, Brazil and The Mission.
Of course, De Niro and Pacino's co-star John Cazale holds the distinction for perhaps the greatest batting average in all of American cinema. During his six-year film career he appeared in five movies, each nominated for Best Picture. Like Pacino, his filmography consists of a "what's what" for great American films: The Godfather, The Conversation, The Godfather Part II, Dog Day Afternoon and The Deer Hunter.
Other worthy stretches of impressive, high profile acting include: the filmographies of William Hurt (1983-1987) and Tom Hanks (1992-2000). The common thread for each performer: a sustained body of work threaded over a several year span. McConaughey, unfortunately, is not quite there yet.
Moreover, what makes these particular case studies unique is the iconography involved. Stanley Kowalski, Travis Bickle, and Michael Corleone are characters at the center of some of the most memorable moments in acting history. The run does not compare, at least not yet, with the four legendary runs described above partly because many of McConaughey's recent performances have been in memorable supporting turns.
Will McConaughey's Detective Cohle have the same long-term resonance? The jury is still out. One thing in his favor is his Wolf of Wall Street chest-thumping improvisation -- the film's de facto anthem -- is quickly earning pop culture stripes. It might be the 2014 equivalent of Jack Nicholson's famous diner scene in Five Easy Pieces, or akin to De Niro's "You talkin' to me?" moment. Time will tell...
So while the ultimate outcome of McConaughey's current streak is unclear (and barring any romantic comedy relapse), it certainly feels like we have the makings of a historic bit of acting. And, all things considered, it is a relief seeing McConaughey push himself beyond the easily parodied doldrums of Ghosts of Girlfriends Past (shout out to Michael Douglas).
Popular in the Community