Matthew McConaughey had a very McConaughey reaction to seeing his now wife, Camila Alves McConaughey, for the first time in a club some years ago.
The actor recalled their intense first encounter and "great connection" during an interview with Oprah Winfrey for Apple TV+'s "The Oprah Conversation" about his new memoir, "Greenlights."
"I remember the first words out of my mouth ― which is in the book ― I didn't say, 'Who is that?' I said, 'What is that?'" McConaughey said of seeing his wife in an exclusive clip shared with People magazine on Tuesday.
"It moved ― she moved across the room and then I went into dispatch," he said. "We had a great connection. I spoke better Spanish and Portuguese that night than I have since, you know what I mean?"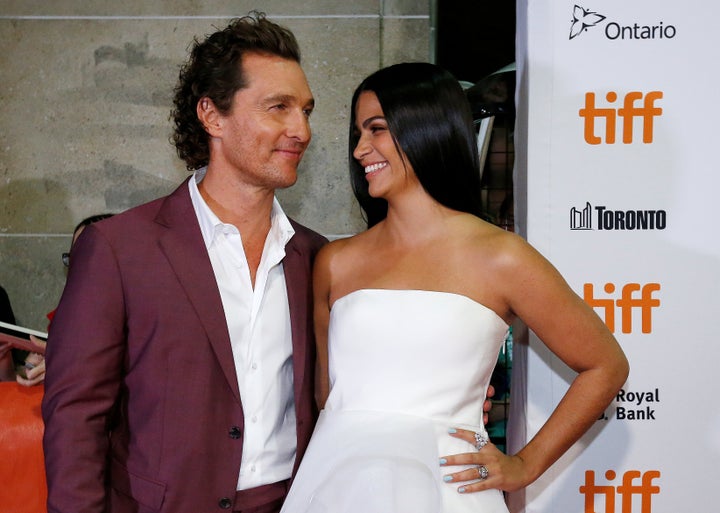 In his new book, the Oscar winner writes, "Were her feet even touching the ground? I couldn't be sure ... she was defying gravity."
The "True Detective" star recently recalled the same story for People magazine, adding that he wasn't ever sure if he would meet someone who was right for him.
"I was like, 'Wait, just wait. Be yourself. She'll come if she's supposed to come. And if she doesn't, that's okay, you're still a good man, McConaughey,'" he revealed.
But once he saw Camila, it was game over.
"Since that evening I have not wanted to spend time with any other woman, definitely have not wanted to sleep with anyone else," he told the outlet. "I've not wanted to have children with anyone else other than her. We have a love that we never question."
Alves and McConaughey met in 2006 and later married in 2012. The two share three children: Levi, 12, Vida, 10, and Livingston, 8.
Camila recently posted a sweet throwback photo and message to McConaughey on their anniversary in June.
"As a young adult I never thought of marriage, I always told my parents don't ever expect me to get married!!" she wrote. "Well ... you fully changed my perspectives and the meaning of it.'"