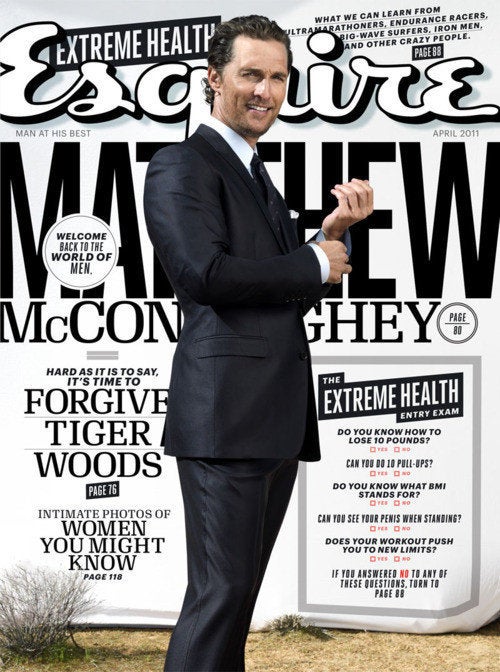 Movie critics are, by and large, saying Matthew McConaughey's career is back on track, but the leading man has them fooled: he's had life figured out for quite a while now.
The critically acclaimed star of "The Lincoln Lawyer" covers the new issue of Esquire Magazine and opens up about his famously relaxed home life, revealing a depth not often portrayed in films or interviews. Perhaps McConaughey is relaxed because he sees death as just a continuation of life. And because he's survived some extreme discomfort, even if it was self-inflicted.
"I went to Peru after 'A Time to Kill'. I had a lot to think about," McConaughey remembers. "Just grabbed a bag and left. And I went up and further in, until I was about as uncomfortable and unfamiliar with things as I could be. You know why I don't go to Europe for these trips? Because in Europe everything pretty much works, or it almost works. I mean, it's almost what I'm used to. But Peru, Mali, Morocco? Nothing works. Nothing. So you have to give up on what you know. At least I do. And for a while it's very uncomfortable. Extremely. I mean you're faking the language as best you can, nodding at things you probably shouldn't be, and you start to miss the things you know. And you need to eat."
Known the past decade more for his panned (though profitable) romantic comedies, McConaughey established himself as an actor with hits such as "Dazed and Confused," "A Time To Kill," and "Amistad." Those films, along with the court drama in "The Lincoln Lawyer," show off that serious side, but the public perception of him isn't all wrong.
On the topic of his partner, Camila Alves, McConaughey is quiet, saying it's no one's business why they've decided not to marry. But he makes it clear that he loves his Brazilian partner, the mother of his two children.
"I found the woman I wanna do it with, the woman I wanna make a family with, hopefully live our life out together," he says. "She needs to have 50 percent of that. I mean, it's a lot easier for me to be at 100 percent. I'd always been 100 percent. It's braver for me at 50 percent."
For much more from McConaughey, click over to Esquire. For a video featuring McConaughey's interview, scroll down and watch.
WATCH
:
Popular in the Community