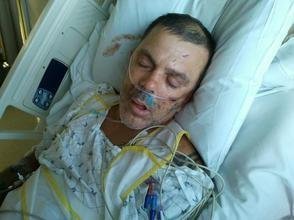 The mayor of Mobile, Ala. said Tuesday that the brutal beating of Matthew Owens was not a hate crime, as new details emerge implicating the victim as the instigator.
One person claimed that Owens spewed racial slurs at the group and even pulled out two knives, according to WPMI.
"It was like kitchen knives," witness David Dinkins told the station. "They were long."
Another witness, Lemicka Whisenhunt, quoted Owens as saying "he's going to lynch all the black kids, he hates black n---ers, he hates that we moved on this street."
Police aren't saying much about the incident Saturday, but they and mayor Sam Jones said the attack is not being investigated as a hate crime, or even a race issue.
"Wait for the facts as far as we're concerned right now," Jones told Fox 10. "But, I would caution people to not jump to conclusions right now. This is really very divisive in communities throughout the country, and I don't think we have any reason to be divisive here because I don't see any evidence of that."
He said the fact that one of the attackers allegedly said, "Now that's justice for Trayvon" has been "blown out of proportion."
The February death of Trayvon Martin has received international attention after George Zimmerman allegedly killed the 17-year-old boy in what he said was self defense.
Owens reportedly has a long rap sheet in the area, the station reported. He's been booked on charges of assault, domestic violence, harassment and public intoxication in the past.
No arrests have been made in the attack.

Popular in the Community