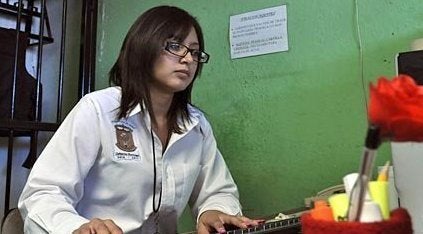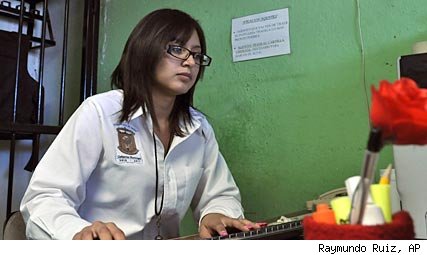 I began my career serving Praxedis as the Secretary of Public Security, 4 months after former police chief Manuel Castro-Martínez was murdered. He refused to cooperate with the cartels. Because of that, in January of 2009, the cartel kidnapped him, beheaded him and left his head at the doorstep of the police department. Because of the violence that drug cartels brought to our city, no one wanted to act as police chief. Interim police chiefs were appointed, yet after being threatened by the cartels they would resign. Some were even murdered for not cooperating with the cartel. Nearly 2 years after the death of former police chief Castro-Martinez, I was appointed the new Director of Public Security, or police chief, for the Praxedis in October 2010. This was something that had never been done. Our plan was to use a nonviolent approach. In order to restore trust and confidence in the community, we were going to hire more female police officers (because women were seen as less threatening), and we were not going to be armed.
JODY CHRISTOPHERSON: so go the ghosts of mexico, part 1, is inspired by the true story of a young woman Marisol Valles Garcia -- who made headlines as the "bravest woman in mexico" when she volunteered to be the police chief of Praxedis, Chihuahua, Mexico -- despite the execution of former police chief Manuel Castro-Martínez . This is the first in your three-play cycle that explores the U.S./Mexico drug wars. Can you you talk about what drew you to this topic and also have you ever met Marisol Valles Garcia?
MATTHEW PAUL OLMOS: As the violence in Mexico was just becoming absolutely ridiculous, I couldn't understand how the media in the U.S. just wasn't covering it in any major way; and so I began to think on a play about this strangely un'talked about topic; mind this is back in 2009 maybe? So I began researching and it wasn't long before I realized just how daunting this topic was, there were so many complexities, I had no idea how to approach it. So after discovering the maze of online material in Spanish about the drug wars (of which I am not anywhere near a fluent speaker) I began to see it as three plays. Soon after, I stumbled upon the press coverage about Marisol, and the story drew me in immediately. Mostly because with all the mess that President Calderon had created in trying to fight the drug problems by stupid force, here was this woman with an approach closer in philosophy to Arab Spring; seeing the power that the people still hold in the face of violence and the power of money.
I have never met Marisol, but have just recently with, the help of La MaMa e.t.c. and my close friend and playwright (and former journalist) Maria Alexandria Beech, been in contact with her and are currently trying to organize bringing her out to see the production. We have also found out there is another play inspired by her in Sweden. And interestingly, after speaking with somebody from the law firm handling her case for political asylum in the U.S., we found out there is another play inspired by her going on in Sweeden, and that there was more to her volunteering for the Chief of Police position than the media reported; so the scariness of when real life meets media meets art has been particularly intriguing.
JC: Tell me about making the decision to cast Laura Butler Rivera to play Marisol? What does Laura bring to this character?
MPO: I'd known Laura from a reading years back, and then was re'introduced to her while I was in residence at Mabou Mines/Suite; she was there with the amazing Daniel Irizzary; and I was just so taken by both of their theatricality as performers. Also, my director Meiyin Wang went to school with Laura, and so we both knew that she would bring not only the deep characterization of Mari (the character), but also a physical life that would just add another level to the theatrical of the world that Meiyin and I were creating.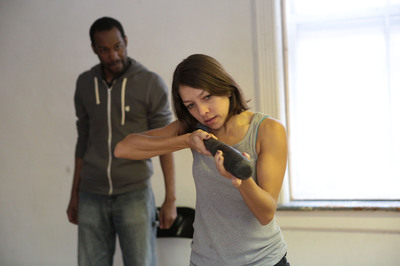 Laura Butler Rivera rehearses a scene from so go the ghosts of mexico with fight director Shaka Smith. Photo by Steven Schreiber
JC: As mentioned, so go the ghosts of mexico is a three part epic. What does this first part establish and can you give us a hint as to what the other two parts cover?
MPO: so go the ghosts of mexico is a three-play cycle, meaning the plays are connected, but it is not a trilogy, so each play is completely new circumstances, and characters. The first play focuses on when the political becomes the personal, as the complexities of these drug wars impact this lone woman. The second play explores the drug cartels themselves, but as portrayed though a cast of all women as a commentary of the machismo of their world. And the third play focuses on the U.S. involvement. The one thread running through all three plays are the use of music as a character, and the ghosts of the dead which appear in all three.
JC: What's it like working with director Meiyin Wang? What does her style of directing bring to this play?
MPO: The intelligence that Meiyin brings to the project is not only that she has smart opinions and ideas about the play and the world; but also she understands theatricality in a way that is just so comforting to a playwright. One of the things I'm learning about my process is that while questions of logic are helpful in finding clarity in my plays, they can also be quite destructive to the magic of the world. And Meiyin seems to find freedom in how best to create, illuminate, and ask questions of the more hyper'realistic elements of my work, as opposed to trying to hammer them down into the rules of everyday.

JC: Your work has recurring violent themes -- particularly beheadings.
MPO: Well, when people stop killing people in the name of money or whatever "belief" it is that they feel is so damned important, I'll stop putting their ridiculous behavior onstage.

JC: When I think of your plays what stands out most distinctly to me is your writing style and the types of stories you tell. Would you consider yourself experimental, impressionistic? It seems like you are drawn to underdogs, heroes and heroines, violence in the world that requires social justice, has little or not enough of a mouth piece and perhaps confinement? Are you an experimental writer taking on violence and injustice in an impressionistic way. What do you think?
MPO: Funny, I think of my work as being fairly straightforward, but at a certain point something out of the ordinary is going to happen, or we are going to realize that this world is not straightforward at all. I like the word impressionistic more than experimental for some reason. I think experimental, I think of abstract language met with geometric stage gestures, while my writing tends to be worlds and people that we know and recognize, but the rules have changed on them. And on us, the audience, but the struggle is that I want the audiences to not spend time trying to figure out the rules, rather to accept them and see what it means to them as the world unfolds.
Partially this way of storytelling is exciting to me because it embraces theatricality, it asks the audience and the production to expand our imaginations; partially I also just think this way. My brain can't seem to write a simple scene without something fantastical happening in the middle of it. But I suppose if I see the world as a collection of both ridiculousness, but also beauty, then it makes somehow perfect sense that my worlds tend to come out this way. The challenge then becomes, and has always been, how to best get audiences to come along with me and not think too normally.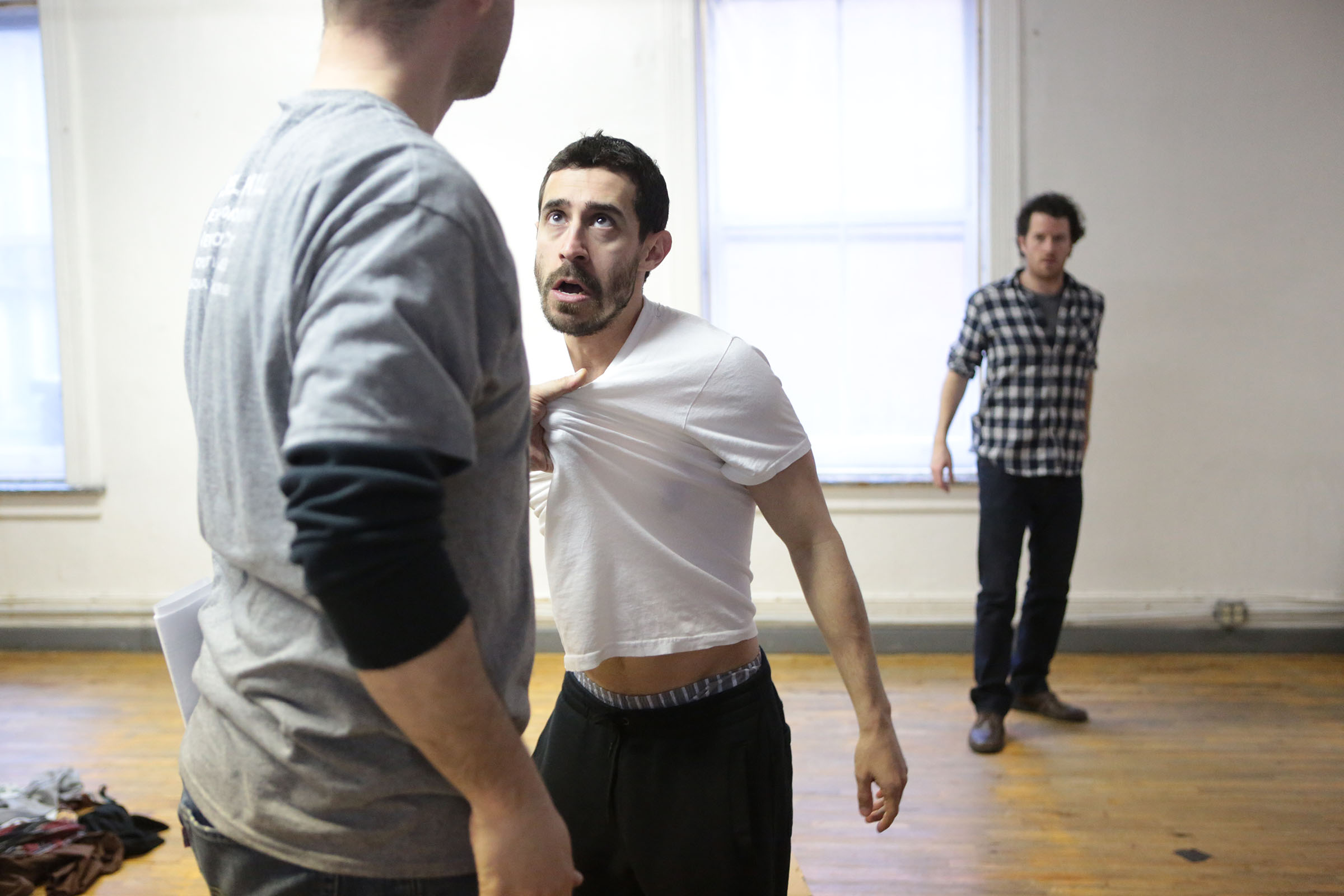 Luis Moreno, Jose Joaquin Perez, Peter O'Connor rehearse a scene from so go the ghosts of mexio photo by Steven Schreiber
JC: You've had a good year. You recently became a New York Theater Workshop Fellow, were awarded the Ellen Stewart Emerging Playwriting Award at LaMama and a Princess Grace Fellowship in playwriting. From what I know of you, you're a pretty humble person. What is it like to suddenly be in the spotlight?
MPO: ...well. My hope is that my heart and mind never get used to being awarded anything. Every once and while I'll like trip out and be like, "Whoa, I actually got that??? Little ol'me???" But at the same time, I know that my writing, my plays, they really are the effort of many people beyond me. Actors, directors, designers, dramaturges, friends, family who have spent time developing, reading, listening or even just talking about either the work itself, or the topic on which the plays are rooted. Not to mention the people who's lives, struggles and own work has triggered these plays. Nothing is done by one's self and so what is really humbling is just that any smart, talented people even want to engage in the work I do.
JC: Tell us about working at New Dramatists as part of your Princess Grace Fellowship?
MPO: As part of the Fellowship, I have the honor of being in residence at New Dramatists, which basically affords me the same opportunities as their resident playwrights for the year. And having an artistic home there has helped me in ways of just having a place to write or print something, to being able to sit in rehearsals of other amazingly skilled playwrights and getting to know their craft, to being part of a community in this our very solitary profession.
JC: What does it mean to be emerging? Are you a full time playwright? Do you still work a day job? Half a day job?
MPO: Hmm...tough question. I suppose because it still feels presumptuous to say that I am a full-time playwright, even though I recently left my longtime day job at the Lark Play Development Center. I still do part-time work at various places, but for right now I am giving it a go. It's a scary thing. To put your money on the table like this, it feels very much like I am at the roulette table and instead of putting $20 on red or like odds, I am putting my entire savings on my favorite number and closing my eyes while the little white ball bounces around.

JC: A few years ago at the 3 hour reading of I put the fear of Mexico in 'em I met your mom. She told me that when you were in high school you wrote a really long essay on Jim Morrison. How long was it again and how do you find ways to write so much?

MPO: Ha, oh I think it was like eighty pages maybe, which is to say yes, I was obsessed with Jim Morrison in high school. Um, honestly I write mostly in my head and in the margins of whatever research books I'm reading. Then after there is enough build up of ideas, characters, situations, then I actually sit down to write (spit out) some version of a theater piece. So I feel like most of my time is in research then minimal in writing...until rewriting comes along, then that takes over.

JC: I notice many of your play titles and sometimes your name are in lower case letters without punctuation. Can you talk about this choice? Is it a rejection of proper nouns?
MPO: Oh, I suppose I just have a problem with proper grammar, punctuation. I've a embarrassingly limited vocabulary. I actually feel a bit uneducated in the world of "proper writing," and so I really am attracted to the idea that what I do is about communication between people (sometimes animals), and so regardless of the rules of language, I feel that the ways of communicating what we have inside are pretty limitless, there are so many ways, and I am basically in love with how certain societies come up with new informal ways to speak to one another. And I try to reflect that in how I write.
JC: In the interview we did for the New York Theater Review a few years ago you said -- "what I sometimes succeed and sometimes fail to do is theatre that is important to the world we currently live in and that anyone can watch, people who can't afford tickets to theatre, people who have never been to theatre, and especially people who don't give a fuck about theatre." So, what do you think? Have you achieved this?
MPO: That's the fear. My mom will come out to the show and afterwards we'll talk about it, and I will be slightly nervous about what she took away, what she made of the more theatrical elements in the piece; if they meant anything to her. And honestly, if they didn't, I would probably take some self-pitying time to think about what I am doing with my life, if it means anything. Because despite all the theater I am either involved in, or support, I am almost gravely aware and sensitive to not just doing art for art's sake.
Perhaps the real litmus for this play would be if people with personal connections to what's going on in Mexico and the U.S. takes something away from the piece, or if Marisol is able to attend, what she makes of art inspired by her own life. Where art sounds in the deafening speak of real life.

JC: You mention that much of the news media is not reporting the full story of the cartels. What news media do you follow that is reporting this more in depth? I'd love to let our readers know!
MPO: there are various sites such as these:
I also subscribe to Stratforspecifically for their coverage of Mexico.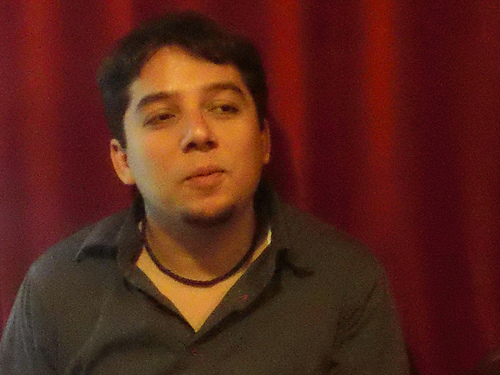 Playwright Matthew Paul Olmos. For more info on matthew and his work please visit: http://matthewpaulolmos.com/
so go the ghosts of mexico opens April 11 and closes April 28 at LaMaMa. 74A East 4th Street (btw Bowery & 2nd Ave) New York, NY 10003 for tickets: 212.475.7710 Box Office: M-Su 12-6pm or purchase online at : lamama.org