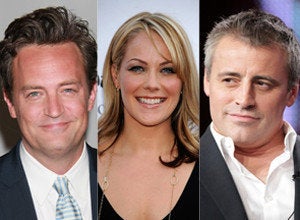 'Friends' is long over, but Joey and Chandler are having some new lady problems. Kind of.
Both Matthew Perry and Matt LeBlanc, whose careers have suffered in the wake of the end of their mega hit television show, have new sitcoms on the air this winter -- and both are going after the same lady.
Andrea Anders will play the lady friend of Perry in his upcoming sports agent/midlife crisis comedy, 'Mr. Sunshine,' premiering on ABC in February. Anders just so happens to also play the on-screen gal for LeBlanc in his new comedy, 'Episodes,' which airs Sunday nights on Showtime.
Even juicier? Anders is LeBlanc's real life girlfriend -- and she met him on the set of his old show, 'Joey,' a 'Friends' spinoff that famously failed. Weirder still: she played his girlfriend on that show. In art mirroring in life even further, LeBlanc plays a semi-characterization of himself on 'Episodes.' And you can't blame coincidental casting: Perry writes and produces 'Mr. Sunshine,' so he had to have had a major say in the love interest.
Things might have been simpler back in the day, when Chandler (Perry) dated Monica (Courtney Cox) and Joey (LeBlanc) pretty much dated himself.
At least there's one positive for LeBlanc in this woman-sharing business: 'Episodes' has gotten off to a solid start in both ratings and reviews.
Popular in the Community