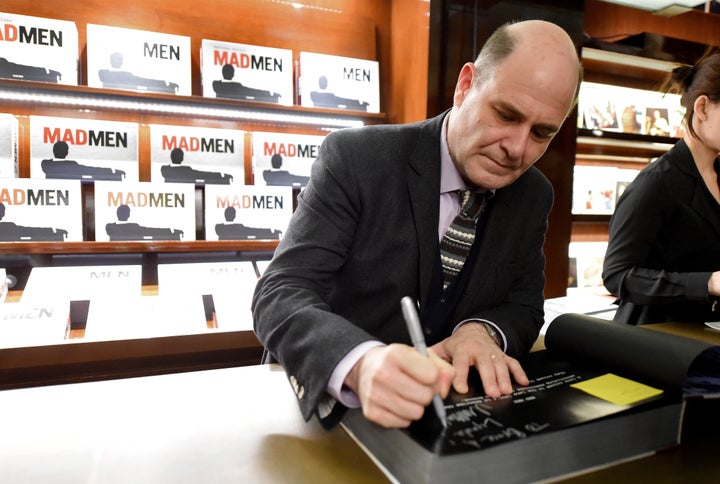 Matthew Weiner, the creator of the acclaimed AMC series "Mad Men," spoke out against the accusations of emotional and sexual abuse made against him by Kater Gordon, a former writer for the show.
During a book signing for his debut novel, "Heather, The Totality," Weiner denied Gordon's accusations but admitted to being a "demanding boss" during the writing of "Mad Men," behavior that he said he now regrets.
News reporter Zohreen Adamjee of KTTV-TV in Los Angeles recorded his remarks at a bookstore and published them to Twitter. 
"The allegations are not true and that this is a very important topic and a topic that has been an obsession of mine in my work and in my life," Weiner said, according to Adamjee's recording.
"For like 92 hours of the show, we wanted people to be having this conversation," he added, referencing "Mad Men." "It's great that we're having this conversation."
Earlier this month, Gordon told The Information that Weiner had sexually harassed her while she was a staff writer and his personal assistant on "Mad Men." 
Gordon claims that Weiner told her that she "owed it to him to let him" see her naked, she told the news site. Weiner at the time reportedly encouraged Gordon to pitch own ideas for the show and offered her a chance to co-write the show's season finales.
When asked why Gordon came forward with the allegation, Weiner said he did not want to "speak to someone else's character."
He did, however, say he regretted being a demanding and oftentimes angry boss while working on the AMC drama.
"I will say this, that I have hired dozens of women over the years and dozens of people," he said. "I am a demanding boss and, especially in the early years, it was very hard to do it and a lot of stress. It's very lonely ― I got better at it for sure."
Weiner then suggested he behaved that way because he wanted the show to be great, saying, "When I think back on it ... letting people go and being mad about having to rewrite everything, you're just angry a lot of the time, but you want the show to be great and it's kind of what you do."
He added, "So I guess if I had to do it over again I would do it differently. The person I am now would definitely do it differently."
Marti Noxon, a former senior consultant for "Mad Men," stood by Gordon's accusation and, in tweets Friday, described Weiner's management style as oppressive. 
"Anyone with an even cursory knowledge of the show Mad Men could imagine that very line coming from the mouth of Pete Campbell," Noxon said, referencing Weiner's alleged comment to Gordon.
"Matt, Pete's creator, is many things. He is devilishly clever and witty, but he is also, in the words of one of his colleagues, an 'emotional terrorist' who will badger, seduce and even tantrum in an attempt to get his needs met," Noxon added.
Noxon also described the working atmosphere that Weiner created, in which "everyone is constantly off guard and unsure where they stand."
"It is the kind of atmosphere where a comment like 'you owe it to me to show me your naked body' may ― or may not ― be a joke. And it may ― or may not ― lead to a demotion or even the end of a career."
Read the rest of Noxon's tweets below.
Calling all HuffPost superfans!
Sign up for membership to become a founding member and help shape HuffPost's next chapter