Matthew Whitaker won Showtime At The Apollo's revival special last year. He plans to bring his prodigious talent to a debut CD, Out Of The Box, within weeks. Working with producer Ray Chew, the piano and Hammond organ player says, "We just recorded stuff if I had an idea. There are six or seven composed songs. A few of them are my arrangements. The album shows I could play any style."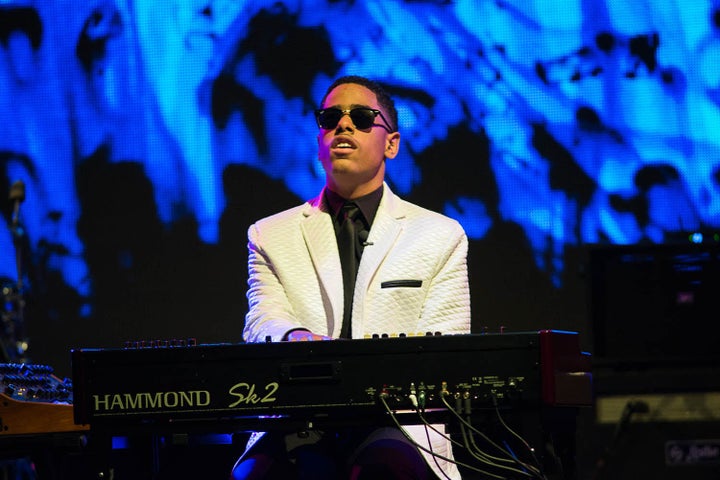 Earlier this month, 15-year-old Whitaker was heating up Harlem School of The Arts' benefit concert, at Manhattan's Highline Ballroom. He was the opening act, bandleader and musical director for Wé McDonald, the show-stopping finalist from last season's The Voice, with whom he shared this special showcase, sponsored by Walmart, with all proceeds benefitting the Harlem School of the Arts.
Hours before the concert, Whitaker was excited. Flashing a wide smile he forewarned, "Just be ready!" As technicians checked sound levels and finished setting the stage, he eagerly assured, "It's going to be really, really good tonight," quickly adding: "I know a bunch of songs and I love to play. I'll be performing material I've done live before. It's really hard for me to pick one absolute favorite song. But the highlight tonight is a medley of two Earth Wind & Fire songs."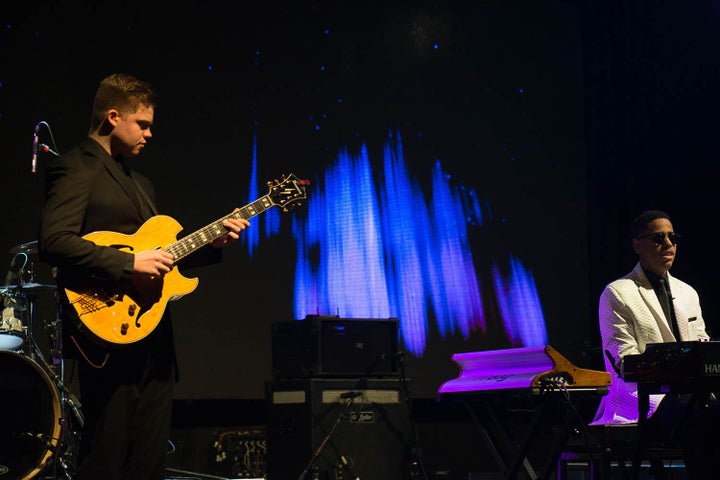 The young man with his band nailed the new arrangement of "In The Stone"/"September," extending his growing reputation as an able interpreter of other artists' repertoire. With reverential grace and illuminative gusto, the group conjured joyous images of abiding love and dancing under the stars. The groovy blend left the crowd wanting more. Exuberant applause followed the group's other inspired covers – gems like Kenny Durham's "Blue Bossa" and Stevie Wonder's "As." Folks around me were uttering comments like "beautiful" and "wonderful." At one point somebody shouted, "That boy just threw the holy spirit on that!"
You've been blind from birth, and your musical talent was nurtured early. Take me back to where it all began for you.
I've been playing since I was three, when I taught myself "Twinkle Twinkle Little Star" on a small keyboard my grandfather gave to me. Nobody showed me. When I turned five, I started piano lessons.
Was that at The Lighthouse?
Yes! It's a great school for people who are blind or visually impaired. It's really nice! That's where I get my classical training; that's where I learned how to read [musical notes with] Braille and also learn songs by ear. I still go there to this day. I'm currently learning a new piece by Beethoven, going deeper. My favorite genre, though, is jazz. Jazz allows you to be you. You're not really so much "in the box." You can do your thing!
How'd you first encounter jazz?
I love jazz music. When I was seven, my dad and me were driving around New York in his car. Jazz was playing. I just started liking it. I fell in love with it. Some of my favorite jazz musicians are: Jimmy Smith, Dr. Lonnie Smith, Art Tatum, Oscar Peterson, Barry Harris, Bud Powell, Thelonious Monk, Roy Haynes, Art Blakey, Horace Silver, Jimmy McGriff, Charles Earland…
You've performed with some big names too: Roy Ayres, Marc Cary and Stevie Wonder, among them. What's your all-time best moment onstage?
Showtime At The Apollo! It was so amazing, so historic when I won the special. The audience was everything. When [host] Steve Harvey announced that I won, the entire audience was roaring my name. I got a chance to talk to Steve Harvey backstage. He was the host way back in the nineties; he started it! I'm glad the show came back and that Steve Harvey also returned. He's just amazing. I want to meet him again!
Of course you also represent Harlem School of the Arts.
I've been going there since I was eight. It offers a bunch of different programs like theatre, voice, strings and brass ensemble. I feel happy when I'm there, because I get to meet new friends and friends I haven't seen in a while. It's just so amazing!
Related
Popular in the Community