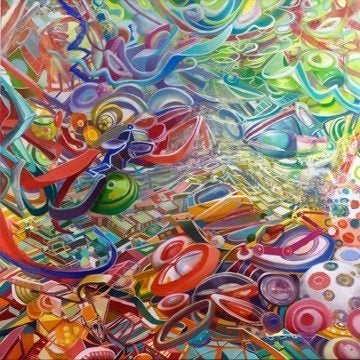 Matthias Düwel's "Eden" presents a plastic-coated world, constantly shifting and proliferating itself. A never-ending roller coaster coils and extends to take over the entire canvas, creating a space at once thrilling and nauseating to encounter. There is a silliness to the popping colors, which look as if plucked from a toy chest, yet their relentless overflow suggests the candy coated amusement park may have no exit.
Düwel, born in Germany, uses color as a weapon, presenting violets, greens and grays as sharp as you have ever seen them. So distracting are the colors that you become disoriented enough to miss the details that lie beneath. A tiny snow globe, an Airstream trailers, the small hideaways that we can find sanctuary from the overwhelming circus of reigning colors, the places we look to crawl into and hide away. Düwel's works accurately capture our desperate search to find a safe haven, a personal Eden, amidst the constant flux of our surroundings.
His drawings diverge from the theme of excess to focus on the Fukushima Daiichi nuclear disaster and its effects. Powerful in comparison with their colorful counterparts, the black and white images contain the dizzying detail of the paintings but stripped of color, resembling ghosts. Eventually the meticulous drawings evaporate into a puff of charcoal, a layer of smoke. Almost as threatening as the eternal excess of the paintings is the lack thereof in the drawings.
PHOTO GALLERY
Matthias Düwel
Calling all HuffPost superfans!
Sign up for membership to become a founding member and help shape HuffPost's next chapter
BEFORE YOU GO