Former national gymnastics champion and Olympic hopeful Mattie Larson delivered a powerful victim impact statement in court on Tuesday to the disgraced physician Larry Nassar.
"I was at the height of my career at 19, and the Olympics were just one year away, and I couldn't take any more of the abuse. I was broken," Larson said. "Larry, my coaches and USA Gymnastics turned the sport I fell in love with as a kid into my personal living hell."
"No matter what Larry was supposed to be treating on me over the years, usually my ankles or my knees, his fingers always seemed to find their way inside of me," Larson said to the courtroom. "Never once wearing gloves."
Larson articulately laid out the culture of elite gymnastics that allowed a predator like Nassar to thrive for so long. She pointed to the isolation of the infamous training center, the Karolyi Ranch (which USA Gymnastics recently cut ties with amid the Nassar scandal), as one factor that allowed Nassar's abuse to continue.
"There is an eerie feeling as soon as you step onto the Karolyi Ranch. It is completely removed from all civilization," Larson said. "In the case of an emergency, the closest hospital is so far away you'd need to be helicoptered there. To get to the ranch, you must drive up a dirt road for what seems like an eternity. And the closest civilization is a high-security prison 30 miles away. On top of that, there's no cell service. It's completely isolated, and that is no mistake. That is how the Karolyis wanted it."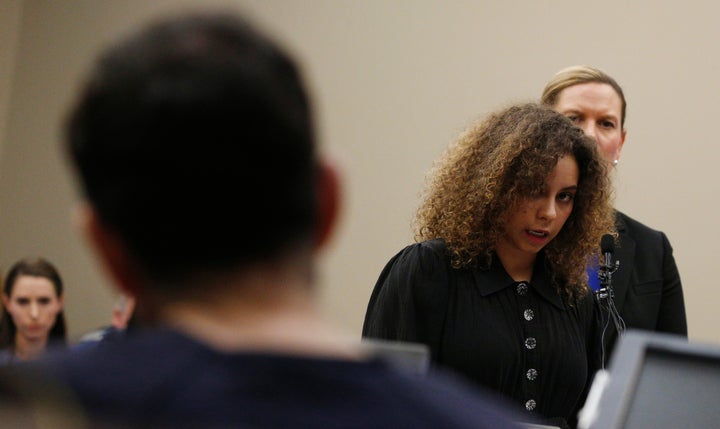 Larson described the grueling seven-hour practices six days a week that she and her teammates endured at the Karolyi Ranch, saying she "dreaded" going back every summer. After spiraling into a deep depression and "destructive" eating disorder at 15, Larson said she deliberately hit her head on a bathtub to get out of going back to the ranch.
"One time, I was so desperate not to go, I thought faking an injury bad enough was the only way out," Larson said as she began crying. "I was taking a bath when I decided to push the bath mat aside, splash water on the tiles, get on the floor and bang the back of my head against the tub hard enough to get a bump so it seemed like I slipped."
She added that this isolated environment allowed Nassar to prey on children for years.
"The complete detachment from the outside world, on top of careless and neglectful adults, made the ranch the perfect environment for abusers and molesters to thrive," Larson said. "But thanks to the women who have spoken here, that horrible place has been closed."
She also called out multiple people who enabled Nassar's abuse, including current USA Gymnastics trainer Debbie Van Horn, Karolyi Ranch owner Marta Karolyi and Michigan State University President Lou Anna Simon.
"Marta, did you keep Larry around because he was a good doctor?" Larson asked. "Or did you really keep him around because he let us compete when we were injured and was willing to keep your secrets?"
Simon said she learned about Nassar's abuse in 2014 when a Title IX complaint and a police report were filed against an unidentified doctor. "I was informed that a sports medicine doctor was under investigation," Simon said Wednesday after she appeared in court for Nassar's sentencing hearing. "I told people to play it straight up, and I did not receive a copy of the report. That's the truth."
Neither Van Horn or Karolyi have issued responses to Larson's statement.
Larson said she's currently working on legislation with Sen. Dianne Feinsten (D-Calif.) that would make it a federal crime for Olympic organizations not to report child sexual abuse allegations.
Larson concluded her statement by addressing Nassar in court: "You took complete advantage of my innocence. Your kindness was simply a ploy to molest me every chance you got. I can't even put into words how much I fucking hate you."
"You inspired me and you still do to this day," Raisman wrote to Larson. "And I know SO many others are inspired by your iconic floor routines and your bravery in speaking out. You are a true role model and that is far more valuable than any medal you could ever win."
The president of USA Gymnastics, Steve Penny, resigned in March 2017 after the allegations against Nassar went public. This week, three USA Gymnastics directors resigned, and John Geddert, a former Olympic coach and close friend of Nassar, retired.
Nassar is already serving 60 years in prison on child pornography charges and faces a minimum of an additional 25 years on the sexual misconduct charges.
Popular in the Community