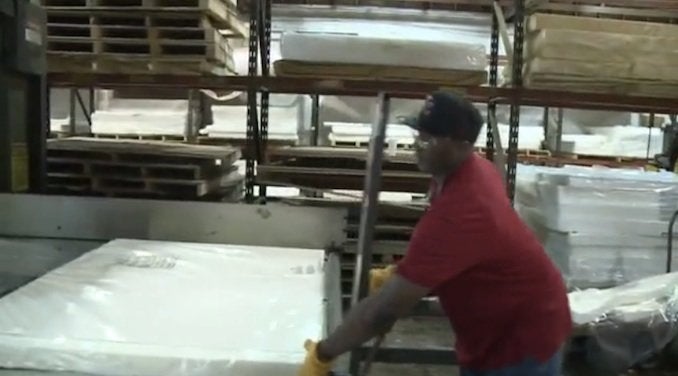 A mattress company in Topeka, Kansas, is helping both its customers and employees rest easy at night.
Memory Foam Liquidators, a company that sells wholesale memory foam products, hires former inmates no matter what their records reveal, WIBW reported. And, in the process, it's showing other businesses how employing ex-convicts can be profitable for everyone involved.
Because many of the ex-convicts lack a means of transportation, Farmer and Janelle Vance, an employee and former inmate, pick up and drop off 30 workers every day to make sure they can hold onto their jobs.
Experts say that giving former inmates a second chance is critical to reducing recidivism rates, and can also give businesses a competitive advantage.
But while getting a job is critical to staying out of jail, employers are notoriously reluctant to hire people who have served time, experts say.
Of the 262,000 federal prisoners who were released between 2002 and 2006, half couldn't find any form of employment during the period of their supervised release, according to the United States Department of Justice.
But among those who did get jobs, 93 percent were able to successfully reintegrate back into society.
Topeka is one of 100 cities and counties that has joined the Ban the Box Initiative, a campaign that removes barriers for ex-convicts seeking employment.
Launched in January by NELP, PICO National Network and All of Us or None, the group is working to remove barriers that prevent former inmates from getting a foot in the door.
Companies also benefit from a range of perks when hiring ex-convicts.
In addition to getting tax credits, employers will also likely see less employment turnover and can help disrupt the cycle of crime, Mike Green, an ex-convict who currently works as a consultant, wrote in a HuffPost blog.
For the employees, getting a job means a fresh chance to start over and make a meaningful contribution to society.
"This job has given people an opportunity to feel better about themselves," Vance told WIBW. "You're still human like everyone else and it does give you self worth that you can rise above the past."
Related