Whether or not you choose to celebrate Columbus Day, one thing's for sure: That mattress store down the street is going to have a huge sale. A blowout sale. The lowest prices of the season.
If you embark on a quest to discover a new mattress, here's a king-sized tip: You can haggle.
"The advice I give people [shopping for a mattress] is to never ever pay whatever the retail price is, never pay that price. There's so much markup in that industry," said Celia Kuperszmid Lehrman, a department content editor for Consumer Reports who monitors the mattress industry.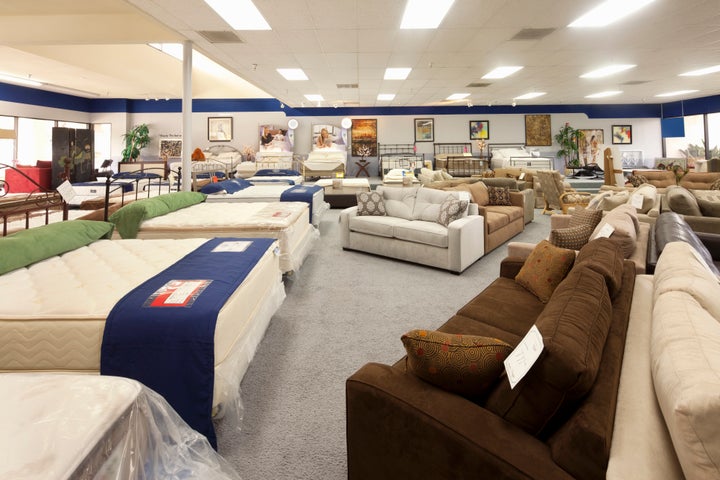 Consumer Reports says that mattresses cost so much because they carry a huge markup, and the difference between a $1,000 mattress and a $2,000 one can be as slight as six inches of cushioning instead of four, or a few extra springs.
Lehrman told HuffPost you can negotiate the asking price of a mattress down by as much as 50 percent in some cases, and if you go to a large mattress retailer such as Mattress Firm or Mattress Giant, chances are "you can negotiate on everything. The price, whether or not they pick up or take away your old one, the delivery fee -- everything is up for grabs."
She said the reason is because mattress retailers work in "blind purchases," or purchases made when you can't really see what you're buying.
"What manufacturers do is work out deals with the retailers so they slightly change the mattress, whether it's a different color, ticking, pattern, maybe they have one or two more springs or they're slightly thinner or thicker -- things that don't matter. But it allows the retailer to say this is an exclusive mattress," Lehrman said. "There's no way for you to know if that's true or not. That's why it's confusing. It's quite intentional."
Try starting at the back of the mattress store -- those tend to be much cheaper, and you can still negotiate those. And compare prices between stores. It's possible the mattress store has a price matching program, or even better: Lehrman said you might even be able to negotiate a mattress's sale price for another mattress that isn't on sale.
Also beware of return or restocking fees, which are also negotiable.
If all the negotiation seems exhausting, there are "disruptors in the industry," Lehrman pointed out, such as Casper, Tuft and Needle, and Costco ― all of which let you purchase online and have liberal return policies in case the mattress isn't a good fit.
Consumer Reports says there are no set rules for how long you should keep your mattress, but if you treat it right, you could have it for a decade or more.
Perhaps the best tip we can offer before you buy such a big purchase as a mattress is the same as it is for all big purchases: Walk out of the store and sleep on it.
Support HuffPost
A No-B.S. Guide To Life
Related
Popular in the Community