Can new e-commerce brand Loom & Leaf take on memory foam giant Tempur-Pedic?
Over the last fifteen years, e-commerce has transformed the retail industry. At the beginning of this "e-revolution," only products like books, movies and collectors' items, which were obviously easy to sell online, attracted serious competitors. Over the years, entrepreneurs have become increasingly daring and creative, inventing ways to compete in product categories previously assumed to require brick and mortar presences. In 2011, Saatva began to tear down the barriers to successful e-commerce in the mattress industry by focusing on quality and great service. In 2014, this online only mattress business generated $29 million in revenue and has clearly proven that the online market for mattresses is viable and healthy.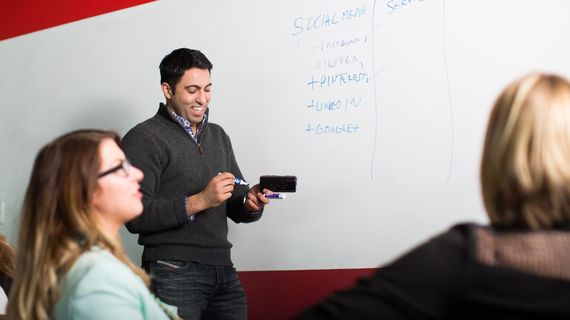 I had a chance to sit down with Mr. Joshi, co-founder of Saatva, after the company's SXSW launch of their new luxury memory foam brand Loom & Leaf, which they built to take on the best selling mattress in the United States, Tempur-Pedic.
Leo: Of all the products you could sell via e-commerce, why mattresses?

Ricky: The mattress industry is arguably one of the most broken consumer industries. Anyone who has ever spent hours wandering throughout a warehouse-like showroom can attest to this. First, you've got the traditional markups from stores paying for floor space, inefficient advertising, etc. But the problems go a step further. The industry is dominated by four manufacturers who intentionally make it difficult to compare prices, often changing just a stitch so that similar models are "different" across retailers. Pair that with high markups and unfair practices, and you're paying $3,500 for a mattress that costs $700 to make.

What's worse, mattress stores are known for terrible customer service. As an e-commerce company selling our own brand and product, we are able to take the opposite approach. Our customer service reps call customers the day they make their purchase. If a customer has a problem, they then have a direct line of contact who will do almost anything to make that customer happy.

L: Why did you launch Loom & Leaf as a different brand?

R: Saatva is the original online disrupter of the mattress industry; our value proposition is bringing formerly expensive eco-friendly luxury mattresses to market at an accessible price. We are the largest, online-only mattress company and we grew 270% last year. However, as we were building Saatva we noticed a big difference between memory foam and innerspring shoppers. Memory foam shoppers self-identified themselves and were looking for a very specific bedding experience. We put Tempur-Pedic in our sightlines and spent a year and a half figuring out how to bring the Saatva model to the memory foam space -selling a fully-featured $3500 luxury memory foam mattress for about 1/3 the price. Saatva and Loom & Leaf are for different customers; we believe our two brands now offer the ideal solution for both types.

L: So how does Loom & Leaf fare against Tempur-Pedic?

R: Tempur-Pedic is the best selling mattress brand in the United States. Loom and Leaf in many ways pushes the technology, luxury, and environmental boundaries beyond the big players, and can do this much more affordably. Our cooling technology is the best available. We offer one of the only affordable, eco-responsible premium memory foam mattresses. We use biofoam, organic cotton, and a natural thistle fire retardant, giving Americans an accessible, natural alternative. The legacy companies have not embraced many of the healthier, newer best of breed technologies. And other new start-ups don't pursue this higher-end market, leaving us in a unique space.

L: Can you explain more about these other start-ups? What are you able to do that they can't?

R: Every other mattress start-up follows the "bed in a box" model. This requires the mattress to be vacuum-sealed and sent to the customer via UPS or Fed-ex. In fact this is a much easier approach. But boxing creates issues with off-gassing, foam selection, weight, and thickness. State of the art technologies, such as new types of cooling layers, are tough to incorporate. So the customer must make a quality sacrifice when buying this type of product.

On the other hand, Loom & Leaf is delivered directly into the customer's home by full-service delivery people, nationwide. This means there are no product limitations, and Loom & Leaf is free to directly challenge high-end companies like Tempur-Pedic. It also means we are able to offer a frame, box spring, and convenient services such as installation. We'll even remove your old mattress set. If you want a firmer or softer mattress, we'll exchange it for another model. If you have a large home or live in a three-story town home, in-home installation and mattress removal sounds much more appealing than a wet box on your doorstep.

L: Sounds good, but how are you able to handle such a wide-scale distribution network as an e-commerce company?

R: It's taken four years, but through Saatva we've built a network of 12 factories and 35 distribution centers throughout the country. Throughout we have maintained strict product quality control and delivery standards. We actually monitor our deliveries in every city and location in the US. Having this delivery network also means that on average, our mattresses travel less than 100 miles from factory to bedroom. It was difficult, but thankfully we employ an amazing team that understood this unique challenge.

L: Thanks for your time and all the great insights. I wish you the best.
Loom & Leaf is a great example of entrepreneurs strategically identifying a problem in an inefficient, large market and carefully crafting a business plan to deliver a better solution. It is this kind of ingenuity and creativity that creates jobs, improves our quality of life and drives our economy. Our job as entrepreneurs is to follow the example of Loom and Leaf by challenging the status quo and competing fiercely with integrity. Thanks for leading the way Ricky!
Popular in the Community