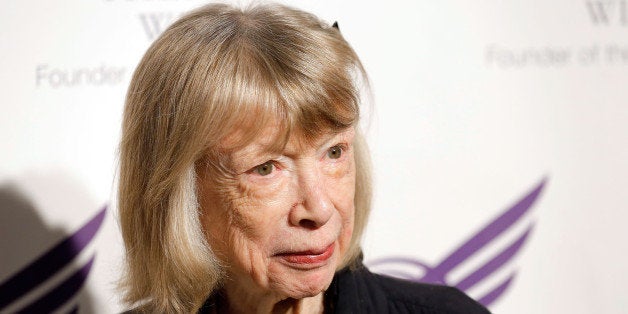 This year, 80-year-old Joan Didion became the face of designer label Céline, with an unabashed ad that says, "80 is vogue. 80 is beautiful." It was the first fashion shoot I'd ever seen that made me feel good about the future, as though I shouldn't have to slouch towards old age.
What makes Didion's portrait so alluringly, enduringly cool is its honest portrayal of a woman who's been through it. Though she's quadruple the age of your typical covergirl, her image is comparatively untouched. It is precisely this fact that sells the look; nothing could ever compel me to invest in an expensive statement piece quite like clear, unadulterated proof it will still be chic in my 80s.
Didion's Céline campaign drew criticism for exploiting an aging literary genius to sell a certain aesthetic. That argument could itself be considered ageist, for insinuating older women have less control over their careers. Furthermore, so long as the world keeps spinning, it's going to sell women a certain aesthetic; I vote for this one.
Didion's streamline, figure-hugging black turtleneck is as utilitarian as Steve Jobs', only more powerful because it fits and is so smartly accessorized. Hers is a wise, cerebral style that is self-actualized and knows no expiration date.
And then, after a small leap forward, the mature modeling industry almost completely regressed. In the following months, the media honed in on a host of mature fashion models, who were deemed beautiful precisely for appearing "better than you look in your twenties." A recent VICE article praised 60-year-old French model Yazemeenah Rossi for her "freakishly young-looking body."
According to Rossi, "Nobody likes to see their skin give in to gravity. It's been a human problem since the dawn of time." Other French fashionistas, like Alice Litscher, a professor of fashion communication at the Institut Français de la Mode, believe fear of aging is a contemporary American crisis. I agree.
Interviews with this emerging class of Benjamin Button models reveal older women are subjected to the same intense pressure to appear "freakishly young" that is imposed on girls in their teens and 20s.
Sixty-three-year-old Marie Helvin, who showcased Aliza Reger's new lingerie line for JD Williams, recently told YOU Magazine, "I very much doubt I will accept another lingerie job. This one will be my last. In your 60s it's just too much -- I think I'd rather eat pizza!"
Some say "You are as young as you feel," and, if that's the case, models like Marie Helvin might as well be forever 21. I, for one, don't want to look like I'm in my 20s if that means feeling like beauty is at odds with pizza.
By definition, a model is someone others aspire to be. It makes sense that, when a model is 16, or 18, or 20 years old, she can only truly "model" for those who are even younger. And yet, because extreme youthfulness is industry standard, "traditional" fashion advertising grooms older women to fetishize the past.
We've come to view beauty as a quality that peaks instead of one which steadily accumulates. It's this ideology that keeps so many women from forging ahead in their lives. Instead, they spend all their time and money clinging to the side of a cliff.
The most agonizing part about being young is not knowing who you are and how to make your mark on the world. Inexperience is the root of insecurity, and self-doubt, and self-hatred. What's funny is the fashion world has always adored the look of clothes and accessories that appear worn and "well loved" -- distressed denim, creased leather, fabric that yields and drapes. Such garments have character. They stand out in a crowd. They're one-of-a-kind.
If only the same could be said of the women wearing the clothes. If only we valued the same qualities in human skin that we appreciate in a unique piece of fabric, its singular textures and pigmentation. Vintage clothes are all the rage precisely because they speak to the passage of decades. We love older garments because they are weathered, and seasoned, and broken in. Why then, do we celebrate older women for seeming to have aged inside a vacuum?
When I was in high school, I became obsessed with drawing and painting women in their '70s, '80s and '90s. The older the subject, the better, as far as I was concerned. There were stories to read between their lines and wrinkles. Theirs was an aspirational, merited beauty. I would never be the kind of long-limbed nymphet featured in teen fashion magazines. But I could hope to cultivate the kind of allure that is a lifetime achievement. My mother used to say young beauty could be cruel because it can conceal deep-seated unhappiness. Laugh lines, on the other hand, pay homage to a rich history of smiles.
I recently got the chance to chat with supermodel Susan Holmes, who echoes this sentiment. Holmes was discovered at just 16 years old and became one of the top 20 highest paid fashion models by the mid 1990s. She even earned the nickname "The Body," amongst contemporaries like Kate Moss and Tyra Banks, for her cookie cutter perfect physique.
For a woman who's achieved the absolute pinnacle of youthful glamour, Susan's outlook on aging is refreshing. "I think a woman's best and most beautiful feature is her laugh lines," she told me.
Now an acclaimed swimwear designer, mother of two, and wife to rocker Duff McKagan, Susan says, if anything, her modeling career taught her to appreciate shifting beauty standards:
I'm not in my 20s or 30s anymore. I'm a mom of two. But I live in LA, which is the vanity capital of the world, where people are obsessed with fighting the aging process and looking young. Ironically, modeling taught me to appreciate beauty paradigms beyond youth. I've traveled to Tahiti, where the most beautiful women are voluptuous and self-confident. I lived in Paris for 7 years, where hardly anyone wears makeup and beauty equates to experience.
Holmes suggests America's obsession with youth is arbitrary, at best. After all, it was just 30 years ago that a brunette model could "break the mold."
"In the 80s, it was all blonde hair and blue eyes," says Holmes. "People freaked out when (Czech-born) Paulina Porizkova burst onto the scene. Everyone said, 'Oh my gosh, there's a brunette on the cover of Sports Illustrated!' It was a very big deal. Back then, she was considered 'exotic.' Now, we're starting to embrace a diversity of skin tones, hair colors, and body types. Today, the most celebrated body part in fashion is the booty; that would have never been a thing back when I was in the industry."
America's obsession with youth stems from our obsession with puritanism, at worst. It is a symptom of our patriarchal fear of powerful women. That fear, perhaps, is why age remains the last standing barrier in the fashion world.
"I think you can see a culture's values reflected in its films even more so than its fashion," says Holmes. "In Europe, where women are much less concerned with aging, films are much more liberated. You see more breasts and other body parts portrayed more realistically. Nothing's suppressed. At the same time, the films say more. They're much more dialog driven."
It's true that our art and entertainment reflect our cultural values. So do our words, our clichés, our maxims. We champion the art of aging "gracefully," but not aging "irreverently," "organically," "holistically," "healthily," "happily." Aging gracefully, in fact, implies waging mortal combat against "wispy thin hair, jowls, and turkey necks," with Botulinum toxin, nips, tucks, and never any pizza.
"I think the end goal is to be healthy," says Holmes. "Your health is your best asset. Your health is your longevity, your enduring beauty."
REAL LIFE. REAL NEWS. REAL VOICES.
Help us tell more of the stories that matter from voices that too often remain unheard.