What makes a good matzo ball? It's an age-old question that has stood the test of time and the duration of many a Passover Seder. Should they be light and fluffy or dense and hefty? Should they be the size of a golf ball or a fist? Should they sink or swim? Should they flake and fall apart or stick together at the slice of a spoon?
Some say the key to a good matzo ball is using seltzer water, which makes them extra fluffy. Others swear by whipped egg whites to get that light-as-air consistency. Still others say the secret is using enough schmaltz, or chicken fat, and one Jewish food aficionado claims the best matzo balls on earth are made not with chicken fat but with goose fat. The techniques and opinions on what makes matzo balls great vary, but one thing that all matzo ball lovers can agree on is that their mother makes them best.
For all of us New York transplants who can't enjoy our mothers' matzo ball soup this Passover, luckily we're in the right city. From Katz"s Delicatessen to 2nd Avenue Deli to Barney Greengrass, there is no shortage of great places to find matzo balls, just like your mother makes them.
My favorite matzo ball hails from Lobel"s, one of New York's oldest butchers. A five-generation family business since 1840, Lobel's is known for its high quality beef. The butcher shop has been located on the Upper East Side of Manhattan since 1954, and in 2009, Lobel's debuted their now-famous steak sandwich, which has earned a dedicated following, at Yankee Stadium. Just last week, on Monday, March 18, Lobel's expanded its reach once again with the opening of a second location in Manhattan, on Third Avenue at 61st Street: Lobel"s Kitchen.
The new spot serves prepared foods -- like rotisserie chicken, cheeses, smoked salmon and sandwiches -- as well as raw meat. You'll find their classic steak sandwich on the menu, along with their signature steak, the Wrangler -- a cut that the Lobels patented themselves. Light and spacious, with floor to ceiling windows, Lobel's Kitchen has a significantly different feeling than the original butcher shop -- a compact space lined with wood paneling --but both are marked by the same dedication to high quality.
While beef is their main business, Lobel's also makes a great matzo ball soup -- an unexpected gem.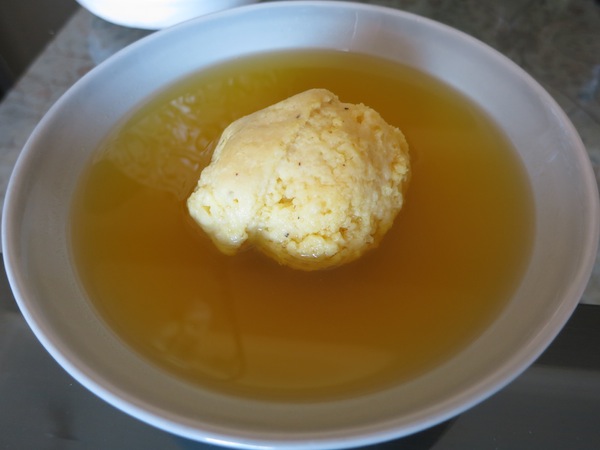 The ingredients for the matzo balls are simple, but, as co-owner David Lobel says, "it's the technique that makes all the difference in creating the perfect matzo ball." The matzo balls are made with matzo meal, eggs, pepper, canola oil and a little chicken broth, and once they are shaped into large rounds, they're carefully placed in boiling water, which is then reduced to a simmer. The key is treating them gently to avoid breakage. When they're ready, they must be carefully removed from the boiling water and delicately spaced out on a sheet, far enough apart so that they don't stick together.
The matzo balls are solid and don't flake apart, but in the soup, the exterior soaks up some of the chicken broth so that they're slightly soft on the outside but retain their texture on the inside. Pepper is the only discernible spice in the matzo balls, and it's very subtle. I love the matzo balls for their simplicity, but mostly because they remind me of childhood. My family's long been a fan of Lobel's for their beef, chicken noodle soup and of course their matzo ball soup. It's this taste of home that keeps me coming back, which is why I'll be serving Lobel's matzo ball soup tonight at my seder.
No matter how you like your matzo balls, matzo ball soup is the ultimate comfort food because it is first and foremost about family and tradition. It stands to reason, then, that Lobel's, a five-generation family business, serves up some of the best matzo ball soup in New York City, and definitely my favorite (except for my mother's, of course).
PHOTO GALLERY
Best Matzo Ball Soup New York
REAL LIFE. REAL NEWS. REAL VOICES.
Help us tell more of the stories that matter from voices that too often remain unheard.