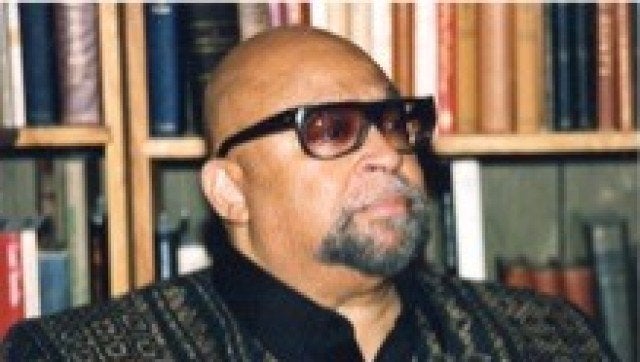 Kwanzaa is a time for celebration, but it also is an opportunity for critical reflection, recommitment and remembrance, the man who created the holiday almost a half-century ago said Saturday on a visit to the Richmond area.
Maulana Karenga said he is humbled by "how beautifully and rapidly" the celebration of Kwanzaa, an African-American and Pan-African holiday, has spread since he launched it in 1966 during what he described as "the black freedom movement."
"Kwanzaa is a celebration of family, community and culture, but it's also a time for the gathering of (African) people to reaffirm the bonds between them, and a time to speak special reverence for the creator and creation," Karenga said during an interview at the annual Capital City Kwanzaa Festival at The Showplace on Mechanicsville Turnpike.
"It's a time for commemoration of the past, time to raise and praise the names of our ancestors. It's also a time to recommit ourselves to our highest values: to seek and speak truth, to do and demand justice, to care for the vulnerable among us, and to constantly bring good into the world."
Karenga, 71, professor and chair of Africana Studies at California State University, Long Beach, came to Richmond to deliver the keynote address at the festival.
Kwanzaa is a seven-day holiday that runs Dec. 26 to Jan. 1, with each day devoted to a particular value: unity, self-determination, collective work and responsibility, cooperative economics, purpose, creativity and faith.
The Richmond festival, organized by the Elegba Folklore Society and promoted as one of the largest on the East Coast, featured dancing and drumming, food and workshops, and a marketplace of art, clothing and specialty items.
"I think the essence (of the festival) of community and supporting one another is important," said Todd Parsons, a Richmond laser-engraving artist who found his handmade earrings were particularly popular at his booth.
As sounds of the festival filtered into the back room where he waited to deliver his speech, Karenga talked about having no interest in retiring and how much he enjoys his work.
Karenga grew up on the Eastern Shore of Maryland and eventually moved to California, playing a leading role in the Black Power movement. He earned doctoral degrees in political science and social ethics, and served prison time in the 1970s for an assault conviction. His years of teaching, writing and speaking have positioned him as an "elder" in a movement he remains active in.
"In African culture, elders have a specific and special place," Karenga said. "They represent an accumulation of not only knowledge but service. Young people represent the future ... but the world must find harmony between youth and old age, so that we can all build a good world we want and deserve to live in."
wlohmann@timesdispatch.com
(c)2012 the Richmond Times-Dispatch (Richmond, Va.)
Distributed by MCT Information Services
Popular in the Community