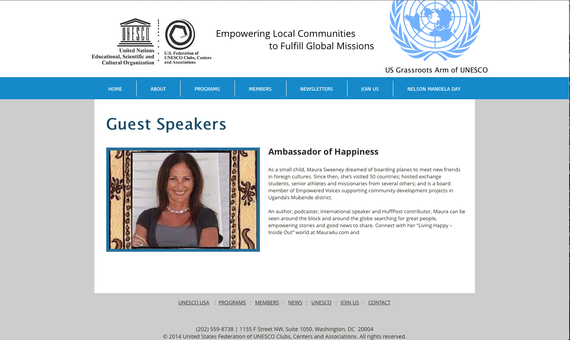 "Every great dream begins with a dreamer. Always remember, you have within you the strength, the patience, and the passion to reach for the stars to change the world."
In what may be the shortest blog I've ever written, I'm announcing what can only be described as a dream come true. A very happy dream, indeed.
The UNESCO Center of Peace has named me Ambassador of Happiness. The title arrives in anticipation of my speaking at the first annual Nelson Mandela Day celebrated outside our nation's capitol in Frederick, MD on July 17 - 18, 2015. I'll be sharing the podium with dignitaries and serving as a contributor to panel discussions.
For someone who grew up aspiring not toward a particular profession but, rather, toward a state of happiness, the arrival of this distinction seems surreal. Yet I'm thrilled to carry the visionary title and honored to be connected with a global celebration designed to help change the world for the better.
UNESCO's site explains the genesis and spirit of this internationally recognized day:
"Nelson Mandela International Day was launched in recognition of Nelson Mandela's birthday on July 18, 2009 via unanimous decision of the United Nations General Assembly. It was inspired by a call Nelson Mandela made a year earlier, for the next generation to take on the burden of leadership in addressing the world's social injustices when he said that "it is in your hands now". It is more than a celebration of Nelson Mandela's life and legacy. It is a global movement to honor his life's work and to take action to change the world for the better."
As a child, I saw the world as a better one. A kinder one. A more embracing one. I've carried that vision throughout life: into marriage, career, child rearing, volunteering and travels both near and far.
Today, some may still think me odd. But I'd rather discover the good in all of us than bemoan our weaknesses and ills. I enjoy promoting ideas that unite rather than divide us and uplift rather than depress us.
The world is yearning for some good news and a few reasons to hope.
Odd or not, I'm living my own dream.
I'm the Ambassador of Happiness.
REAL LIFE. REAL NEWS. REAL VOICES.
Help us tell more of the stories that matter from voices that too often remain unheard.