All Maureen Hains did at the beginning was create a Facebook page.
At the end of January, as Republican lawmakers were pledging to repeal the Affordable Care Act, Hains and about 50 other people in the Virginia district represented by GOP Rep. Dave Brat called his office to find out when he would hold a town hall meeting. To organize those constituents, Hains started that Facebook page. Days later, the page drew some attention when Brat complained about the town hall seekers, saying there were women "in my grill no matter where I go."
The tea party congressman eventually held a town hall ― an event that Hains called a "joke." But the experience inspired her to do more. She started a podcast with three other women and decided to get involved in the local race for the Virginia House of Delegates.
"It's not just about calling your representative and asking when the next town hall meeting is. You can harp on whoever all day long every day, but real change isn't going to happen that way," Hains told HuffPost. "It's so easy," she added, "just to sit on your couch and complain on Facebook all day long."
Hains, who works in marketing and communications, researched the three candidates running for the delegate seat, which represents parts of Virginia's Chesterfield and Henrico Counties as well as a portion of Richmond. She decided to support Democrat Dawn Adams, a nurse practitioner and adjunct professor at Old Dominion University, because of her expertise in health care policy. She began volunteering for Adams about a month ago and is now her campaign manager.
The 33-year-old had no prior political experience. When a HuffPost reporter contacted her in January to talk about the Facebook page, she hesitated to give her name because she worried she could face some backlash from her employer for publicly talking about politics (she's worked that all out since). But now she thinks her lack of experience has actually worked to her advantage.
"It's been difficult because I don't know the do's and don'ts necessarily. I don't know all the players. I don't know a lot of the history," Hains said.
On the other hand, she said, "Because I have voted Republican in the past, I'm not a diehard Democrat. I'm not one of the establishment. I'm an outsider. So I can help them message in a way so that it's a message that's inclusive to a wide swath of people, which I think has been helpful for them because we're so polarized and I'm not a very polarized person. I don't see everything in black and white."
There are about 12 people, all unpaid, on the Adams campaign. Hains still has a full-time job and rushes to campaign headquarters ― Adams' house ― after work to focus on strategy, speeches and debate prep. She said she often stays up until midnight and then rises by 6:30 the next morning to go to work. The dishes and laundry in her apartment are piling up, and she has thought about canceling her Netflix subscription because she just doesn't have time to watch. On Friday, Hains said she'd managed just four hours of sleep the previous night. She and other campaign volunteers joke about how sleep-deprived they all feel.
"I can do anything like this as long as I know it's just a few weeks' time," Hains said. The primary election is on June 13.
Rep. Brat claimed the people behind the Facebook effort were paid protesters, but Hains said she's never received any compensation for her political organizing. In fact, she noted she's eating out less so she can save money to donate to other candidates.
Hains has been surprised by how many Americans, like herself, are ready to volunteer on a political campaign.
"The biggest thing for me is seeing how many people are willing or just want to help and are willing to put their money where their mouth is, basically," she said.
She urged others sitting on the sidelines to consider joining in.
"If somebody's asking for help and you can do it, say yes and jump in," Hains said. "Don't hesitate. Don't say, 'I'll do that tomorrow.' You'll forget because 8,000 other new things will pop up."
Before You Go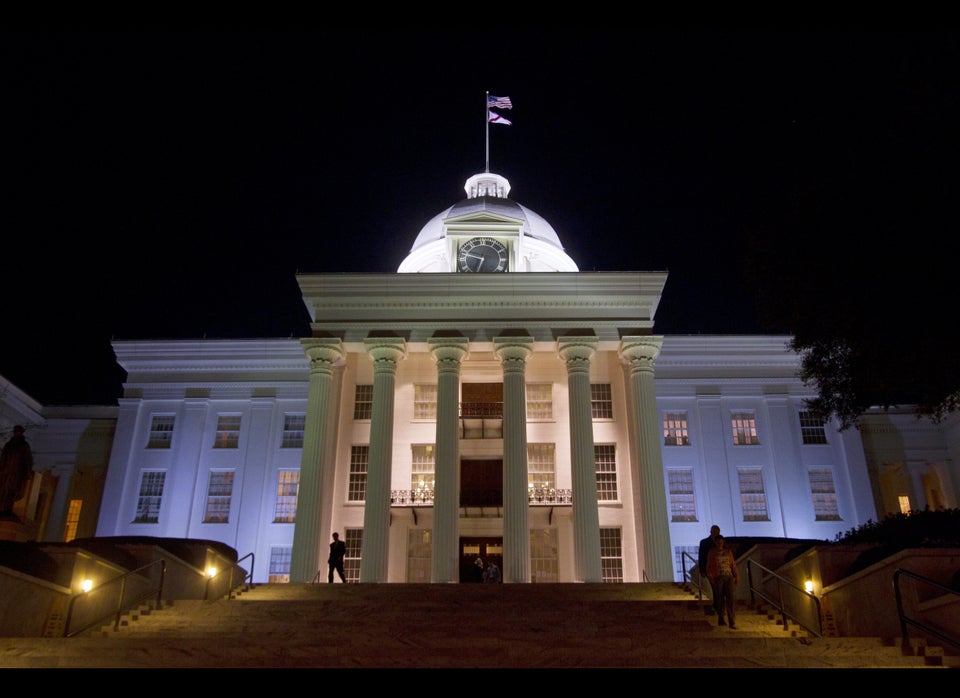 U.S. State Capitol Buildings
Popular in the Community