When Maureen Petrosky set out to write The Cocktail Club four years ago, she was determined to learn a lot about spirits while keeping it fun. She didn't want the book to be intimidating, she knew that most people who just want to mix up a good cocktail at home aren't professional mixologists. One glance through the book and you'll see that she accomplished what she set out to do. The Cocktail Club: A Year of Recipes and Tips for Spirited Tasting Parties sets readers off on a twelve-month journey of learning and entertaining with friends.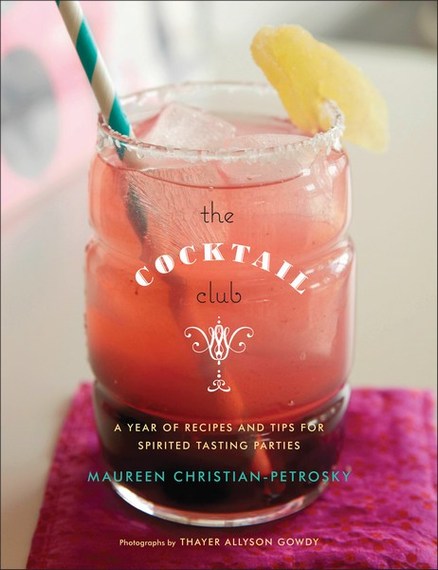 "The Cocktail Club" by Maureen Petrosky (Thayer Allyson Gowdy, Photo Courtesy Stewart Tabori & Chang)
In an interview with Petrosky, she explained her approach, "When I was thinking about writing this book, I told someone in the industry I wanted to write a cocktail book. They asked if I was a mixologist or a spirits expert. I replied No. Then I got asked how was I going to write the book? I replied I'm just going to do it! I'm going to learn all about it!"
That's just what she did, and that's what she wants her readers to do too. But when I picked up The Cocktail Club for the first time, it didn't strike me as a book just meant for learning, it was also about entertaining. No surprise really, Petrosky regularly appears on NBC's The Today Show as a lifestyle expert, and for her, lifestyle is about spending time with the people in your life.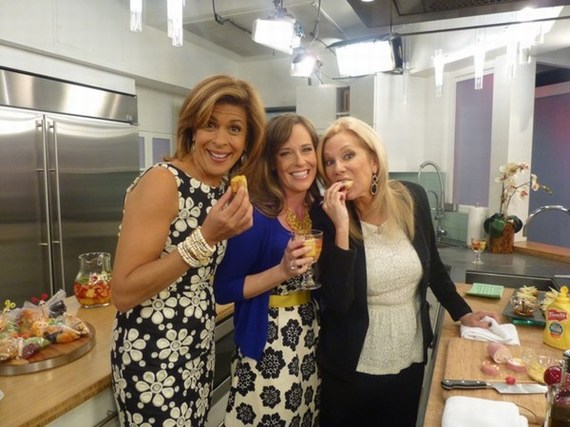 Backstage at The Today Show, left to right: host Hoda Kotb, Maureen Petrosky, and host Kathie Lee Gifford
"The whole point is this is an entertaining book, it's to have fun with your friends. We all spend so much time online keeping in touch with friends through social media that we tend to spend very little actual time with our friends."
There is more to it than just having fun though. Petrosky, who has been writing about wine for the past eight years, said cocktails were a personal challenge for her. In a way, this book was a means for her to shake things up in her own entertaining repertoire. "We can get into a rut and just stick with what we know," Maureen explained. "So I wanted to try something different!"
The book is laid out for a year of cocktail parties, one per month. Each chapter focuses on one kind of spirit and gives a wealth of easily digestible information, along with some classic cocktail recipes and "New Twists" using that chapter's spirit. Maureen also gives the reader recipes for easy to make (mostly) finger foods to go with the cocktails and create a balanced cocktail party. Can't just drink up on an empty stomach!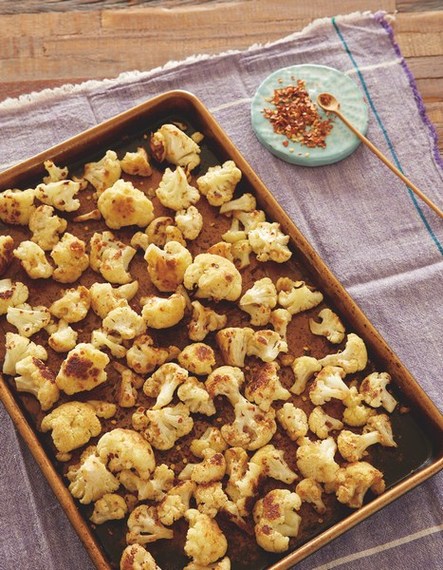 Roasted Curried Cauliflower with Raita (Thayer Allyson Gowdy, Photo Courtesy Stewart Tabori & Chang)
Petrosky told me, "The idea is that it's a full experience. So I worked hard on getting the recipes right. I wanted my recipes to really work! Sometimes recipes in books just don't work because they're not tested enough or not well written." Clearly she avoided that mistake. Petrosky's recipes -- like Caramelized Onion Mac-N-Cheese Bites and Roasted Curried Cauliflower with Raita -- not only work, they're super easy to make and they pair very well with the cocktails. And, for the majority, they're finger foods because as Maureen put it, "You're already holding a cocktail in your hand!"
A graduate of the Culinary Institute of America and a former chef, Petrosky came to wine and cocktails through food. She is also the author of The Wine Club (2005). "Like most of us, good food brought me to good wine, and then to good cocktails. The more you eat in good restaurants and the more you cook good food at home with friends, the more you want to try new flavors and new experiences. The Wine Club, and now The Cocktail Club, are all about those new flavors and new experiences you can share with friends."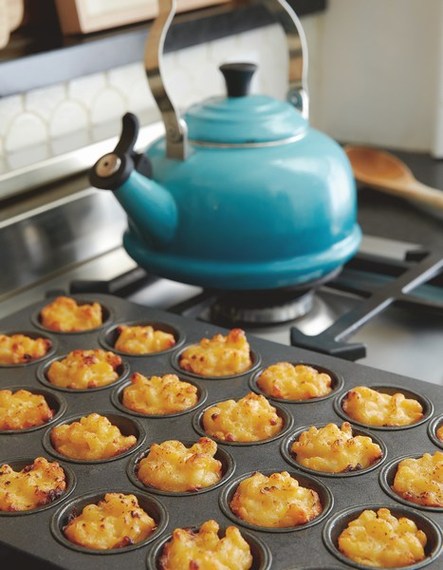 Caramelized Onion Mac-N-Cheese Bites (Thayer Allyson Gowdy, Photo Courtesy Stewart Tabori & Chang)
Now I'm an adventurous eater, drinker, and cook, I'll brave it and try anything once, even if it's crawling on my plate... but I've always been shy to mix up cocktails at home. Among my friends, the feeling is generally the same. We rely on wine and rarely do we stir things up with cocktails at our parties, save for a big bowl of Sangria. Cocktails just seem somewhat intimidating or fussy. Petrosky's experience was pretty much the same, so she wanted to help people like us get over our apprehension.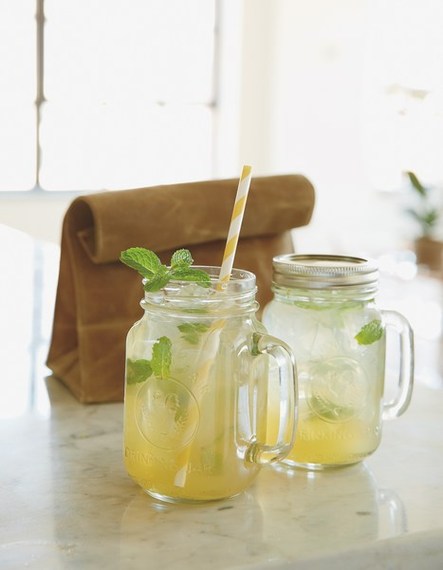 "Queen's Rum Shaker" (Thayer Allyson Gowdy, Photo Courtesy Stewart Tabori & Chang)
"When I started to write this book I promised myself I was going to really learn about spirits. I had barely even drank any brown-colored spirits until I started researching for the book. So I really want other people to know that they can learn about this as quickly and easily as I did." Petrosky also considered the issue of accessibility, both to ingredients and regarding cost. Spirits can be quite expensive in some cases, and she felt that was another reason why people who love to entertain at home may avoid cocktails.
Already in its second printing, this unique little book doesn't just include cocktail and food recipes, it's packed with spirits and cocktail history, facts about all the spirits, ideas for entertaining, and suggestions for how to pull off your party with ease, even if you're short on time. The book is seriously well-researched, but not weighted down with information in a way that would make your eyes glaze over before you've had a single cocktail.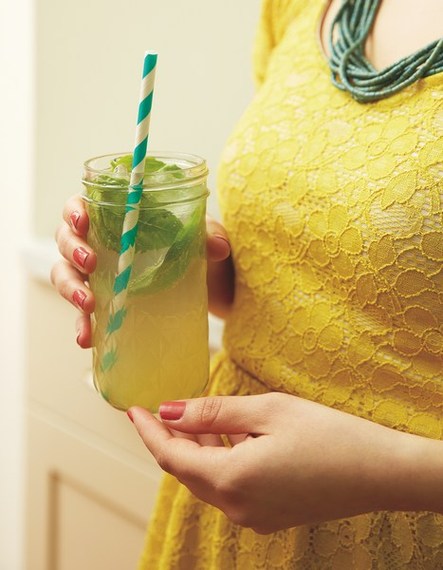 "Mason Jar Basil Pisco Sour" (Thayer Allyson Gowdy, Photo Courtesy Stewart Tabori & Chang)
Even if you know nothing at all about spirits and cocktails (or perhaps because you know nothing), The Cocktail Club will bring out the hidden home mixologist in you. Petrosky's friendly approach invites all of us to learn, with friends, in the best way possible... "The only way to really learn about cocktails is to taste them. There's so many different flavor profiles that there's no way around it, you just have to taste!"
When I wrapped up my interview with Petrosky, I couldn't resist asking her to share a couple of her cocktail recipes with you. She was happy to, so I chose these two because I fell in love with these spirits on my travels, and because they're perfect for entertaining in warm weather.
In Chile I discovered that you can't escape the Pisco Sour. It's an argument, sometimes a heated one, as to whether Pisco originated in Peru or Chile, but as I visited the town of Pisco in Chile's Elqui Valley, and came home with a lovely bottle of Pisco, this was the first cocktail I made from her book. In Chile I found that they commonly use mint instead of basil, and lemon instead of lime, and sometimes they mix in beaten egg whites. Maureen's take on the Chilean Pisco Sour is super easy and very refreshing.

Mason Jar Basil Pisco Sour
Serves 1
Small mason jars are just about my favorite way to mix up drinks for a party. The jars create adorable individual shakers for premeasuring your ingredients. When your guests arrive, they can just add ice, any bubbly ingredients that may be called for, place the lid on, and shake. This way you aren't stuck at the bar mixing a multitude of drinks. Leave a bottle of club soda on the bar for guests who prefer their cocktails on the spritzy side.
Ice cubes
1/4 cup (60 ml) Chilean pisco
1 ounce freshly squeezed lime juice
1 ounce simple syrup (page 15)
4 to 6 fresh basil leaves (twist or bruise right before adding to the mason jar)
Club soda (optional)
In a mason jar or shaker filled with ice, add the pisco, lime juice, and simple syrup. Twist or bruise the basil leaves and drop them in. Put the lid on and shake.
Remove the lid and add a splash of soda, if you'd like, to finish. Strain into a glass and enjoy immediately.
When I ventured down to Barbados, I quickly learned that rum, specifically the local Mount Gay Rum, is as much a part of life on the island as the sun and sand. Not much of a rum drinker myself, I was slowly won over by the seemingly endless ways the locals mix up Mount Gay. By the end of my trip I was an enthusiastic fan of rum cocktails. My favorite of Maureen's rum drinks is the Queen's Rum Shaker. Like her Pisco Sour, this cocktail is also mixed and served in a mason jar, making it another cinch that's perfect for sipping outdoors on sunny day, even if you're not on a tropical island.
Queen's Rum Shaker
Serves 1
Making cocktails in mason jars that come with fitted lids is the ideal way to take happy hour on the go, as you can see on page 110. Instead of bringing an appetizer to your next party, whip these up and offer to bring the drinks!
6 fresh mint leaves
1 ounce simple syrup (page 15)
1 ounce freshly squeezed lime juice
1/3 cup (75 ml) white rum
6 dashes of Angostura bitters
Ice cubes
Mint sprigs, for garnish
Put the mint leaves into a mason jar with the simple syrup and lime juice. Using a muddler or wooden spoon, gently mix together and bruise the mint leaves. Add the rum and bitters. Place the lid on the jar securely until you are safely at your destination. Once you have arrived, add ice and place the lid back on securely. Shake vigorously to chill. Remove the lid, add a sprig of mint and a straw, and enjoy.
Related