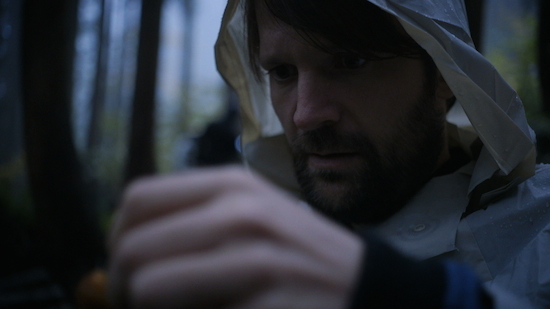 "When you get close to the raw materials and taste them at the moment they let go of the soil, you learn to respect them." -- René Redzepi
I've discovered that through beautifully made, deeply moving and artful culinary films such as Maurice Dekkers' Ants on a Shrimp I can relish in all the flavors of world-class chefs, without gaining a pound or spending a fortune. It's a wonderful way to live food, and enjoy the mastery that goes into its preparation, without feeling any guilt. I salute filmmakers like Dekkers who manage to bring their audience on a journey through nourishment and bring us out on the other side of viewing their film more conscious, better, and a little more hopeful.
This May Ants on a Shrimp will be featured at HotDocs in Toronto, the largest documentary film festival in the world, after having world premiered at the Berlinale earlier this year, in their interactive culinary film series.
It was while in Berlin that I had a chance to catch up with Dekkers. He describes himself as a filmmaker-slash-journalist-slash-entrepreneur. In fact, just over ten years ago, along with a few colleagues from the Dutch TV series Keuringsdienst van Waarde, Dekkers started Tony's Chocolonely, now the best-selling chocolate company in the Netherlands. If you think one of those jobs is difficult enough, try three!
So, while I looked forward to our interview with anticipation, I also expected a much different man from the mellow, kind and quietly handsome filmmaker I found myself sitting across from in a remote room of the Berlinale Palast. Of course, I should have known, from his perfect chef portrayal -- devoid of all cooking show tricks like food porn and angry kitchen syndrome -- that Dekkers would be different.
Just as his film and his subject are.
Ants on a Shrimp follows world-renowned NOMA chef and owner René Redzepi on a journey from Copenhagen to Tokyo, while he shifts his entire operation, including venue and staff, to the Mandarin Oriental for a five-week run. Throughout this engrossing film, cinematographer Hans Bouma easily substitutes broad areal views of the Danish capital with Japanese panoramas, to contrast the dark, almost claustrophobic shots of NOMA's kitchens. It's not until the viewer finishes watching Dekkers' documentary that the realisation of just what an incredible experience he or she has been privy to becomes apparent. And I can tell you that just like the perfect meal, Ants on a Shrimp is the kind of film you'll want to sit through again, to savor every last detail, enjoy every tempting morsel.
Here are a few insights from Maurice Dekkers himself, on the film which he admits he "immediately knew" he wanted to make, because it felt as if he "had the chance to sit next to Vincent van Gogh while painting sunflowers in Arles." Brilliantly put.
Have you done a lot of culinary films before?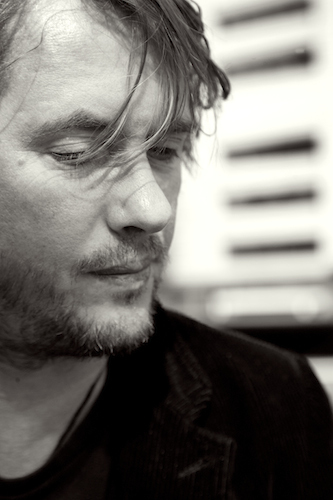 Maurice Dekkers: This is my first film actually, but I did a lot of food. I developed a food format 15 years ago for Dutch TV, it's more of a journalistic thing than just food and it became a very big hit in Holland. And now for the past six years it's also a very big hit in the UK, on Channel 4. I was working for that for a long time and was really busy so I had no chance to make a film. I also developed a documentary series about food techniques and I wanted to do that with René. So I talked with him, and he loved the work I did and it felt good working together. We were writing at a very big hotel near the sea in Denmark, writing the series, thinking about it for a couple of days, and he told me about Japan and I thought, "this is a film!"
It's not often that you get this kind of opportunity.
Dekkers: No, no you don't and in creation you have to take every opportunity you get so I did, and he liked the idea. Of course there are a lot of films about chefs and they call it food porn and it's like a commercial and they often describe people like René as "the God of food" and of course they are not gods... They are just ordinary people, they're fantastic people, they have skills and are very good at what they doing, but they are working hard.
I was curious how one of the best chefs in the world creates a new menu for a new venue.
We are subjected to a lot of cooking shows like Masterchef and the likes on TV, but those shows add the extra enticement for the audience of not knowing the outcome -- we wonder who's going to win, etc. Whereas to me your film was so much more exciting, because I didn't have to think about that, I could concentrate on watching René's team of humans working together. And it is such a metaphor about how life should be. How people really can communicate and work together. Did you set out to do that?
Dekkers: Yes, actually there was not a big plan, I wanted to be in the team and to see what they are doing and how they are thinking. I wanted to feel like I was one of them. And that's what I did basically.
But you never include yourself physically in the film?
Dekkers: That was also new for me. Normally in my work I am involved. Or you can hear my voice... The idea for René was going to a place that you're not familiar with and you have to find yourself, to renew yourself again and that's where creativity comes in. Because the film is more about people doing something and creating something... It's about food of course, but for me it's also filmmaking. And because this was my first film, and I was not involved, and I had all kinds of things that were new for me, I had also the struggle they had, to create something.
Is there a human lesson we can learn from a successful kitchen?
Dekkers: I think that you never have to be afraid of doing something and it's not about the end result, because the end result from a kitchen is a two-minute thing. People are going to sit there, that's why I put the food at the end of the film, but that's the way you experience it as a customer, when you go to eat it -- it's gone in one minute. What I like about René's food, and how I wanted to film it, is that it's more about art, it's not comfort food but it stays with you.
What is the most challenging aspect of making a culinary film?
Dekkers: It's basically very boring to be there. There's not a big drama behind it, well, they are cooking food. And not knowing what they are doing, because in a kitchen, a lot is happening in their heads. They are working with a skill they've known for years, they don't talk so much to each other.
Does it help to work with someone you know so well, as you do René?
Dekkers: When I started I didn't know him very well, I'd just met him for a couple of days. I think it's really important to do something that feels good. I had a big respect for what they are doing and I like him. What I didn't want to make is a chef shouting in the kitchen to all the people, to his chefs, I hate that! So I talked with him beforehand and asked him "are you going to do that, because I don't want that."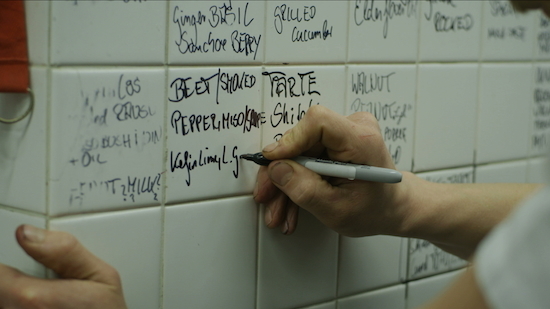 All the shows we see about chefs are about shouting and putting people down...
Dekkers: Yes, because that gives the drama in cooking, there is no real drama while cooking. But I didn't want to do that. I was there and at times it was tense, it is tense for them, if you're cooking at that level, people expect such high things from you, it can be tense. But there was not much shouting at all.
Is René that kind of chef anyway? He doesn't seem to be...
Dekkers: No, not anymore. Maybe he was. A lot of chefs are because that's also pressure. I think he's also grown in that, he's more like a leader, he's leading his team very well.
How would you describe yourself to someone who doesn't know you?
Dekkers: I'm very versatile because I'm also a journalist, and ten years ago I started a chocolate company. It's now the best-selling chocolate in The Netherlands. And we started an office in Portland. I like food and I like people who are doing things.
All photos courtesy of the filmmaker, used with permission.