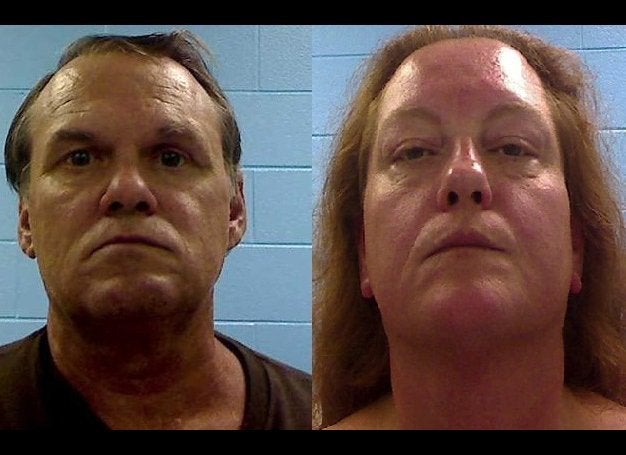 A northeast Alabama couple has been arrested for allegedly torturing and sexually abusing a mentally disabled woman who was recently found naked and handcuffed to a bed.
Maurice Rex Johnson, 52, and Toni Renea Johnson, 40, have been charged with sodomy, sexual torture and unlawful imprisonment. The couple is accused of abusing a 23-year-old woman with profound mental disabilities inside their Attalla home for months, according to police.
The alleged abuse and sexual cruelty came to light on Aug. 27.
"[The victim's] boyfriend, who is somewhat mentally challenged himself, found her," Gadsden Police Capt. Regina May told The Huffington Post. "She was laying on the floor nude. They had shaved her head and handcuffed her to a bedframe and left her."
The young woman's boyfriend was unable to free her, so he ran for help. Neighbors who responded contacted police, and members of the Gadsden Fire Department were called in to cut the woman free of the handcuffs.
Investigators have not yet said how the Johnsons may have come to know the victim.
"When she was rescued, she made a statement to the officers that she had been cuffed to the bed like that because she had been bad," May said. "She had suffered episodes of abuse, episodes of sodomy and sexual torture."
The Johnsons also allegedly put hot sauce on the victim's genitals and prevented her from using a shower to alleviate the pain, police said.
Authorities are still trying to determine how long the victim was with the couple. At this point, investigators suspect she was there at least a couple of months.
"She wasn't being held captive all the time," May said. "She functions on about the level of a 10-year-old. She has no family, no guardian. She was just kind of taken in by these people."
Investigators contacted the Alabama Department of Human Resources and discovered the victim had been in the DHR system for the majority of her life. She was released from the department's care when she turned 21.
After rescuing the victim from the Johnson residence, police located the couple nearby and questioned them about the victim. Maurice Johnson was then arrested for possession of marijuana, and his wife was held on an outstanding warrant for resisting arrest and obstructing governmental operations in an unrelated case.
While investigators worked to obtain arrest warrants against the couple for allegedly abusing and torturing the mentally challenged woman, Maurice Johnson posted bail for the drug charge and fled the area. Toni Johnson was charged on Sept. 2, and a warrant was issued for Maurice's arrest.
On Wednesday, he was captured in Miller County, Ga.
"He was located at the home of his father," May said. "He [waived extradition], and he's back in our county jail now."
The victim in the case has since been placed with temporary caregivers.
"It's a horrible case," May said. "Hopefully she'll get back in the DHR system, and they'll appoint a permanent guardian to look out for her best interests."

Calling all HuffPost superfans!
Sign up for membership to become a founding member and help shape HuffPost's next chapter