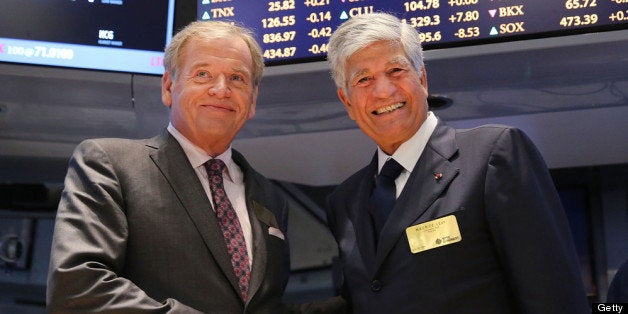 Maurice Levy, the CEO of Publicis, sat down with HuffPost France to answer questions about the deal. The interview covers a range of subjects: from the conflicts of interest that could arise from having both Coca-Cola and PepsiCo. as advertising clients to the management's choice on where to headquarter the new company.
Here's the translated interview:
The deal depends on authorizations by a number of governmental bodies that regulate competition. Could the merger break down?
No. Our lawyers are confident that all clearances will be obtained. I expect our competitors to put some obstructions in our way. Our competitors are energetically lobbying analysts, clients and journalists. But if you look at our stock market valuation, you can see it's doing fine: The marketplace believes in us.
Will the deal be completed by the end of 2013?
More likely the beginning of next year.
Why will the new group be headquartered in the Netherlands?
We absolutely had to avoid giving clients and our teams the impression that one of our two groups was absorbing the other. So we decided to headquarter in a European country close to our common roots. A huge number of European companies have their headquarters in the Netherlands, while realizing their operations in their respective countries. EADS is headquartered there, as is STMicroelectronics and Renault-Nissan Alliance. Holland is a neutral country.
We will invoice and pay taxes in the countries where we operate. We will maintain our operational activities in France. There's no need to fantasize or draw up comparisons.
French Finance Minister Pierre Moscovici has said he will be "vigilant" regarding the commitments you have made to the French.
What you read in the press is one thing, and the conversation that I had with Pierre Moscovici is another. He was very clear and supportive. Of course he asked me what kind of impact this would have on employment within our group. I reassured him and said we do not plan any restructuring. Neither do we plan to take operations out of French territory. On the contrary, operations that we have realized in the past have developed a number of jobs in France, and we hope that the merger with Omnicom -- and our subsequent development of an even richer palette of services for our clients -- will enable us to further expand our French operations.
We're aware of the employment situation in France, and we love our country. Our commitment has been flawless to date. Moreover, the Publicis Omnicom board will be 50/50, and decisions will be taken by a two-thirds majority. There's no need to start hypothesizing.
The CGT trade union has called it an unreasonable merger and has invoked future redundancies, abusive breaches of employment contracts and "externalizations."
The CGT is not terribly representative at Publicis. It has attempted a few demonstrations, which have attracted about 25 people -- in a group that has more than 5,000 team members in France. I'm sorry, but the proposals and remarks of the CGT are extremely approximate. I would prefer to be able to engage together in a realistic and constructive dialogue.
You have a contract with Coca-Cola; Omnicom works for Pepsi. According to the Bank of America, the merger may involve conflicts of interest between clients.
This question has been raised by our competitors. But at WPP, for example, their clients within the same group include Colgate-Palmolive, Unilever, Procter & Gamble, Kimberly-Clark and part of Estée Lauder [Editor's note: all are multinational corporations that produce hygiene-related consumer products]. The fact that we serve clients who operate in the same market segment is part of normal life for our agencies. We do not plan to consolidate our networks. Clients will continue to have the same number of agencies to choose from and to be served by their current agencies. The potential for conflicts is hardly a revelation, and it's up to us to find solutions. We're working on it.
You led the internationalization of Publicis Groupe in the 1990s. What's the significance of this new development?

Marcel Bleustein-Blanchet made the first European moves in the 1970s. I was named CEO and chairman of the Management Board in November 1987. At the time, we were making about 70 percent of our revenues in France and the remaining 30 percent in Europe. I committed myself to expanding Publicis in order to face the challenge of globalization and begin competing with the big global groups, most of whom were American.
Since then the development of emerging countries and their spectacular growth have radically transformed the market, which is far more global now and more complex. China has become the third largest marketplace worldwide, after the U.S. and Japan, although in the 1980s there was absolutely no advertising in China. The first time I went there, the only ads I could see were state propaganda. At that time, Brazil was the 20th largest marketplace worldwide; now it's the sixth. Moreover, the development of Internet and digital communication has transformed people's lives and changed all kinds of economic models -- including for ad agencies and the media.
Our merger is motivated to serve our client better, with new capabilities. By uniting the operations of Omnicom and Publicis, we will also create a very rich group that is capable of investing in new technologies and their talents. It is absolutely not a move against the big Internet groups, but instead will provide opportunities to innovate on a collaborative and individual basis.
In September 2002, we made an acquisition that enabled us to almost double in size [Editor's note: BCom3, a 3.42 billion euro operation, backed by a strategic agreement with Dentsu, Japan's largest advertiser, which held 15 percent of the capital of the new group]. This was a difficult acquisition, but at the time we didn't have the same kind of experience or the same means that we have today. And we integrated it remarkably well.
Publicis is a more centralized group than Omnicom. Are the two groups' corporate cultures too different for this to work?
We need to look at two things here: company values and corporate culture. Our values are totally comparable. Both our groups are based on identical human principles. We share the same respect for individuals, for cultures, for diversity, as well as irreproachable ethics and similar emphasis on decent treatment for our team workers and suppliers.
There are some differences in terms of corporate culture. They are American, we are French. They're attached to their roots, and so are we, but today, already, 48 percent of our revenue stems from the United States.
The Deutsche Bank estimates that it will take at least two or three years before the new entity will be fully integrated.

In my opinion it will be shorter. We're only merging the holding company, not our respective networks.
Is the group planning acquisitions?
We have a few small acquisitions in the pipe, and we'll complete them. We may have some medium-sized acquisitions for specific products or countries, but there are no major projects.