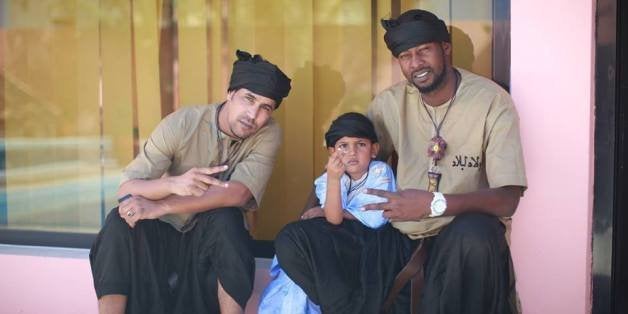 Mauritanian melodies usually evoke a scene involving masked musicians chanting eloquent poems that speak of beautiful women and faraway places while caressing traditional lutes and standing under the moonlight amid endless golden sand dunes.
But that image no longer accurately represents the Mauritanian art scene. A younger generation has taken it by storm, imposing a new genre that renders art an active player in society and politics. With this music, artists' voices call for wide-ranging reform, and encourage regimes to stay or leave.
Hip-hop arrived in Mauritania in the beginning of the 1990s, and was heavily influenced by American and African rap. These foreign influences fused with local Arabic music, and engaged with local political and social realities. In recent years, rap artists have had a significant impact in Mauritania; it is no longer the country of one million poets, but the country of hundreds of young hip-hop artists who are demanding a better nation.
Awlad Elbalad is the most popular of the local hip-hop groups. The group was started between 2000 and 2001 by three musicians: Mohamed Sid Brahim Ishagh (Izak Ice), Memoudy Ahmed Bouna (Hamada), and Sidi Mohamed Broukhrais. They were brought together by a passion for hip-hop and common -- modest -- social backgrounds.
"When I left school at a young age, my family asked me to join the army, but I refused," Hamada told The Huffington Post Arabic. "I had one dream, and that was to become a rap artist. But that was almost impossible, because I didn't belong to the typical artist's social class. Still, I was persistent."
In 2000, Hamada held a meeting with his troupe members, and together they decided to face all their social and financial difficulties. They set out to change hip-hop's perception in Mauritania, where the art form is associated with drugs and crime. They were forced to self-finance the project for 10 years.
"Things started to improve gradually," Hamada said. "The first payment we earned, for one of our concerts, was 40,000 ouguiya, or approximately $137. But our songs were very well-received, particularly in slums, and among different age groups. That's what encouraged us to move forward."
Awlad Elbalad chooses lyrics that are simple and straightforward. With their songs, they tackle the story of a generation frustrated with realities of everyday life, including poverty, unemployment and the proliferation of drugs and corruption. The band relays the people's pain and suffering.
Their songs are careful not to clash with society and its conventions, in terms of folklore and traditional clothing, and focus instead on key issues such as corruption.
Following the overthrow of elected President Sidi Ould Elsheikh Abdullah in a military coup led by General Mohamed Walad Abd Al Aziz, the troupe released a song titled "We Are Against The Coup" in August 2008.
Tensions have since started rising between the government and the group, which has continued to produce anti-regime songs.
As the Arab revolutions took off, and as opposition parties increasingly demanded the overthrow of the Mauritanian president, the trio released a song earlier this year titled "Kim," or "Leave." It has become one of the most controversial songs in Mauritania, due to its immense popularity on social media and among young people. It has also led to a political crisis between the majority and the opposition in the country.
Days after the song was released in January, the Mauritanian government arrested Hamada on charges of "violating God's prohibitions" and "smuggling drugs," after a rape suit against him was dropped.
Hamada said he believes his arrest came as a reaction to the massive impact of the song.
"I was framed so that the band would stop criticizing the president," he said. "I was supposed to be put in a civilian prison, but the inmates revolted in solidarity with me, so they decided to move me to the Salafi prison. I have to admit that I was never subjected to any harassment throughout my three-month incarnation."
Following Hamada's arrest, the rest of the band fled to Senegal. They continued to release songs that criticized the regime and called for Hamada's freedom. He was acquitted on March 17.
Months after "Leave" was released, the rap group Sawt El Sha'ab released a song called "Don't Leave," which called on the current president, Mohamed Wald Abdelaziz, to stay in power. The widely shared song accused the opposition of corruption. It featured sound bites and statements from the president's supporters.
As the sharp political fragmentation continues, the Mauritanian art scene is also undergoing a period of transition: between a traditional, commercial genre that can still be heard at weddings and other social events, and a young genre that speaks a language of protest and dissent to demand freedom and social justice. The latter is growing day by day, and has driven traditional artists to compete through innovative mixes of Arab and foreign music.
Perhaps this artistic conflict mirrors the tension in Mauritanian society today: between an older conservative generation holding onto inherited values, and a young generation that strives for emancipation and change. The younger generation has succeeded in turning art into an effective tool in the battle over power that has been monopolized by senior generals since the country's independence.
"Political opposition songs are prevalent in Mauritania, but there are many more songs that pay tribute to the tribes and regimes," said Ahmed Ould Gedo, an activist in the February 25th Movement and a Mauritanian blogger. "Under Muawiyah Ould Taya, several oppositional and anti-corruption artistic voices emerged, such as the prominent artist Minat El Meddah, and the B.O.B rap band. Today, there is Awalad Elbalad, who has a strong influence among young people. Songs like 'Kim, Leave' have created a large buzz on the streets."
"This art form is growing, and will soon flourish, in reaction to the corruption, lack of social justice and aspirations for radical change," he added. "Such dire circumstances inspire rap artists."
This article originally appeared on HuffPost Arabi and was translated into English.
REAL LIFE. REAL NEWS. REAL VOICES.
Help us tell more of the stories that matter from voices that too often remain unheard.