"... In the broadest sense of the word I LOVE women and I think they deserve a monument. It was only a matter of time before I made one..."
Beginning this week, Italian artist Mauro Perucchetti's monumental fiberglass sculpture "Michelangelo 2020: A Tribute to Women" will be installed in West Hollywood Park adjacent to the artist's "Modern Heroes" which has enlivened the site since Pride Month festivities kicked off in May.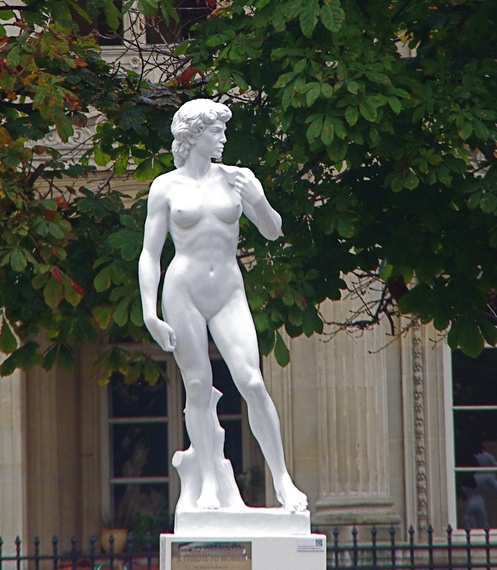 Michelangelo 2020: A Tribute to Women (installed at Place du Louvre, Paris)
White fiberglass, 6.5 x 2.5 x 1.5 ft
"Modern Heroes" depicts figures of a recumbent Batman and a Superman in sexy Clark Kent mode emulating of comic book ideals of masculinity, yet posed in disarmingly seductive postures evoking Michelangelo's Sistine Chapel. Emblematic of Perucchetti's cheeky commentary on the modern Western World, this work draws on some of the most iconic images in western art history to express his support of contemporary cultural and political issues -- for example marriage equality. Now, with "Michelangelo 2020" Perucchetti reimagines another of the most universally known Renaissance masterpiece -- the classic David sculpture -- in female form, as a tribute to gender equality.
Both monuments -- white fiberglass replicas of original 2011 marble sculptures -- are presented by the City of West Hollywood's Art on the Outside public art program; and the City hosts a free public reception at the installation site just north of the West Hollywood Library at 647 N. San Vicente Blvd., across from MOCA Pacific Design Center, at 5:30pm on Thursday, September 10. The same night, the artist celebrates the opening of Pop Fiction, his new exhibition at nearby De Re Gallery (8920 Melrose Ave., 7-10pm).

We caught up with Mauro on the eve of these installations, to talk universal symbolism, breezy aesthetics, deep meaning, contemporary politics and how to create objects of appealing beauty that simultaneously awaken and critique the rampant materialism of our modern gilded age.
SND: Was Michelangelo 2020 originally conceived more as a gender equality statement or an LGBTQ revision of art history?
MP: I could easily reply with a question: what do you think? This is because with my work I like to make things that make people think rather than me shoving a concept down their throats and, thankfully it works, hence your double question. Having said that, Michelangelo 2020 is my tribute to women, particularly in their role in history as the "underdog." In the broadest sense of the word I LOVE women and I think they deserve a monument. It was only a matter of time before I made one. Hopefully we are catching up a bit and the future of gender looks more socially balanced with women gaining much more deserved power and respect.
SND: It joins your existing work, Modern Heroes, in West Hollywood, and I know that work is closely related to the cause of marriage equality. So tell me how did Michelangelo 2020 come to be part of the Art On the Outside Pride programming? Because of this, do you now see differently, or have you always seen, its iconography in this or any political context?
MP: I spent some formative years in Rome in my youth and I remember being in awe of the amazing art disseminated throughout the city. I still feel that admiration and eventually, a few years ago, I found the opportunity to combine that classicism with contemporary issues and my style of art. I made MODERN HEROES then as my support to the gay community and their struggle for gay rights. Ironically the ambiguity of this work is something that has been present in classical sculpture forever. I always had a soft spot for this piece as it was the first time I worked in marble and felt I managed to successfully revisit my roots. It was my wife Lorena, who works as my PR manager, who decided to make a submission to the City of West Hollywood who immediately embraced it. It's a perfect marriage!
SND: Do you see statues such as the original David in relationship to your contemporary Pop Art influences? In a way they too were the public art of their day, and always the subject of art historical interpretations of sometimes homoerotic paradigms of beauty. Could you comment on that idea just a bit?
MP: I like this question, maybe Pop art goes back much further than the fifties. Doesn't David in his role as a biblical hero first and his contemporary reinterpretation in the 16th century as an image of courage and freedom easily compare with Batman? As I said earlier the sexual ambiguity also has been present in art forever, but what I don't know is if it was intended as subtle messages or dead giveaways of the artist's or their sponsor's tendencies.
MP: A bit of Americana which has been extracted from a body of work I did called DON'T MESS WITH THE U.S. Also a range of wall sculptures in pigmented clear resin that I call Tablets. The subjects are based on my most iconic works and their shapes have been carved on thick slabs of pigmented resin from behind. I tried to create the equivalent of three dimensional "prints" with an intentional hint to mass production. The Gallery also insisted in showing a few abstract pieces; and of course, to celebrate the public installation which is literally around the corner, I am showing an smaller marble version of the original MODERN HEROES.
Popular in the Community