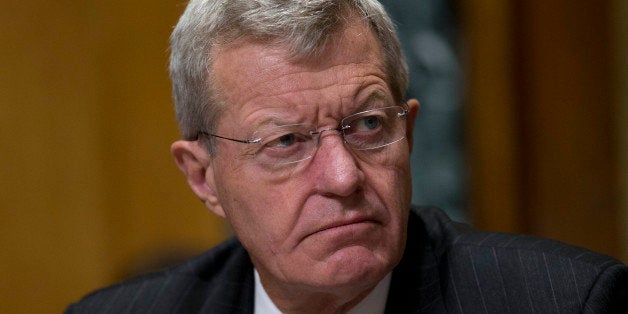 HELENA -- The news that Sen. Max Baucus may resign his seat to become U.S. ambassador to China could throw a new wrinkle into the 2014 race for his Senate seat, as Democratic Gov. Steve Bullock would appoint Baucus's successor. Would Bullock appoint his own lieutenant governor, John Walsh, who's already a top Democratic candidate for the seat that Baucus planned to vacate anyway, through retirement?
Neither Walsh nor Bullock would comment Wednesday evening.
Appointing Walsh would make him an incumbent U.S. senator, immediately raising his profile in a race that already includes Republican U.S. Rep. Steve Daines and four other candidates.
Yet Montana State University political scientist David Parker said Wednesday he's not sure that making Walsh the incumbent would give him that much of an advantage.
Senators appointed to seats tend to do poorly when they run for re-election, Parker said, because they often spend only a short time on the job before running and voters may view the appointment as an advantage unfairly gained.
"In some places, the electorate sees that as not kosher," he said.
Under Montana law, if a U.S. Senate seat becomes vacant, an election to fill the seat must be held at the next general election. However, the law also allows the governor to make a "temporary appointment" to fill the seat until that election.
It also wasn't clear Wednesday evening when Baucus might resign, if he is nominated to be ambassador to China. President Barack Obama would have to make the nomination, after which Baucus would face a confirmation process before the U.S. Senate.
Bowen Greenwood, executive director of the Montana Republican Party, said Wednesday night that Montanans would want an "open, transparent and fair process" of appointing a successor to Baucus.
He suggested Bullock should appoint someone who would fill the rest of Baucus's term and not run for re-election.
Two other Democrats are in the race for Baucus' seat: Wilsall rancher Dirk Adams and former Lt. Gov. John Bohlinger.
Bohlinger's top campaign adviser, Bob Brigham, suggested Wednesday that Bullock appoint former U.S. Rep. Pat Williams to fill Baucus' seat through 2014 -- with the understanding that Williams wouldn't run for election, leaving the existing candidates to continue with their campaigns.
"Pat Williams can go back there and, on day one, be as effective as anyone in the chamber," Brigham said. "Then when it comes to the future direction of the Democratic Party, let the voters decide."
Williams, 76, who lives in Missoula, said Wednesday he'd consider it -- if Bullock asked.
Williams said Bullock should appoint someone who knows their way around Washington, D.C., and who would not run for re-election.
"I have both of those qualifications and I can't think of another Montanan who does," he said.
Adams, reached at his ranch Wednesday, said Bullock should appoint a high-ranking Democratic woman to fill Baucus' seat, such as state Auditor Monica Lindeen, state Superintendent of Public Instruction Denise Juneau of Secretary of State Linda McCulloch.
Appointing a woman would "send an important message about women in Democratic politics," he said.
"Any of these women are well-qualified and should be given a chance," Adams said. "It would elevate their profile and build the Democratic bench."
Daines said late Wednesday that Baucus should be congratulated on his apparent nomination to serve as ambassador to China.
"Senator Baucus has been a dedicated public servant for the people of Montana and he will be the same when representing our country in China," Daines said in a statement.
The other two Republicans in the race are state Rep. Champ Edmunds of Missoula and Kalispell air traffic manager David Leaser.
Parker also said a Baucus resignation and the naming of a new, incumbent senator by Bullock doesn't change the basic political dynamics of the race, which currently favor Republicans and Daines.
Montana still leans Republican, the party not in power in the White House usually does well in non-presidential election years, and Daines has run a successful statewide race and has decent name recognition, Parker said. ___
(c)2013 The Montana Standard (Butte, Mont.)
Distributed by MCT Information Services
REAL LIFE. REAL NEWS. REAL VOICES.
Help us tell more of the stories that matter from voices that too often remain unheard.
BEFORE YOU GO
PHOTO GALLERY
Senate Seats Up For Grabs In 2014