Max Colby gives new meaning to the word "prick."
The 24-year-old artist combines embroidery with images from male physique magazines that were popular during the middle of the 20th century to create his series "Icons," which is comprised of incredible pieces that, as Colby states, "challenge the mediums' traditional functions while providing new, plural representations of male identity."
We recently caught up with Colby, who received his BFA with a concentration in printmaking and papermaking from the School of the Museum of Fine Arts, Boston and Tufts University, to chat about the inspiration for "Icons," how his sexuality impacts his work and more.
The Huffington Post: Where did the inspiration for these pieces come from?
Max Colby: I've worked with embroidery for a few years and wanted to utilize the medium in a more dynamic conversation.
Performativity of identity has been at the core of my work for a while, but wasn't being engaged in a challenging way. Body and gender politics are integral in identity construction, so I decided to apply this to a more specific context -- representations of the male body in early gay literature. Using embroidery to expand on these representations fit perfectly and so the work began.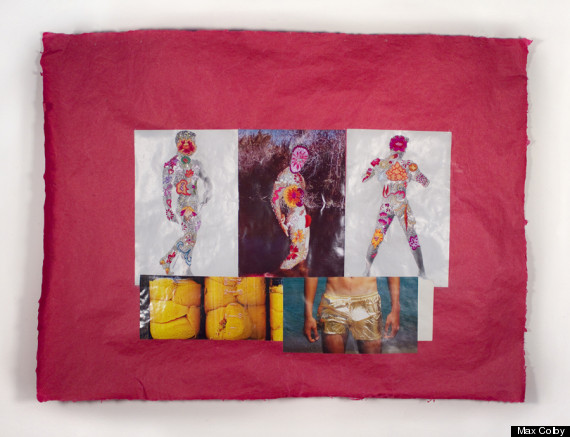 How did you get started doing embroidery? What does that medium represent or symbolize for you?
I learned to embroider while taking a general textiles class in college. The time spent on it was minimal but I became completely obsessed with the medium -- its intricacy, delicacy, beauty. Historically, embroidery has represented class, taste, worldly exposure and identity of its owner or commissioner. As I taught myself how to embroider over the years (on paper instead of fabric) the less obvious violent and physical nature of the process became very clear to me. Not only was the thread decorating a substrate with every stitch, its instrument was also puncturing and affecting the surface, creating holes in the paper and the image mounted to it. This physicality directed my focus toward the degenerative nature of continually re-forming identity. Its decorative function informed the expansive side of this process.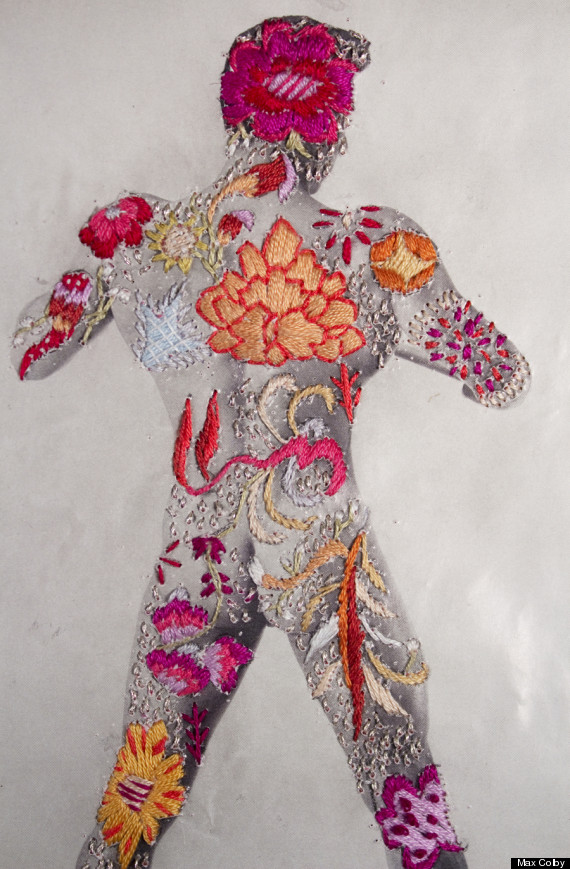 The interplay between the photos and the embroidery is unexpected. How do you see the two interacting?The similarity of these men to Greco-roman representations of the male body was most striking when working with photos from early "physique" magazines. All images in Icons are clippings from original copies of The Male Figure,
which ran from the 1930's through the '60s. The Male Figure was never overtly porn. Nor was it marketed to the gay
community explicitly. But through its evolution the market became quite clear (especially when remembering gay
pornography was illegal in these years). What remained consistent was the influence of centuries of artworks, which
depicted the male nude, seen in the form and poses these men assume.
My interest in manufactured ideology and physical representations of such led to the marriage of these mediums. By
interacting, my hope is to challenge the mediums' traditional functions while providing new, plural representations of male identity.
What kind of a statement are you making about the male body?
I'm not sure the work is about making an overt statement on the male body. Rather, it speaks to adaptability and subjectivity of the terms male and masculine. If related to homosexual identity - formations of desire, community, gender, sexuality -- in all their multiplicity, cannot be generalized. This multiplicity and possibility, ever populating, is the exploration of the work.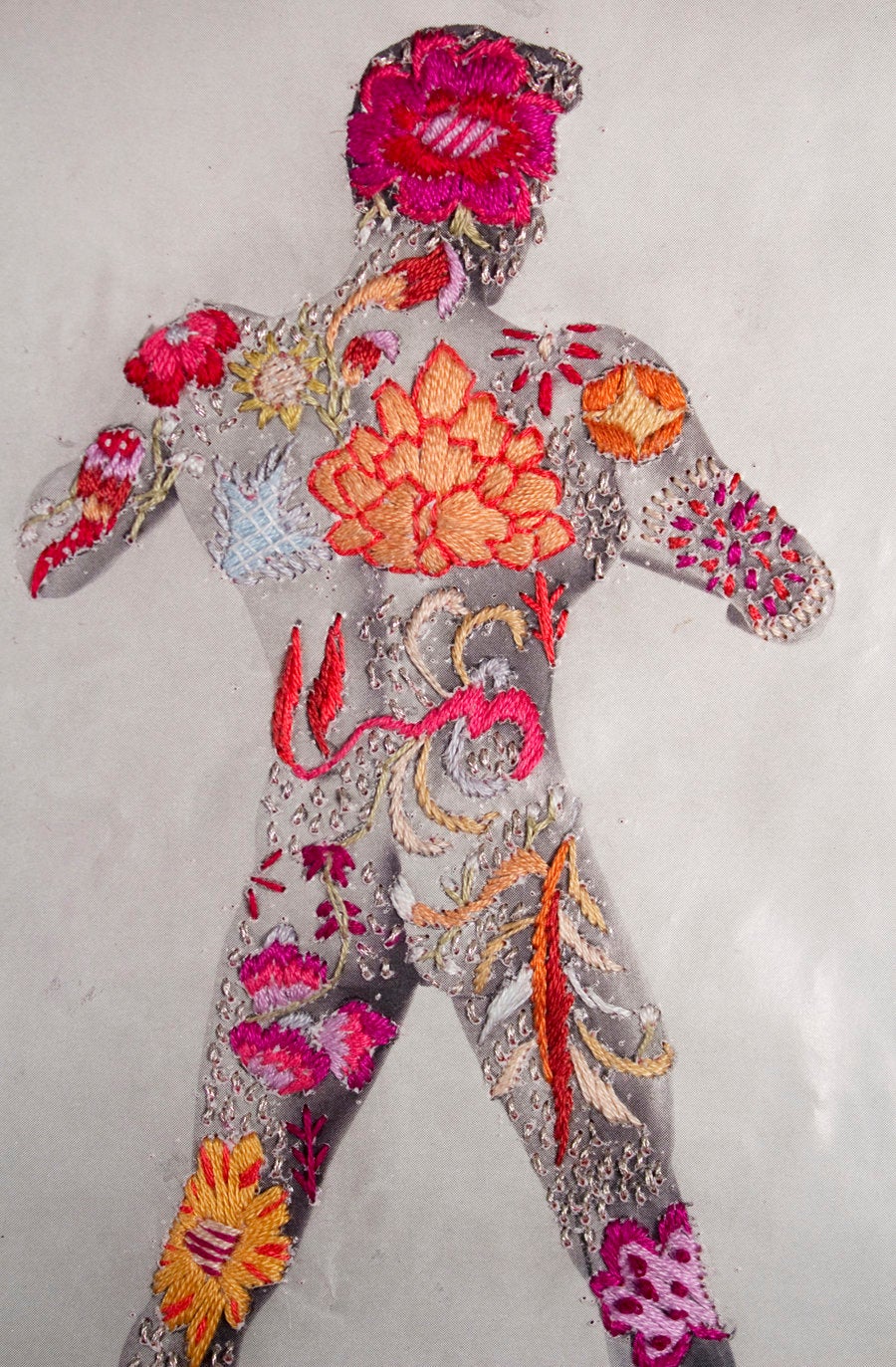 Max Colby: Icons
How does your sexuality play into your work?
As much as I'd like to keep my sexuality out of the work, it can't help but inform it. I'm not one to look at/watch porn at all so I did feel conflicted when I began this work. As a gay man, the last thing I wanted to do was make a general critique. Looking back at the representation of men in The Male Figure in a contemporary context, it's not only a normative one -- following a dominant dialogue whereby masculinity assumes the center of power and influence -- it also objectifies them. Certain mainstream gay culture, which appropriates and highly celebrates this notion of masculinity, comes to mind. This dichotomy is confusing to me as it often segments and prioritizes men, thereby alienating others. When the work is about gender, sexuality and identity it's very hard to keep your own out of the picture.
Popular in the Community