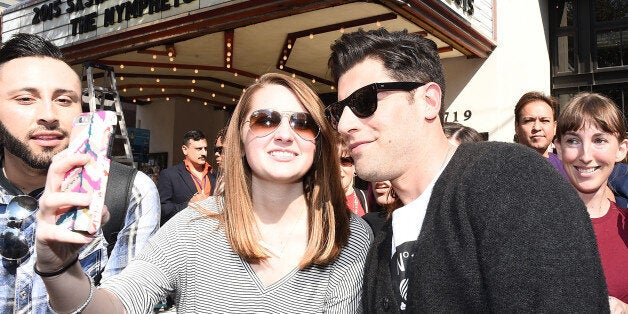 Long before Max Greenfield played Schmidt on "New Girl," he was cast on the Fox series "The O.C." as a young version of Sandy Cohen.
"It was actually a transitional moment in my career. I hadn't worked in a while," Greenfield told The Huffington Post last year. "I remember that it was quick and easy. Then the way they had cut it together, and with the music they chose, it ended up being a really nice scene. It was one that my mom loved. [...] It was a very big confidence-building moment for me."
But despite the positive memories, Greenfield said he really never had the chance to talk with star Peter Gallagher, who played the adult version of Sandy on the popular teen series.
"I met him once, and I was like, 'Hey, man, I played the young you!'" Greenfield recalled last year. He said Gallagher was a bit flummoxed by the comment. "I don't think he gave a shit," Greenfield joked. "I suppose if someone played the young me, I probably wouldn't give a fuck either."
But now the two men are co-stars again in Michael Showalter's new film, "Hello, My Name Is Doris." The comedy, which stars Greenfield and Sally Field as a pair of unlikely friends, premiered at the South by Southwest Film Festival on Saturday night. Gallagher appears briefly as a self-help guru, but does not share the screen with Greenfield.
"There was a part of me who thought I should go say hi," Greenfield told The Huffington Post on Saturday about seeing Gallagher on the film's set. "But I'm going to divulge something to you: I got too nervous."
Greenfield said he was sure Gallagher would have been lovely if they had chatted, but his nerves won out. "I get nervous around very few people. I don't know why, but he's one of them," Greenfield said. "I feel like the only thing I have to say to him is, 'I played the young you.' I think that's a fucking weird way to open up."
Fortunately, Greenfield had no such problem becoming close to Showalter. The pair grew friendly while filming David Wain's "They Came Together," which Showalter co-wrote. "I think I became a secondary assistant to him," Greenfield said. "At one point, I was cleaning his phone."
While the "New Girl" star was filming the drama "About Alex" in 2013, he was offered the co-leading role in "Hello, My Name Is Doris." But it was almost a full year before the film would begin shooting. "It was cool when it started coming together with all the different actors," Greenfield said. Cast members include Beth Behrs, Rich Sommer, Natasha Lyonne, Tyne Daly and "Bleachers" lead singer Jack Antonoff. Field, whom Showalter had held up as an ideal version of Doris, came aboard as well. It's the actress' first leading role in a film in almost 20 years.
"I've worked with a lot of people, but Sally is definitely on a different level," Greenfield said of his Oscar-winning co-star. "But I knew that if I treated her as such, it was going to fuck me. I have to do scenes with her, and I can't be fanning out or so precious around her."
The onscreen relationship between Field and Greenfield spurs a coming-of-age for Field's Doris, an office worker struggling to cope with life after the death of her mother. As Field said after the film's premiere on Saturday night, Showalter balances heavy dramatic moments with ridiculous screwball comedy in a way that feels fresh and almost subversive.
"We had a lot of fun," Greenfield said of his time with Field. "I think we walked away from this with a nice friend."
Now if she can only introduce him to Peter Gallagher.
Calling all HuffPost superfans!
Sign up for membership to become a founding member and help shape HuffPost's next chapter
BEFORE YOU GO