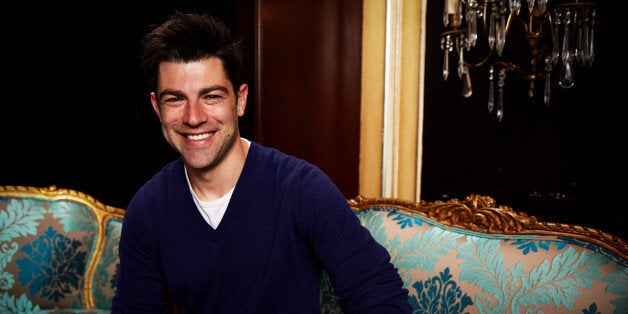 In person, Max Greenfield is engaging, chatty and often hilarious. Here, in New York, we'd say that he likes to schmooze. The 33-year-old actor has shot to fame over the last three years by playing Schmidt on the Fox series "New Girl," and he's the kind of person fans hope all their favorite actors are in real life: appreciative, but good-humored about success.
Thus far, Greenfield has spent the bulk of his career on television. Before "New Girl," there were roles on "Ugly Betty," "Veronica Mars," "Greek," that reboot of "Melrose Place" and even "The O.C." This year, though, he's becoming a movie star: In addition to a cameo appearance in the "Veronica Mars" movie, Greenfield has featured roles in David Wain's new comedy, "They Came Together" (out this summer), and the Tribeca Film Festival debut, "About Alex." Directed by Jesse Zwick, that film is a spin on '80s ensemble dramas such as "The Big Chill": Following a suicide attempt by the title character (Jason Ritter), a group of college friends (Greenfield, Aubrey Plaza, Nate Parker, Max Minghella, Maggie Grace) reunite after years apart for a weekend of memories, drinking and drama. Greenfield plays Josh, the cantankerous malcontent of the group, who thinks society is headed to hell on an express train (don't even think about getting him started on social media). As Josh jokes during one of the film's group scenes, he hates nostalgia, can't stand the present and thinks the future looks even worse.
HuffPost Entertainment spoke to Greenfield following the Tribeca premiere of "About Alex." An edited transcript of our conversation is below.
Max Greenfield: I follow the HuffPost on Twitter.
That's good. You're very funny on Twitter. I try to not dive into anything that I'm unqualified to talk about. As many seem to do. I mean, what the fuck? Some people comment on shit and it's like ... there's something that takes away from the importance of the issue and whatever point you're trying to make by putting it in 140 characters on Twitter. Cut it out.
It's good for jokes. I'll just do jokes on there, and then every once in a while if someone dies who I love, I'll just throw in [a comment]. What that does though, you hope -- especially because we have all these young fans -- is encourage people to then go, "I want to know who Phil Hartman is. I don't know who that is, let me look him up." You should fucking know who Phil Hartman is, children! I don't think the fucking "Glee" audience knows who Phil Hartman is. It drives me nuts.
All this social media discussion is a good entry into your new film, "About Alex," which includes a lot of opinions about how Twitter, Facebook and Instagram are hurting interpersonal relationships. That's great. I was waiting for that segue. I knew it was coming. Had you missed it, I would have been like ...
So where do you stand on this: Is social media a problem? There's a very realistic element to it that's I think relevant to the movie, where you follow your friends on there, and because of that you think you have some sort of connection to them. You think, "They must be fine. Look at them off in Disneyland! Look at the wonderful pictures on Facebook, all 98 of them." Then there's the other thing, where you see these snapshots of people on Instagram and you start judging their lives. Like, "Stay out of the fucking sun, man! Jesus. You're just asking for skin cancer."
Where social media is taking us? I think, like anything powerful, there are extreme advantages and positives to social media. Endless. With that, comes extreme negatives. This movie gives us an opportunity to wave our finger at all the negative aspects of it, and be like, "Blah blah blah." But how about we choose not to do that, and look at it. These things are extremely positive tools that have the ability to bring us all together.
Or provide information. If two people looked up Phil Hartman because you tweeted about him, that's a good thing. Totally. 100 percent. I agree.
What was it about doing this movie that interested you? We do the show for eight months and then we have a four-month hiatus. So scheduling is everything. I'm also not in a place where I can just go pick and choose parts. It has to be a nice marriage where it's something I would want to do, and then a movie that would want me to do it. I remember reading a bunch of scripts previous to reading this one that were just awful. I knew I wanted to do something, but I was not going to go do some insanity. This was so different, though, and I really liked it. I had known there were a couple of other people in the mix. I think Nate Parker was set already. I'm a huge fan of his. He's so great, and Nate is such a different actor than I am -- we have such different backgrounds, and our careers are in different spots. I thought it would be very interesting. There were a lot of positives to working with him. I went and auditioned, and I supposed it went well.
You're in the movie, so yes. Then I met with Jesse and we talked. At that point, some other actors had come on, and it felt like this was becoming a real cast of people who I was fans of and wanted to work with.
There's so much chemistry between the cast. You guys all seem to like each other, and that really helps the finished product. This is a tough movie to shoot, just because of the amount of coverage you had to do. A lot of the group scenes seemed endless. You have one camera because you don't have any money. You're doing these same scenes over and over and over again. Forget about liking them, you just want to go in with a bunch of people who are seasoned and professional and just know the etiquette in those scenes; who know that this is not about them, but us as a group. I think somewhere within the first week or so, when we realized who were dealing with -- Jesse was a great leader, and he seemed to have control of the situation; we didn't really have any problems in the cast -- it was like, "Oh, now we can just have fun." It really was a fantastic group of actors. They just got it, and were all respectful of one another. I think that allowed the movie to have those extra moments, where you needed them as friends for the film to work, as opposed to just going from scene to scene.
Your character here is different from what you do on "New Girl." Do you actively try to find roles that aren't like Schmidt? No. I think you look for what's good and what you want to be a part of. Here's an example: After the first season of "New Girl," I had gotten a couple of offers on movies and I was not too thrilled with any of them. Some of them were like different versions of "New Girl." Then I read "They Came Together." David Wain and I have the same agents, and I called them and said I would do a line in this movie as opposed to any of the other movies I was being offered. After begging, they agreed it was a good idea to have me maybe in the movie. I remember that was one where it was a full-court press. Sometimes, something will come around like that. I don't know that I've ever felt that way about a project other than "They Came Together." I'm doing another movie with Michael Showalter this summer. He'll be directing. I couldn't be more excited. Those guys -- I don't know what it says about me, but I feel like their tone is exactly where I want to live comedically and dramatically. I don't know! I just feel really at home inside their world.
Actors clearly do both now, but do you want to make more movies in the future or stay on television? I just want to continue doing things. I haven't done anything yet where I've been like, "This was a mistake." I feel like I'm really lucky in that respect. I want to continue doing that. I'm sure, eventually, I'm going to have that experience, and it's going to be terrible, but I want to try to prolong this reality for as long as I can.
Great casting! Did you ever meet Peter Gallagher? I met him once, and I was like, "Hey, man, I played the young you!" He did, like, one of these: "... You did." I don't think he gave a shit. I suppose if someone played the young me, I probably wouldn't give a fuck either.
Oddly enough, the writer of that episode of "The O.C." was a woman named J.J. Philbin, and J.J. works on our show now. We both put it together somewhere in the middle of season one. We were like, "Holy shit."
What do you remember about doing that episode? It was actually a transitional moment in my career. I hadn't worked in a while. I had taken some real time off. Not that I was taking time off from much, but things weren't working and I had done a show for The WB that got canceled. I was just like, "What the fuck am I doing?" I didn't know where I should be. It was a really tough moment for me. So I took a break for about a year or more, and I started to slowly come back into acting. "The O.C." was my first job after that. I remember that it was quick and easy. Then the way they had cut it together, and with the music they chose, it ended up being a really nice scene. It was one that my mom loved. But I remember thinking, "Oh, I feel like I'm okay in this. I like this scene. I like what they did with it." It was a very big confidence-building moment for me.
It really was a great show. Great show.
Calling all HuffPost superfans!
Sign up for membership to become a founding member and help shape HuffPost's next chapter
BEFORE YOU GO
PHOTO GALLERY
Tribeca Film Festival 2014