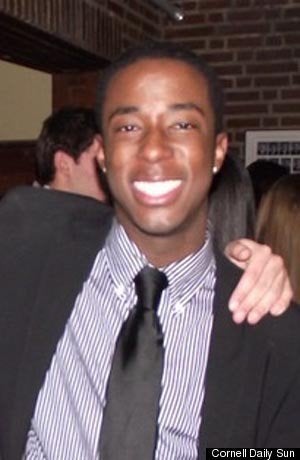 At least three Cornell students have been charged with misdemeanors in connection with the death of George Desdunes, a 19-year-old fraternity pledge who died of alcohol poisoning in February.
Max Haskin, Ben Mann, Edward Williams and a minor student whose records remain sealed plead not guilty to first-degree hazing and first-degree unlawfully dealing with child, the Associated Press reported. Williams faces an additional charge of second-degree criminal nuisance.
Desdunes was found unresponsive in the Sigma Alpha Epsilon fraternity house Feb. 25 and later died after participating in a hazing ritual called a mock kidnapping. The AP has more:
In the early morning hours before his death, Desdunes had consented to a mock kidnapping — a fraternity ritual in which pledges quiz brothers on fraternity lore. Desdunes and another brother had their hands and feet tied with zip ties and duct tape. When they answered questions incorrectly, the pair did exercises or were given drinks like flavored syrup or vodka. Pledges dropped him off at the Ivy League fraternity house after 5 a.m., according to court documents.
After the incident, Desdunes' blood alcohol level was 0.35.
Popular in the Community