British actor, Max Irons, unveiled his latest campaign for Macy's INC fall/winter 2012 collection, with an exclusive event at Thom Bar in New York City. Prior to his hosting commitments, we sat down with Max in his Thompson Hotel Suite for a one-on-one interview before he jets off to Belgium to film the BBC Elizabethan drama, The White Queen.
The night featured model presentations of a few key men's looks from the International Concepts upcoming season, incorporating darker tones and a more tailored fit. This is the second consecutive time Irons has been the face of the in-house brand, proving a successful partnership for the department store.
Sporting apparel from the collection, Irons jokes that he begged for Macy's to re-sign him as spokesman, describing the relationship as "collaborative." The collection incorporates his personal style with that of iconic motocross and varsity styles to create a solid fusion of classic sportswear with a modern, athletic feel.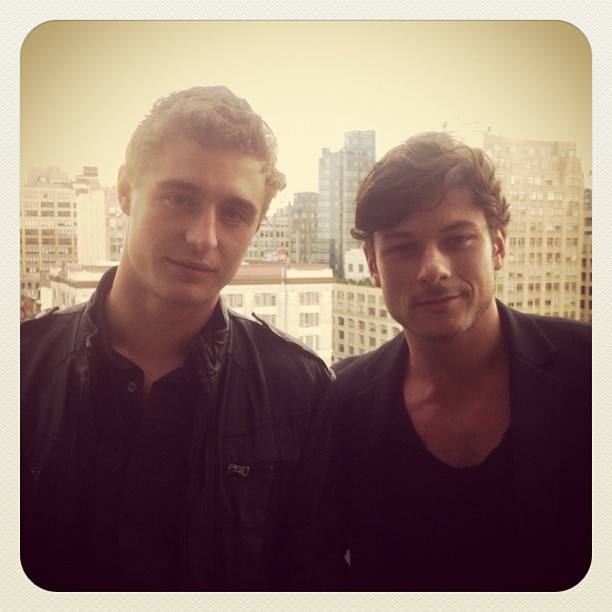 Although the Red Riding Hood star and son of Oscar-winning actor Jeremy Irons remains modest while making his mark on the world, it is only just beginning for the 26-year-old star, who recently wrapped up shooting the highly anticipated film adaption of Twilight author Stephanie Meyer's best-selling science fiction novel, The Host. While Twilight fans say goodbye to one franchise they will no doubt be anxious to join Irons as leading man 'Jared,' fending off parasitic aliens in what could be the first of another teen-obsessed trilogy. Naturally, it comes as no surprise that such territory comes with comparisons to his fellow Brit, Robert Pattinson, who he describes, even after recent events, as "a very lucky fella."
Although it was a topic that was off boundaries -- coincidentally, Irons relationship with Australian actress Emily Browning has also recently been reported to have ended. He doesn't take notice of what's written about him though -- "I don't look on the Internet, it's a world of pain. Despite those reports, he still has fond memories of the land down under including his encounter with another world of pain -- a jellyfish. "Thanks for that," he jokes.