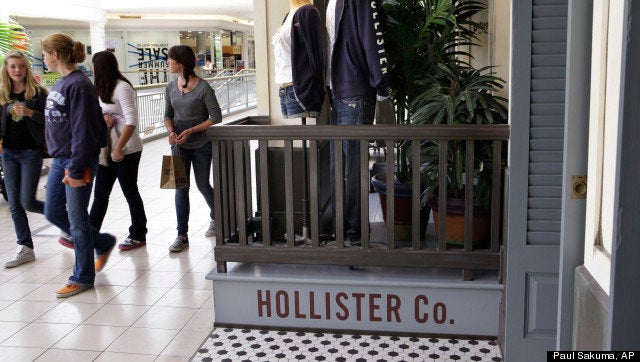 There's only one real Hollister store in Ireland and that's apparently not enough to satisfy the country's thirst for hoodies.
The 27-year-old Irishman saw a business opportunity this spring in setting up a replica Hollister Co. store in the back of his home in rural County Clare, Ireland. The shop had been open a little more than a month when, on May 18, police working from a tip raided the shop and seized 596 items worth 10,000 euros, according to Irish Independent. At the time of the raid, 14 customers were shopping in the store, which had been decorated to look like a real Hollister.
Kulczynski bought the goods at a real Hollister store in Florida, where he lives three months of the year. Neither he, Abercrombie & Fitch, Hollister's parent company, or either of their lawyers agreed to answer questions about the case. The seized items of clothing, which included hoodies and track pants, were ordered by an Irish judge to be returned to Abercrombie & Fitch, the Independent reported.
Ten years ago, anything with an Abercrombie & Fitch logo was enough to score an American highschooler a spot at the cool cafeteria table. Today in the U.S., the company's clothes are more closely associated with cast members of Jersey Shore. The company last year offered to pay one cast member, Mike "The Situation" Sorrentino, to stop wearing its Abercrombie & Fitch brand. As of early May, the chain had closed two Abercrombie & Fitch stores and three Hollister stores this year. It is planning to shutter 180 stores over the next three years.
Meanwhile, the company's preppy collegiate style has been embraced by Europeans. Since 2007, Abercrombie & Fitch has opened eight flagships and 68 Hollister Co. stores on the continent. Abercrombie & Fitch opened its first Hollister Co. store in Dublin in 2011 and will open up a flagship in that city later this year.
But the expansion might not occur as quickly as Americana-obsessed Europeans would hope. Sales at Abercrombie & Fitch stores open at least a year were down 5 percent in the first three months of 2012, due in large part to "a tough macroeconomic environment in Europe," CFO Jonathan Ramsden told analysts on a conference call in May. Last week, rumors circulated that the company would curtail its expansion plans in Europe to appease investors.
Morbid economy aside, Irish teens still want their hoodies. "From kids of the age of 16 upwards to young adults [Abercrombie & Fitch] is the most popular type of clothing," Barry Duggan, the Independent reporter who covered Kulczynski's hearing on Friday, told The Huffington Post. "Any kid who travels and spends the summer in the states comes back with suitcases full of Abercrombie."
Copycats have also beaten Abercrombie & Fitch in the race to build new stores in China, another country the company is targeting for expansion. In August 2011, a Zhongshan man was tried in court for operating a fake Abercrombie & Fitch store, USA Today reported. In March, a fake Abercrombie & Fitch website registered to a Hong Kong email address came under public scrutiny when it described the color of a pair of pants using a racial slur. Abercrombie & Fitch filed a complaint against the site, which is no longer online.
Support HuffPost
The Stakes Have Never Been Higher
Related
Popular in the Community