As we begin November, 2015 is rapidly coming to an end. We often feel the squeeze to tick off the year's goals and end the year on a high. My tip for making the most of the rest of the year is to combat end-of-year madness by getting creative!
Creating helps me stay mindful, centred and balanced, keeping me zen in the inevitable end-of-year flurry. I get festive, and amp up my achievements in the final part of the year by stretching my creativity -- and whether you think you are creative or not, you can do the same!
Creativity replenishes what life depletes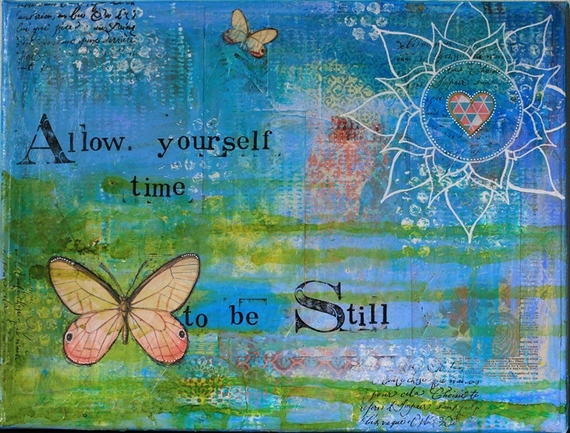 Photo Credit: Katherine Parrott. Original mixed media artwork by Katherine Parrott entitled 'Bliss.'
Creativity and mindfulness are inextricably linked. Keeping your creativity going (or getting it started) will help you end the year in a mindful way and will also help prevent the exhaustion and burn-out that often accompanies the end-of-year rush. This ensures you will be in a great space to begin the New Year. Creativity replenishes what life depletes.
Creativity helps us stay centred and balanced. Whatever your creative outlet, it can turn up surprising results for all areas of our lives. I have my best business ideas when I'm painting, design mandalas for meditation and relaxation, and I remember what the end of the year is really all about by making gifts for friends and family. Making time for these activities -- no matter how small -- WILL make a difference to your mindset and mood, helping you accomplish more as the year comes to an end.
Creativity comes in so many different forms, and pays dividends in every area of our lives. Make a little space in the rest of your year for a regular creative practice!
What to do if you think you're not creative
I believe that everyone is creative and that we are born with inherent creative ability. Those of us who identify with being creative understand that creativity manifests in many different ways -- from the ability to paint, write or draw, to making incredible food and wine or the talent for writing computer code (definitely not my forte!)
Creativity is like a muscle -- we can train it, grow it and develop it over time, simply by using it. If you don't think you're a creative person, start your creative practice by choosing something simple and easy to achieve. The popularity of adult coloring books is a fantastic example of a creative, mindful activity, but so is trying out some new recipes, beginning an art journal or doing a daily photography project.
Creativity builds productivity
All too often, we fall into the trap that 'we don't have time.' And yet I find when I'm routinely making time for creativity, my brain is literally on fire, and I'm much more productive. I fly through tasks I would otherwise procrastinate on -- I feel sharper, and more alert. I need less sleep, and spring out of bed in the mornings.
Exercising your creativity is a not-so-secret weapon for your life and career. It will expand your possibilities, and assist you in achieving all of your goals. Finish your year mindfully and develop a creative practice today!
Beat the end-of-year craziness!
If you enjoyed this article, download my guide to an easy, breezy and more creative life here -- my Six Steps To An Easier Life Guide contains my tried and true tips for sustaining a creative life in a balanced and mindful way. You can put these simple steps into practice right now, with no special equipment or tools required. They will help you through everything you want to achieve before the end of the year, and can become practices that assist you in every part of your life.
REAL LIFE. REAL NEWS. REAL VOICES.
Help us tell more of the stories that matter from voices that too often remain unheard.