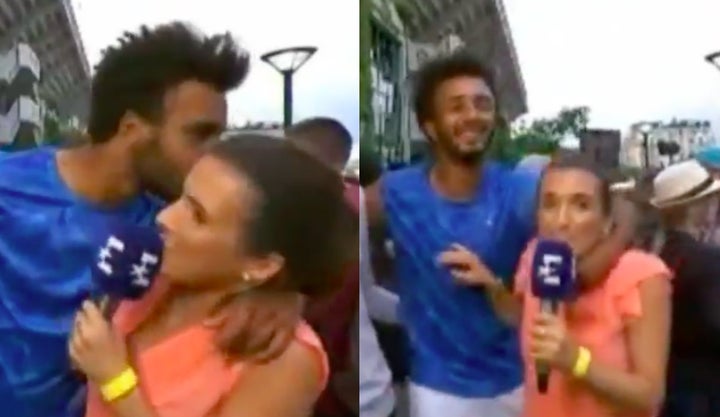 After losing to Pablo Cuevas during a match on Monday, 21-year-old Hamou was interviewed by Eurosport reporter Maly Thomas. During the 45-second interview, Hamou repeatedly wrapped his arm around Thomas's neck and pulled her towards him in order to kiss her cheek and ear. Thomas ― knowing she was on live TV ― attempted to laugh it off and escape Hamou's grip. Despite Thomas' obvious protest, Hamou continued to grab and kiss her.
Watch the full interview below:
"If I hadn't been live on air, I would have punched him," she added.
"The leadership of the tournament has decided to remove the accreditation of Maxime Hamou, following his reprehensible behavior with a (female) journalist, yesterday, Monday, May 29," the federation said in a statement.
"I would like to offer my deepest apologies to Maly Thomas if she felt hurt or shocked by my behavior during her interview," Hamou wrote. "I just spent a wonderful week here at Roland Garros, living my most beautiful emotions as a tennis player, and I let my overflow of enthusiasm express itself awkwardly toward Maly, who I know and who I sincerely respect. Nothing of what is written was my intention. I am available to her to present my apologies in person if she would like. I still learn every day from my mistakes to become a better tennis player and a better person."
In a statement released Tuesday, Eurosport condemned Hamou's behavior as "highly inappropriate," adding that "Maly is a highly respected journalist and we are pleased that a full apology is being offered."
Related
Popular in the Community