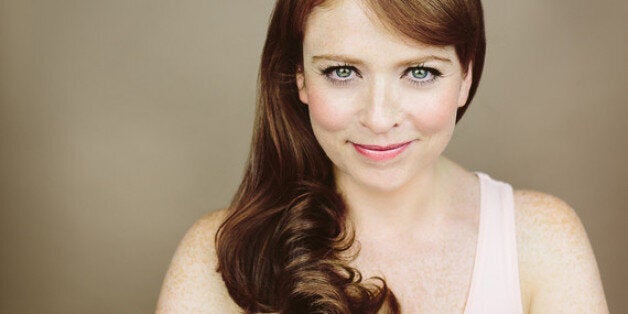 Recently, I assigned one of my reviewers at Center On The Aisle to cover a performance by a singer named Maxine Linehan at a cabaret venue in New York City. I had never heard of Linehan, and to be totally honest, I hadn't read more than a line or two about her before telling the venue that someone from my team would attend.
What I got back the next morning, however, more than captured my attention. It was one of the most glowing reviews I have had ever read. I felt as though I was reading about a seasoned pro, a household name. I had just woken up, but rushed to my living room to look up Linehan on Spotify. She is indeed glorious, with a tender, thoughtful, and heartfelt voice that delivers both in musicality and emotion. She varies her approach just as precisely as the biggest stars, with a keen awareness of that hidden dimension that connects a singer to their audience, be it through a pop song, standard or show tune.
I was stunned and surprised. I didn't know what to make of it, but I knew I needed to speak with her, and a few hours later we were connected over email.
I learned that her recent performance had been a promotion for her second studio album, "Beautiful Songs," being released this week, which Linehan then sent me a link to download.
A simple and understated title, "Beautiful Songs" is respectfully fitting, as it lets the music speak for itself, which it does incredibly through a collection of titles, arrangements, and, of course, Linehan's remarkable voice and talent.
Ranging from pop singer to chanteuse, the 41-year- old Irish native -- now New Yorker -- runs the gamut with extraordinary ease from the American Songbook to a rock favorite. She transitions seamlessly between Jerome Kern's "Smoke Gets in Your Eyes," to a coquettish take on Dean Martin's classic, "Sway," to a scorching rendition of the U2 hit, "One," with piano and strings backing her up as she rips into the song with passion and unexpected pop appeal.
Linehan also smartly ventures into the realm of singer-songwriters with a heart-wrenching take on Matt Alber's "End of the World" and with the song "I Think of You," written by her husband, Andrew Koss. Cutely describing love's warm, numbing effect, even when faced with the maddening scenes of New York City ("I spring for a taxi and now I'm stuck enjoying the scent of this garbage truck, but I think of you to get me through"), Linehan sounds more like radio mainstays Ingrid Michaelson and Sara Bareilles than a student of jazz standards.
However, the standards are certainly there, forming a foundation for "Beautiful Songs." The album includes Linehan's take on Edith Piaf's "If You Love Me/Hyme à l'Amour" and Irving Berlin's "What'll I Do" (creatively arranged with an up-tempo version of the Beach Boys' "God Only Knows"). There are also several tracks from Broadway, a reflection of Linehan's roots in theater, including "Peter Pan's" "Never Never Land," Sondheim's "There Won't Be Trumpets," and a sultry "I Love Paris," by Cole Porter ("Can-Can"), which brings to mind a smoky nightclub in the City of Light -- Linehan herself aiding in its illumination.
Linehan adds a curious footnote to this fitting homage: "When we were recording 'I Love Paris,' it was just a few days after the terrorist attacks. We were all so overwhelmed with emotion at the power of that song and what I was singing that the song ended up taking on a much darker and more frantic element that I'd never heard in it before. This new emotion brought that to the music, and it was current and relevant and so in the moment. I just think that's a good example of how being present and singing honestly brings out the best in the performance."
From the City of Light to the Emerald Isle, Linehan also pays tribute to her Irish roots with a traditional and emotional take on the country's classic "Danny Boy." In the song, Linehan lets her accent loose more than on any other track, and her songbird voice flutters, vividly bringing to mind Ireland's endless green countryside.
With her ginger hair and fair complexion, as much as she's developed a wide artistic range, Linehan's roots run deep in her life as well as in her identity on stage and in her song selections. Linehan's first show, "An American Journey," and the resulting live album, "is the story of immigration, told through song and through the eyes of this Irish immigrant," Linehan explains. Her second, "W.W.P.D?" -- What Would Petula Do? -- is an homage to famed performer, Petula Clark, whom Linehan says she "grew up being a little obsessed with."
All three albums have come to life quickly over the past two and a half years since Linehan met producer Scott Siegel. Prior to that, Linehan had been touring with the Lincoln Center production of "South Pacific" (and, fun factoid, she was also previously an attorney here in the States and in Ireland), but she put on the brakes once she found out she was pregnant and chose to focus instead on performing at home in New York.
"Becoming a mother changed everything about me in the best way possible," Linehan says. "But it really changed my career quite dramatically." As luck would have it, though, Siegel happened to wonder about Linehan potential as a solo performer after hearing her sing just 15 bars in the off-Broadway play, "Bronte," "And the rest, as they say, is history," Linehan adds with a laugh.
What's truly remarkable is to hear Linehan's swift evolution as a performer in the few short years from "An American Journey" to "W.W.P.D?" and now "Beautiful Songs." "An American Journey," which granted is a live album, is beautiful but lacks the rich depth of her voice and song selections showcased in this latest release. In "W.W.P.D", she pays homage to an established star, and, knowingly or not, her performance seems restricted to just her pop range. It's a sweet album, but best summed up as "Linehan sings Clark."
Finally, Linehan lets loose in "Beautiful Songs," showcasing her identity as a confident and powerful singer. These are not songs Linehan is singing in homage; they are songs she's hand selected to reinterpret through her personal, unique editorial lens.
In this way, Linehan sidesteps the traps that often conquer the best, especially Broadway performers who produce albums featuring well-known tracks. As actors so used to assuming roles on stage, many either play it safe, sticking with the "same old" standard interpretation or decide to go "out of the box" with strange arrangements that veer too far from what makes these songs beloved in the first place.
Linehan, on the other hand, and her arranger Ryan Shirar, have successfully straddled those extremes with a unique approach that treats each song with respect but makes them distinctly hers alone.
"For me, in recording the album, just as I do on the stage, I go into the song," Linehan says. "That song is a little mini musical, and we go on this little journey and we talk about whatever the subject is. I think for me, because I choose songs very specifically that I have a connection with, it makes that process a lot easier. Therefore I can be very truthful in my delivery, which is very different. People often ask me the difference between performing in character in a musical or performing as yourself on stage. They're such incredibly different experiences."
"I love them both, but certainly of late I find that the experience of being yourself and being brave enough to be open and honest and vulnerable and all those things in front of an audience is really thrilling," Linehan adds. "One of the other things that has really changed since I became a mother is my voice. I was terrified about that when I was pregnant. I'd heard some horror stories about range being cut in half. But my voice has gotten deeper and richer and fuller.... It's really enabled me to sing very rangy songs and interpret different songs with this new voice."
As remarkable as it may be that someone so talented, with such deep insight and artistry, has appeared to pop out of nowhere, it may not truly be such a surprise at all.
Linehan's story is that of an immigrant, an attorney turned performer, an actress turned mother, turned solo artist. She's covered a lot of ground in just 41 years. For anyone looking back, it's incredible to reflect on the surprising twists and turns that lead us to the present day, some from hard work, others by chance--but with luck though, we'll see it all from a place of serenity.
"This kind of cabaret or concert performing is not really something I had on my radar. It wasn't something I had goals to pursue," Linehan says. "I think that's often the case of life in general. Things you're not looking for, you end up finding, making you very happy."
Calling all HuffPost superfans!
Sign up for membership to become a founding member and help shape HuffPost's next chapter