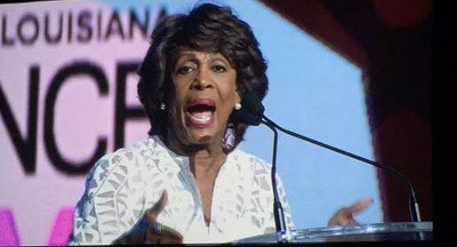 NEW ORLEANS ― Rep. Maxine Waters (D-Calif.) is unafraid to call out the inadequacies she sees in President Donald Trump and his administration ― as she demonstrated yet again in a searing address on Saturday.
Speaking at this year's Essence Festival in New Orleans, Waters explained why she believes Trump is unfit for the presidency, and made a powerful plea for him to be impeached. She also offered pointed critiques of several appointees within his administration, including Housing and Urban Development Secretary Ben Carson, who she argued is vastly unqualified for his position.
"Ben Carson was appointed to be the HUD secretary," Waters told the crowd of mostly black festival-goers. "He knows nothing about the mission of HUD. He doesn't care about people in public housing. He believes that if you are poor, it is your own fault. And he doesn't know the difference between an immigrant and a slave."
In a March speech, Carson did, indeed, bizarrely describe slaves as "immigrants," saying they came to America and "worked even longer, even harder for less" than other immigrants. In a Facebook post, he later acknowledged that "the slave narrative and immigrant narrative are two entirely different experiences," as "immigrants made the choice to come to America" while "slaves were forced here against their will and lost all their opportunities."
On Saturday, Waters explained why she believes Carson, a retired neurosurgeon and former Republican presidential candidate, does not belong in the White House.
"He needs to go back to the hospital, back to the operating room," she said. "If he thinks, when he comes before [the House Committee on Financial Services], where I am the ranking member... and thinks that I am going to give him a pass, I am going to take his ass apart."
Waters received raucous applause before going on to call out others within Trump's administration, including Education Secretary Betsy DeVos, Treasury Secretary Steven Mnuchin and Attorney General Jeff Sessions. (Waters described Sessions as a "racist," an accusation that the record supports.) She explained why she thinks their policies could be harmful for millions of Americans and why they are unfit to govern.
"[Trump] has hired in his Cabinet the most unqualified, uncaring, inexperienced people who don't give a damn about any of us," she said.  
Waters saved her parting words for Trump and reiterated why she's using her voice and platform to call for his impeachment.
"I have taken off the gloves. I am not going to tolerate a president who showed us who he is in the campaigns," she said. "I don't honor him. I don't respect him and I'm not going to tolerate him. I'm going to do everything that I can do to get him impeached."
Calling all HuffPost superfans!
Sign up for membership to become a founding member and help shape HuffPost's next chapter
BEFORE YOU GO
PHOTO GALLERY
Ben Carson Through The Years