Forget your mundane birthday cake because this woman just slayed the competition.
Sabrina Hersi Issa decided to have her cake in the image of one of Rep. Maxine Waters' most iconic tweets.
The tweet, which the Democratic congresswoman sent in response to Bill O'Reilly's tasteless insult about her hair, reads, "I am a strong black woman. I cannot be intimidated, and I'm not going anywhere."
Issa, CEO of digital agency Be Bold Media, told Mic that she was so inspired by Waters' words that she commissioned bakery Cakeroom to decorate her coconut layer cake to look like the tweet.
Issa said she spent years feeling "low" and "stuck" on her birthdays. But now, she uses her cakes for expression and inspiration. Last year, she put a quote from writer Rebecca Traister on her cake. This year, she didn't plan on using a quote, but "Maxine Waters kept being America's hero and giving me all the life."
"When I reflected on what energy and ethos I wanted to bring into my year ahead, I kept circling back to Maxine Waters and her style of unapologetically delivering necessary truths," she told Mic. "I thought of all the black women leaders I know who lead boldly day in and day out, I thought this is the leadership and energy I want to elevate and honor on my birthday. This is what we all need to source within ourselves."
The California rep even wished Issa a happy birthday on her Instagram page.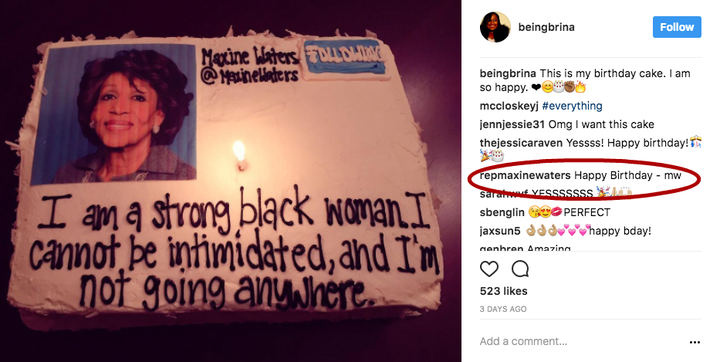 Hope the cake was as delicious and empowering as it looks, sis.