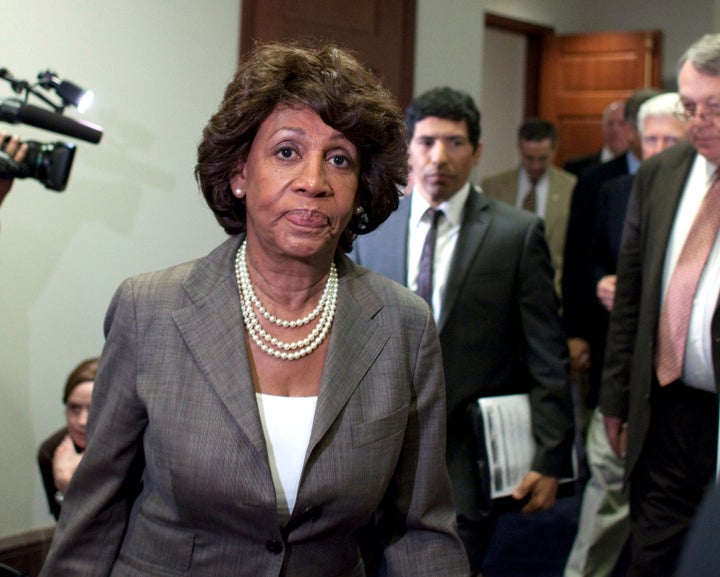 Congresswoman Maxine Waters (D-Calif.) is the latest African-American politician or public figure to call out President Barack Obama on his lack of attention to the nightmarish unemployment rates in the black community, his most reliable supporters.
"We don't know why on this trip that he's in the United States now, he's not in any black community," she said. "We want to give him every opportunity, but our people are hurting. The unemployment is unconscionable. We don't know what the strategy is," she continued. "We're supportive of the president, but we getting tired, y'all, getting tired."
At a jobs fair in Atlanta this morning, Waters continued to call out Obama. "There is a growing frustration in this country and in minority communities because the unemployment rates are so high," Waters said, according to the Los Angeles Times. She said that home foreclosures and an ever-widening wealth gap between blacks and whites was "creating frustration and, yes, some anger" in the black community. "The president is going to have to fight and he is going to have to fight hard," she said.
Last month during the Congressional Black Caucus' "Out of Poverty Caucus," Conyers said "I've got nothing from the White House," and that "We want him to know … we've had it. We want him to come out on our side and advocate."
Waters' and Conyers' very public pronouncements could signal a tonal shift in the relationship between the president and black communities nationwide. But what does all the fuss really mean? Will Obama's supporters abandon him at the polls next go round?
According to recent polling data, Obama's approval rating among African Americans is still above 80 percent. But with the 2012 elections looming and blacks bearing the brunt of the country's unemployment woes, the question of black turnout could be a serious one for the president.
Rob Carmona, the CEO and founder of STRIVE, a not-for-profit workforce development program in East Harlem, said that the unemployed and those struggling to get an economic foothold, particularly black and Latino men, have not so much lost love for Obama, but that, in Carmona's words, "It's waning."
"People are more concerned with their realities, the day-to-day living. We still want to defend the president for myriad reasons. But most people don't care about the politics, they care about how they are surviving," Carmona said. "People are very upset about the feeling, that we're being asked to sacrifice while the wealthy are being held harmless on this."
Talkshow host Tavis Smiley, during a recent interview with The Huffington Post, expanded on this idea. "Black folks are the most loyal constituency in his base. The question now is not so much if the black folks who do turn up will vote for him, the question is, 'How many black people will turn out?'"
Smiley added, "When black people are catching the kind of hell that they are catching, no wonder Obama's ratings slipped from a 97 percent approval rating after he was elected to the 80s now."
Jamal Simmons, a Democratic consultant with the Raben Group in Washington, D.C., said that none of the discontent is likely to erode the loyalty of traditional black voters, but there might be a danger of losing the non-traditional voters who voted en masse for Obama in 2008.
"I think for traditional black voters, their affection and loyalty to Barack Obama is unshaken," said Simmons. "The question for the Obama campaign will be how do they turn out non-traditional voters this elections? That's the place where there's some danger."
Simmons described non-traditional voters as first-time and younger voters, the unemployed and "those who follow hip-hop artists more than politicians and those who watch BET more than they watch CNN."
Part of the Obama campaign's dilemma is that they have not found an effective way to explain how Obama's policies have helped the black community, in such ways as filling budget gaps for state and local governments that employ more than 20 percent of African Americans, or the federal government's continued funding for HBCUs and aid programs for low-income and minority students, said Simmons.
Simmons said there might also be a critical flaw in Obama's overall approach to the unemployment crisis.
"I do not believe (as the president has said) that a rising tide lifts all boats. In fact, what I would say is that it certainly does not lift all boats at the same rate," Simmons said. "So what you've got to do is be concerned about latching onto the boats that are lagging behind and ensure that they are keeping up with everyone else," he said. "There have to be people in the administration who clearly understand that there are segments of the population that are going to be harder to pull out of the economic stress that we are all living in."
WATCH Maxine Waters Criticizing President Obama's Unemployment Policies:

Popular in the Community