Maxwell Barrett wanted to leave high school "with a bang." He succeeded.
The 18-year-old senior at Raritan High School in Hazlet, New Jersey, tweeted a screenshot of his yearbook photo and accompanying quote on Tuesday:
The quote, credited to "Unknown," reads: "Of course I dress well, I didn't spend all that time in the closet for nothing."
"I wanted to go out with a bang," Barrett, who is indeed very snappily dressed in the photo, told The Huffington Post. "I had never done sports, or clubs. I was always just an art student. I wanted to go out in a way people would remember me by!" He added that he didn't come up with the quote completely on his own, but had rephrased a similar quote he'd seen online.
Barrett said he was "out" as gay to most people around him. Though he had never officially told his parents, he said he could tell that they already knew. "It was just more of a confirmation to [my parents] than a coming-out story," he said.
And his parents' reaction?
"They said it was the best one in the yearbook and that they were proud of me," Barrett said. He mentioned that his classmates also loved it, and that even teachers had pulled him aside to congratulate him and comment on the quote.
Barrett said a yearbook supervisor initially told him they weren't going to run the quote because of its "shock value."
However, Hazlet Township Public School Superintendent Bernard Bragen could not confirm that happened.
"My understanding is that it was never pulled," he said.
Contact The Author
Related
Before You Go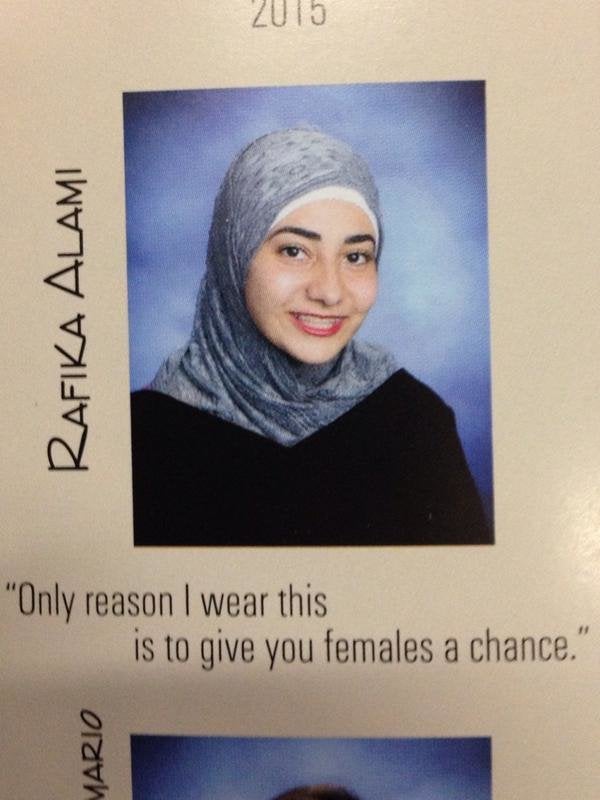 Hilarious Yearbook Quotes You Wish You Thought Of First
Popular in the Community