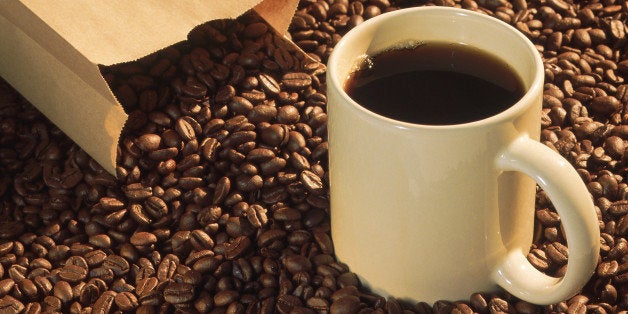 To get a taste of what makes America great today, look no further than your local factory or plant. We, Joe and Max, feel that by highlighting those who fuel the local economy, we can learn more about the goods and products that add color to our lives. That is the focus of our new digital content series, created in partnership with Maxwell House, called "Made Right Here." We're telling the real stories of American progress.
The Maxwell House coffee plant in Jacksonville, Fla. is featured in one of our "Made Right Here" episodes. When we visited the plant, we learned about the generations of employees who dedicate their days – and nights – to carefully crafting a cup of coffee that is "Good to the Last Drop" every time – a line Teddy Roosevelt coined more than 100 years ago. To get a behind-the-scenes look into what makes Maxwell House coffee so good, we interviewed plant manager and 24-year plant veteran Joe Waryold.
What is your favorite thing about working for Maxwell House?
I vividly recall my first trip to Jacksonville when I was interviewing for a job with Maxwell House. I stayed in a hotel downtown and could see the plant as clear as day from the hotel on the other side of the river. The location of the plant said so much to me about Maxwell House and the brand's values. The plant sits in the very heart of the city and can be seen from every angle. You can even smell the coffee's rich aroma everywhere you go. You can't really separate the two – Jacksonville and Maxwell House. We are bound by history and geography and the generations of families who have worked in our factory.
How many people work at your Jacksonville plant?
We currently employ 227 people, many of whom have been with us for 30 or 40-plus years.
Describe your typical day.
I start my day as most of our employees do, with a cup of Maxwell House coffee. I then walk the plant to take its pulse and see how things are running. Within the walls of the factory, I focus on our employees – how they are treated and the work that they do – and on making coffee that's true to our tagline, "Good to The Last Drop." Outside those walls, I engage the community on the plant's behalf and commit to always being a good neighbor. Our history in Jacksonville goes back 104 years. People know us and we play a substantial role in the community. No two days are alike for me, and that's one of the things I like most about working here.
What makes the Jacksonville plant stand out?
Our collective team shares an uncompromising commitment to quality. Each and every employee knows exactly how the coffee must look, smell and taste. If it doesn't measure up, we take immediate action to fix it.
How would you describe the culture at the Jacksonville plant?
I could share dozens of stories about people who started as entry-level workers in sanitation or in the coffee bagging area and are now leading a department. We have a true family environment here and everyone knows so much about each other. Career growth potential and a fun, family atmosphere make this plant a very special place for all who work here.
How has Maxwell House weathered the changes in coffee trends?
Since our start in 1892, Maxwell House has been loved by those who brew coffee at home, one cup or one pot at a time. For many years, most Americans picked up a can of coffee at the local convenience or grocery store and brewed a pot at home. Now, other trends like single-serve coffee and darker, bolder roasts are gaining popularity. At the same time, the things that Maxwell House drinkers love about us haven't changed. In the same way that our florescent coffee cup lights up the Jacksonville skyline, our coffee continues to kick off mornings across the country, with the taste and value that our fans expect from us. We're honored to deliver it.
To learn more about the Jacksonville Maxwell House plant, check out the following video: