But pith and power 'till my last hour
I'll make this declaration.
We were bought and sold for English gold
Sic a parcel of rogues in a nation.
--Robert Burns, A Parcel o' Rogues
What a big week in the Big Coal Gone Wild chronicles!
UPDATE May 18th : After a long national campaign to end banking practices for mountaintop removal mining operations, Rainforest Action Network announced that JP Morgan Chase has made its first public announcement on halting lending to reckless mining operations in Appalachia.
Meanwhile, at the Massey Energy annual stockholders meeting today in Richmond, Virginia, an estimated thousand protesters packed the foyers of the Jefferson Hotel and unfurled banners: "Massey: Stop Putting Profits Over People." According to news reports, two protesters have been arrested. Organizer Kate Rooth, with the activist group Rising Tide, called on Massey to stop "driving people out of their communities and poisoning their drinking water."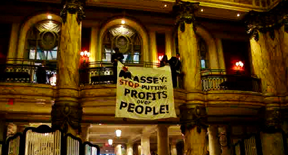 On May 18th, the Rainforest Action Network, among other citizens groups, will hold JP Morgan Chase accountable at its annual shareholders meeting for bankrolling criminal mountaintop removal operations in Appalachia.
Last week, RAN published an extremely informative report card on the banking parcel o' rogues--Bank of America, Citi, Credit Suisse, GE Capital Corp, JPMorgan Chase, Morgan Stanley, PNC, UBS and Wells Fargo --that make up the majority of financing for MTR. According to RAN, "Since January 2008, the nine banks examined in this report card have provided more than $3.9 billion in loans and bond underwriting to companies practicing mountaintop removal coal mining."
And, on the evening of May 18th, under the cover of darkness, Peabody Energy will begin blasting away the rest of my family's beloved Eagle Creek valley in the lush Shawnee National Forest of southern Illinois, at their expanded Wildcat Hills strip-mining operation. The 668-acre operation will not only continue to destroy one of the most diverse forests in the heartland, poison the area watersheds with discharges, but will most likely continue to eliminate and cover up the archaeological remains of prehistoric communities and African and African American slaves in the nearby coal mines and salt wells. And just down the holler, the Illinois Fuel Co. I-1 Mine will continue to be out of compliance with their NPDES permit and discharging illegal amounts of pollution into Eagle Creek and Rose Creek.
Here's a glimpse of the Wildcat Hills strip mine: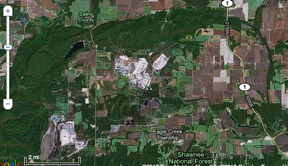 And to top off the week of Big Coal Gone Wild, massive underground longwall mining operations slated for south-central Illinois will continue unabated, soon to destroy one of the heartland's most productive agricultural areas.
Just ask Illinois farmer Larry Schraut, in Montomgery County, in central Illinois. Schraut's ancestral farm in the heart of Illinois corn country stands on the edge of the Deer Run longwall mine, a highly mechanized process that removes the traditional underground pillars and allows for the overlying rock and surface to collapse.
According to Joyce Blumenshine with the Illinois Sierra Club:

"The impacts of longwall mining on prime farmland is the overwhelming concern for the near-term and long-term Illinois mining permits. These national resource lands should be protected as necessary for future generations. How can coal mining continue to be approved by state and federal agencies to come in and cripple lands and choke off water resources? These agencies are failing to enforce the existing laws and cater to the coal industry to the detriment of fundamental fairness to the people and environmental justice."
According to Schraut, the subsidence from longwall mining--often more than five feet--causes irreversible damage to the farmland and aquifers, and essentially turns prized level fields into rutted swamps. The Citizens Against Longwall Mining, a coalition of farmers, and citizens and environmental groups, estimates that productivity drops substantially in most longwall mined areas, forcing the removal of multi-generation farm families in the process. The massive Deer Run mine is only one of several permits currently under review in four counties, in a new rush of longwall mining applications slated to double coal production in Illinois over the next decade.
Beyond Blankenship, the mayhem of Big Coal Gone Wild marches on.

Related
Popular in the Community