WASHINGTON -- Tuesday marks a big day for primary elections around the country, with races testing the tea party's strength, the power of the Clintons and whether a politically incorrect biker can make inroads in a gubernatorial contest.
Six states have elections in what's being dubbed a mini-Super Tuesday: Arkansas, Georgia, Idaho, Kentucky, Oregon and Pennsylvania. The Senate races with the potential for the biggest surprises are Georgia and Kentucky, where Republicans will be choosing between tea party candidates and ones with stronger backing from the establishment. Democrats are particularly divided in Pennsylvania's 13th Congressional District, with the four primary candidates trying to tout their progressive credentials.
Here's a look at the key races The Huffington Post is watching:
KENTUCKY SENATE: Tea party groups were initially hopeful that they could oust Senate Minority Leader Mitch McConnell (R-Ky.) -- whom they have criticized as not willing enough to fight for conservative causes -- but that prospect appears unlikely going into the election. McConnell currently leads his tea party challenger, businessman Matt Bevin, by double digits, and even Bevin's backers have admitted that victory probably isn't going to happen. McConnell has benefited from a cash advantage, and his campaign was able to go out early and define Bevin unfavorably before most voters knew who he was. Bevin has not said whether he will endorse McConnell in the general election if he loses. The Democratic Party, however, is united around Kentucky Secretary of State Alison Lundergan Grimes (D), who is expected to easily win her primary election Tuesday.
GEORGIA SENATE: Six main candidates are vying for the Republican nomination to fill the seat of retiring Sen. Saxby Chambliss (R-Ga.). The winner will take on Democrat Michelle Nunn, who doesn't face a serious primary challenge. The two tea party candidates, Reps. Paul Broun (R-Ga.) and Phil Gingrey (R-Ga.), haven't caught fire as many conservatives -- and Democrats -- would have liked, and they're currently polling at the bottom of the field. Instead, Rep. Jack Kingston (R-Ga.) and businessman David Perdue, who have more backing from the establishment, are leading the pack. As Perdue has risen in the polls in recent days, he's increasingly come under attack from his rivals. He has been on the defensive, trying to prove his conservative credentials after saying that the government needs to increase revenue in addition to cutting spending. Former Georgia Secretary of State Karen Handel has picked up the support of some social conservatives such as former GOP presidential candidate Rick Santorum, who endorsed her last week. She had a high-profile battle with Susan G. Komen for the Cure in 2012, when it became public that she pressured the organization to stop giving grants to Planned Parenthood. Patent attorney Art Gardner, one of the few GOP Senate candidates who supports marriage equality, is considered a long shot for the nomination.
PENNSYLVANIA-13: In Pennsylvania's deep blue 13th District, former Rep. Marjorie Margolies, "liberal lion" state Sen. Daylin Leach, physician Dr. Val Arkoosh and state Rep. Brendan Boyle are engaged in an increasingly heated face-off for the Democratic nomination. Each candidate has his or her strengths: Margolies, who is Chelsea Clinton's mother-in-law, has a high level of name recognition among voters; Arkoosh has led in fundraising and has the endorsement of the Philadelphia Inquirer; Boyle has the backing of most of the local unions and Leach has enthusiasm over his support for marriage equality and marijuana legalization.
Boyle has faced attacks over his record on abortion from all three of the other candidates, as well as major women's groups, which may indicate that the others perceive him as the field's front-runner. Arkoosh, who has proudly touted her support for the Affordable Care Act, has distinguished herself by labeling the other candidates as "career politicians." But much of the rancor has been aimed at Margolies: Leach filed a Federal Elections Commission complaint asserting that she illegally used funds designated for the general election during the primary. Former President Bill Clinton's appearance at a fundraiser for Margolies provided the other candidates with the opportunity to hit the former representative for her past support for cuts to Social Security benefits. And Margolies' leadership at a charity she founded invited scrutiny into her role in setting her own pay, and what proportion of the charity's revenue went towards her salary.
OREGON SENATE: Tuesday's primary will determine which Republican will face progressive Sen. Jeff Merkley (D-Ore.) in November. The two main candidates are state Rep. Jason Conger and surgeon Monica Wehby. Both candidates have racked up endorsements, with former GOP presidential candidate Rick Santorum, Oregon Right to Life and the Oregon Firearms Federation all backing Conger. Wehby has the support of former GOP presidential candidates Newt Gingrich and Mitt Romney and tea party favorite Dr. Ben Carson. Wehby has struggled with negative stories in recent days, including a report that last year, she had stalked ex-boyfriend Andrew Miller. Miller had come up earlier in the race because the Oregon Democratic Party filed a complaint with the Federal Election Commission arguing that a super PAC funded by Miller is illegally coordinating with Wehby's campaign. As ABC News notes, Oregon is a vote-by-mail state, so these late revelations may not influence the primary too much, although they're likely to spring up again in the general election if Wehby survives Tuesday.
PENNSYLVANIA GOVERNOR: Gov. Tom Corbett (R) is considered one of the nation's most vulnerable governors in November, inviting Democrats to scramble for the nomination to unseat him. Businessman Tom Wolf appears to have separated from the rest of the field: Rep. Allyson Schwartz, state Treasurer Rob McCord and Katie McGinty, a former secretary of the state's Department of Environmental Protection, are trailing him by double digits in recent polls. A loss on Tuesday would represent a huge disappointment for Schwartz, who was the perceived front-runner until Wolf began pumping millions into his own campaign to preempt the other candidates on the air across the Keystone State. Wolf's momentum has derived from his positive, biographical ads discussing his leadership of his family business, the nation's largest supplier of kitchen cabinets. Schwartz's television ads have been more policy-oriented, as she has touted her contributions to the Affordable Care Act and Pennsylvania's Children's Health Insurance Program. No female Democratic candidate for governor in the state has ever passed the 20 percent mark in a primary, so Schwartz could still make history even with a loss to Wolf.
IDAHO-2: Attorney Bryan Smith, a challenger with strong backing from tea party groups, takes on eight-term Rep. Mike Simpson (R-Idaho) in one of the country's highest profile showdowns between business and conservative outside groups. Whomever wins the primary will be the heavy favorite in this deep-red state in November. The Senate Conservatives Fund, the Madison Project and the Club for Growth have all endorsed Smith, while Simpson has the backing of the Chamber of Commerce, the National Rifle Association and former Republican presidential nominee Mitt Romney. Simpson, who is a close ally of House Speaker John Boehner (R-Ohio), has faced attacks from Smith over his 2008 vote to authorize the Troubled Asset Relief Program and his vote in October to end the federal government shutdown. The incumbent, however, is favored to eke out a win Tuesday.
IDAHO GOVERNOR: Idaho's GOP gubernatorial race shot into national consciousness last week when the four candidates held what's sure to be one of the most colorful debates this -- or any -- cycle. The race is between Gov. Butch Otter, Bible expert Walt Bayes, Harley-Davidson enthusiast Harley Brown and state Sen. Russ Fulcher -- or as Brown described the group, "a cowboy, a curmudgeon, a biker or a normal guy." Otter and Fulcher are widely considered to be the two main candidates, but the governor insisted that all four candidates be given a chance to debate.
Before You Go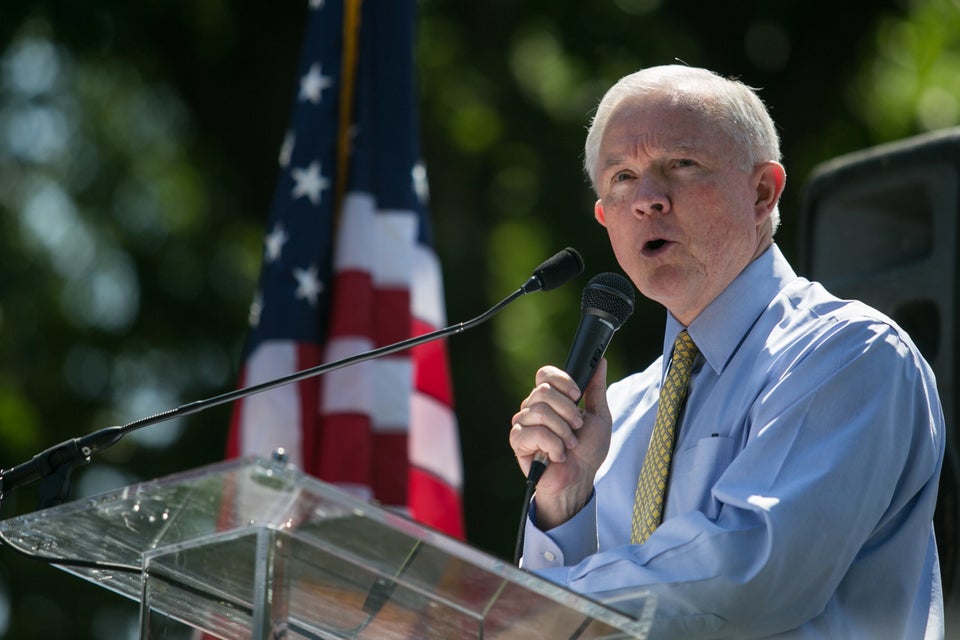 Senate Seats Up For Grabs In 2014
Popular in the Community