San Francisco is currently run by a rogue police department with no oversight nor respect for the community.

Video of SFPD Officers Raphael Masangcay, Joe Emanuel, Matt Leong, and Roderick Suguiton placing 6th at the US Police and Fire Championships, San Diego, CA June 5, 2015
On December 2, 2015, five San Francisco Police Department (SFPD) officers surrounded Mario Woods, a 26 year old black man in the Bayview Hunter's Point neighborhood of San Francisco, and shot him 20 times, resulting in his death. Mario's death was video recorded by several witnesses. Many of the witnesses were children who were on their way home from school.
In the five months since, noone has been held accountable for Mario's death. The officers who killed him went back to work in January. Police- community relations in San Francisco have further deteriorated. It appears that Mayor Ed Lee is afraid of SFPD and of the community, and no other public official is stepping up to change SFPD.
Since April 2011, when Mayor Ed Lee appointed Greg Suhr Chief of Police, SFPD has killed 21 people with impunity. They killed eight people in 2015 alone. The public outcry about the killing of Mario Woods increased scrutiny of SFPD.
On April 7, 2016, SFPD shot and killed Luis Demetrio Gongora Pat, a 46 year old Mexican Mayan immigrant who had recently become homeless after getting evicted from his apartment. The surveillance video is shocking because police begin shooting within 20 seconds of arriving at the scene. His brutal killing has provoked outrage in both San Francisco and Mexico.
Community and Elected Officials Call on CA Attorney General to Investigate SFPD to No Avail
On April 4, 2016, San Francisco Public Defender Jeff Adachi petitioned California Attorney General Kamala Harris to conduct a civil rights pattern and practice investigation of SFPD and reorganize SFPD under consent decree.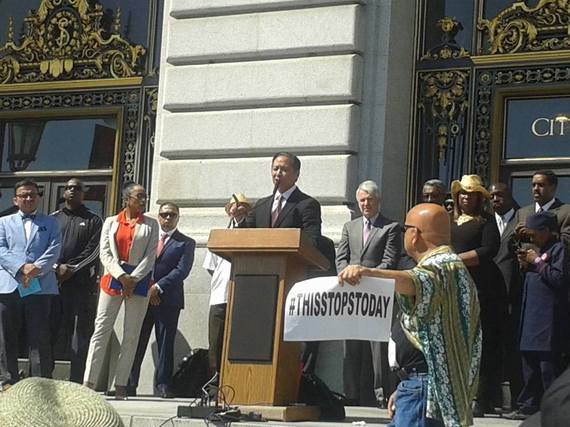 On April 13, 2016, the Justice4MarioWoods Coalition organized a press conference in which Public Defender Jeff Adachi, District Attorney George Gascón, Supervisor Malia Cohen, Supervisor David Campos, Supervisor John Avalos, Benjamin Bac Sierra of the Justice4AlexNieto Coalition, Father Richard Smith of the Justice4AmilcarPerezLopez Coalition, Northern California ACLU Senior Counsel Alan Schlosser, and Reverend Christopher Muhammad and Phelicia Jones of the Justice4MarioWoods Coalition united to request California Attorney General Kamala Harris to investigate SFPD, at San Francisco City Hall, photo by Karen Fleshman
Attorney General Harris, who is running for U.S. Senate in the November 8, 2016 election, responded that afternoon:
Not sure what was taught at UC Hastings, Harris' alma mater, but in my civil procedure class it would have been unthinkable to respond to a formal letter from a public official requesting an investigation in this manner.
Harris' disingenuous response refers to the USDOJ Office of Community Oriented Policing, who began a "collaborative review" of SFPD in February 2016 that will take 18 months to issue unenforceable recommendations. By that time, Harris will likely be well into her first term as Senator.
Furthermore, we already know from the Blue Ribbon Panel commissioned by District Attorney Gascón to investigate SFPD racism after the 2015 texting scandal that SFPD stonewalls and intimidates officers who want to collaborate with investigators.

More Officers Exchange Racist Texts Demeaning the Community
On April 26, 2016, Adachi released text messages by another group of SFPD officers, using racist and homophobic slurs and mocking the outcry over the previous text scandal. Predictably, Mayor Ed Lee repeated his support of Chief Suhr. His office provided the following comment:
"The content of these texts are outrageous. The Chief and the Commission took swift action to separate some of these individuals from the police department and there are disciplinary actions ongoing. The Mayor has been very clear that this ignorant and hate-filled speech will never be tolerated. The mayor believes these statements display a discrimination that is incompatible with the values of San Francisco and with the ability of a police officer to perform his or her sworn duties. Mayor Lee is working with the US Department of Justice on a top to bottom review of the Police Department and is moving swiftly to make sure the department enacts reforms as soon as possible."
Mayor's and Chief's Response to Text Scandal Would Be Laughable if Police Didn't Carry Guns
On April 28, Mayor Lee sent a letter to SFPD officers, asking them to stop being bigoted. And on April 29, Chief Greg Suhr flanked by members of the San Francisco Police Commission, its oversight body, said that all SFPD officers would receive anti-bias training.
I am a professional anti-bias trainer and I can assure you that no letter nor any anti bias training can fix the culture of SFPD. A complete overhaul is needed.
Hunger Strikers Demand Accountability
On April 21, 2016, a group of activists, the #Frisco5, launched a hunger strike at the Mission Police Station demanding that Mayor Ed Lee fire Chief Suhr or resign. Currently in its 11th day, the hunger strike has drawn international attention to the unacceptable state of affairs in San Francisco.
On May 1, 2016 the International Longshoreman's Workers Union is shutting down the port of San Francisco to demand racial justice. Activists who support the Hunger Strikers are planning two massive actions on May 3, 2016.
Awaiting Announcement of District Attorney
Meanwhile, family members and the community are awaiting the announcement of District Attorney George Gascón on whether he is indicting the officers who killed Amilcar Perez Lopez (shot 6 times in the back on February 26, 2015), and Mario Woods (shot 20 times on December 2, 2015) with murder. He declined to indict the SFPD police officers who killed Alex Nieto (shot 59 times on March 21, 2014). Nor did a federal jury find that the officers used excessive force on Nieto.
June 2. 2016 will mark six months since Mario was killed by SFPD.
Whether anyone will take decisive action to bring SFPD into control by then remains to be seen.
Related
Popular in the Community