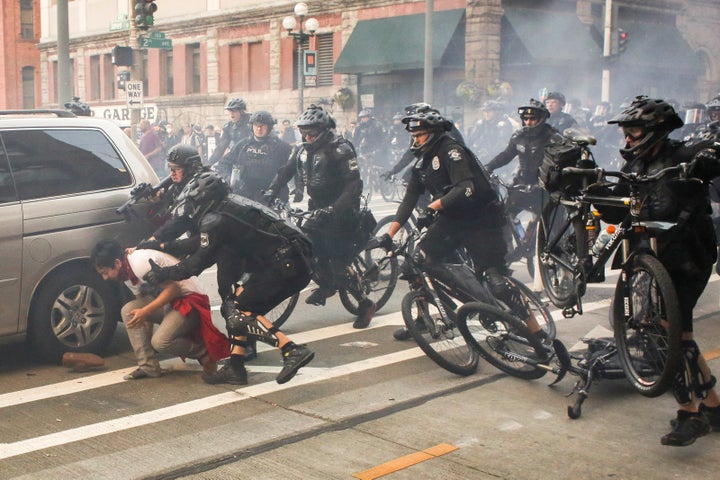 As thousands across the world rallied for workers and immigration rights in celebration of May Day, some protests in Seattle, Paris and Istanbul went from peaceful to violent as protesters clashed with police.
Anti-Capitalists In Seattle Turn Violent
In Seattle, Washington, what began as peaceful protests for immigration and workers rights turned ugly when anti-capitalist demonstrators began throwing rocks and bottles, the Seattle police department said.
Two Seattle police officers were injured and at least seven people arrested on Sunday after a group of unruly demonstrators hurled rocks, bottles and Molotov cocktails and broke windows, authorities said.
Seattle Mayor Ed Murray blamed Sunday's trouble, which he termed "senseless violence," on a "different crowd" from those attending a peaceful May Day immigration march earlier, but he did not give details.
Protesters gather on May 1 each year to focus attention on labor and immigration issues, but demonstrators in cities across the United States also used the occasion to rally against police violence.
The Seattle police department said in a series of posts on Twitter that one officer had suffered a laceration to the head or face as protesters hurled Molotov cocktails.
After making arrests in several places, police said they had contained one group in a parking lot and were slowly allowing small groups to disperse, but were maintaining a presence in the area.
The Seattle Times newspaper reported that police were using "blast balls" to disperse a crowd throwing rocks and bottles, and breaking windows, in a downtown neighborhood.
Earlier, the paper reported that police had used pepper spray several times to break up throngs of demonstrators.
The unrest mirrored violence at a Seattle May Day march last year when crowds threw bottles and wrenches at police, who responded with pepper spray and flash grenades.
Sixteen people were arrested and three officers hurt in that violence, which similarly erupted after a day of peaceful demonstrations to focus on workers' rights, immigration issues and police treatment of minorities.
Los Angeles Highlights Strong Anti-Trump Theme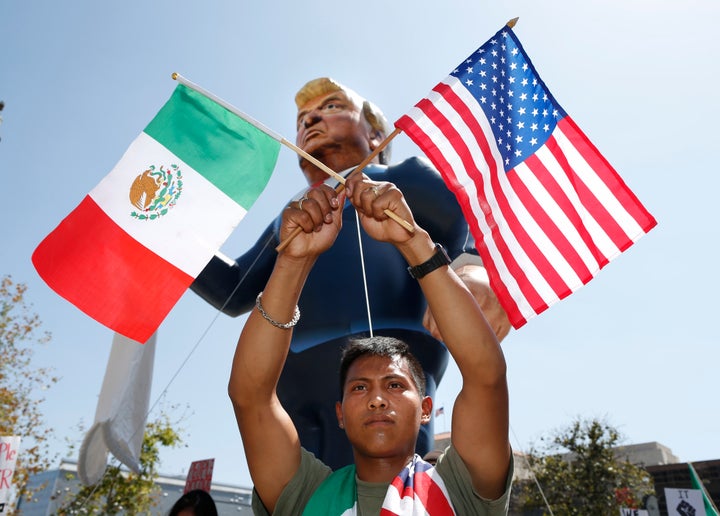 In Los Angeles, California, hundreds of people marched in a May Day rally that took aim at Republican presidential front-runner Donald Trump for his anti-illegal immigration platform that includes building a wall along the U.S. border with Mexico.
The demonstration in America's second most populous city, which has a large immigrant population, came just days after protesters smashed the window of a police car and blocked traffic outside a Trump campaign event in Costa Mesa, California, 40 miles (64 km) southeast of Los Angeles.
On Friday, demonstrators blocked the entrance of a hotel hosting the California Republican convention in Burlingame, south of San Francisco, forcing Trump to halt his motorcade and go through a back entrance to deliver his speech.
The rally in Los Angeles remained peaceful and drew smaller crowds than some past May Day demonstrations in the city, with several hundred people marching through downtown at one point but largely dispersing by mid-afternoon.
Members of the crowd carried a large blow-up effigy of Trump holding a Ku Klux Klan hood, along with signs that read: "Dump Trump."
"He's threatened that should he become president of the United States, in his first 18 months in office, he fully intends to deport all 11 million-plus undocumented persons in the United States. We don't take that lightly," said Juan Jose Gutierrez, of the Full Rights for Immigrants Coalition.
Others waved Mexican or U.S. flags or signs that called for immigration reform and an end to deportations.
A Los Angeles Police Department spokeswoman said no arrests were made and there were no reports of violence.
Young People In Paris Clash With Police Over Labor Laws
Hooded youths clashed with police in Paris during a rally against planned labor reforms, while the government insisted it would not withdraw the bill which is due to be debated in parliament later this week.
Police, who said they clashed with a group of about 300 youths and detained three of them, responded with tear gas.
The reforms would give employers more flexibility to agree in-house deals with employees on working time, a move the government says is needed to bring down unemployment now above 10 percent.
Critics say the reforms will lead to poorer working conditions and more sackings.
"The draft bill is fair and necessary for the country," Labor Minister Myriam El Khomri told Europe 1 radio, Le Monde and iTELE in an interview.
More than 80,000 people marched throughout France on Sunday, including up to 17,000 in Paris, police said. That is far fewer than in the first rallies against the reform which started two months ago.
The CGT labor union said there were 70,000 protesters in Paris alone.
Three days ago, over 100 protesters were detained country-wide in another series of marches against the reform.
200 People Detailed In Istanbul After Tear Gas Fired
Turkish police fired tear gas and water cannon and detained more than 200 people after scuffles broke out at May Day celebrations in Istanbul and some anti-government protesters tried to breach a ban on access to the main Taksim square.
Security was tight across Turkey's biggest city, which was hit twice this year by attacks blamed on Islamic State. Around 24,500 members of the security forces were deployed for the May Day celebrations, according to the Istanbul governor's office. Police scanned the streets from helicopters overhead.
"Some illegal groups who want to damage the peace and safety of our people attempted illegal marches and demonstrations primarily around Taksim square ... under the pretext of May Day celebrations," the governor's office said.
"A total of 207 people have been detained and some 40 Molotov cocktails, 17 hand grenades, 176 fireworks ... and lots of illegal posters have been seized," it said.
A 57-year old man was killed when he was run over by a police water truck while trying to cross the street, broadcaster CNN Turk reported. The governor's office said he was struck as the vehicle was maneuvering.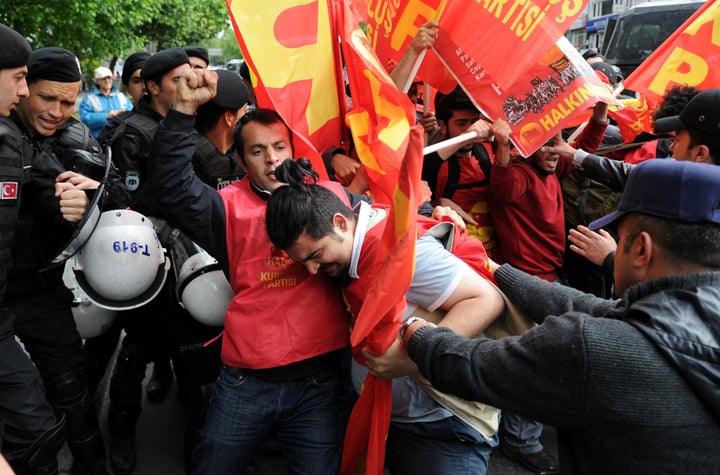 Taksim square was home to May Day celebrations until 1977, when dozens of people were killed during demonstrations, dubbed the 'bloody May Day'. The square was reopened for celebrations in the late 2000s but was shut again in 2013.
It became the main rallying point for 2013 anti-government protests in which tens of thousands of people demonstrated against President Tayyip Erdogan, then the prime minister.
A usually bustling square lined with cafes and hotels, Taksim was entirely cordoned off on Sunday and filled with riot and plain clothes police. Public transport leading to the neighborhood was shut down.
Thousands of people attended celebrations in a designated area in Bakirkoy district near the airport. The mood was bittersweet with many people criticizing the government for keeping Taksim off limits.
"Nobody has guns or bombs. People will come and express themselves, but the state prevents them even from coming to the area they allocated," union member Fatma Akaltu said.
Brief brawls erupted in Bakirkoy, where police detained several supporters of the pro-Kurdish Peoples' Democratic Party (HDP) after they chanted "Long Live Kurdistan".
Related
Before You Go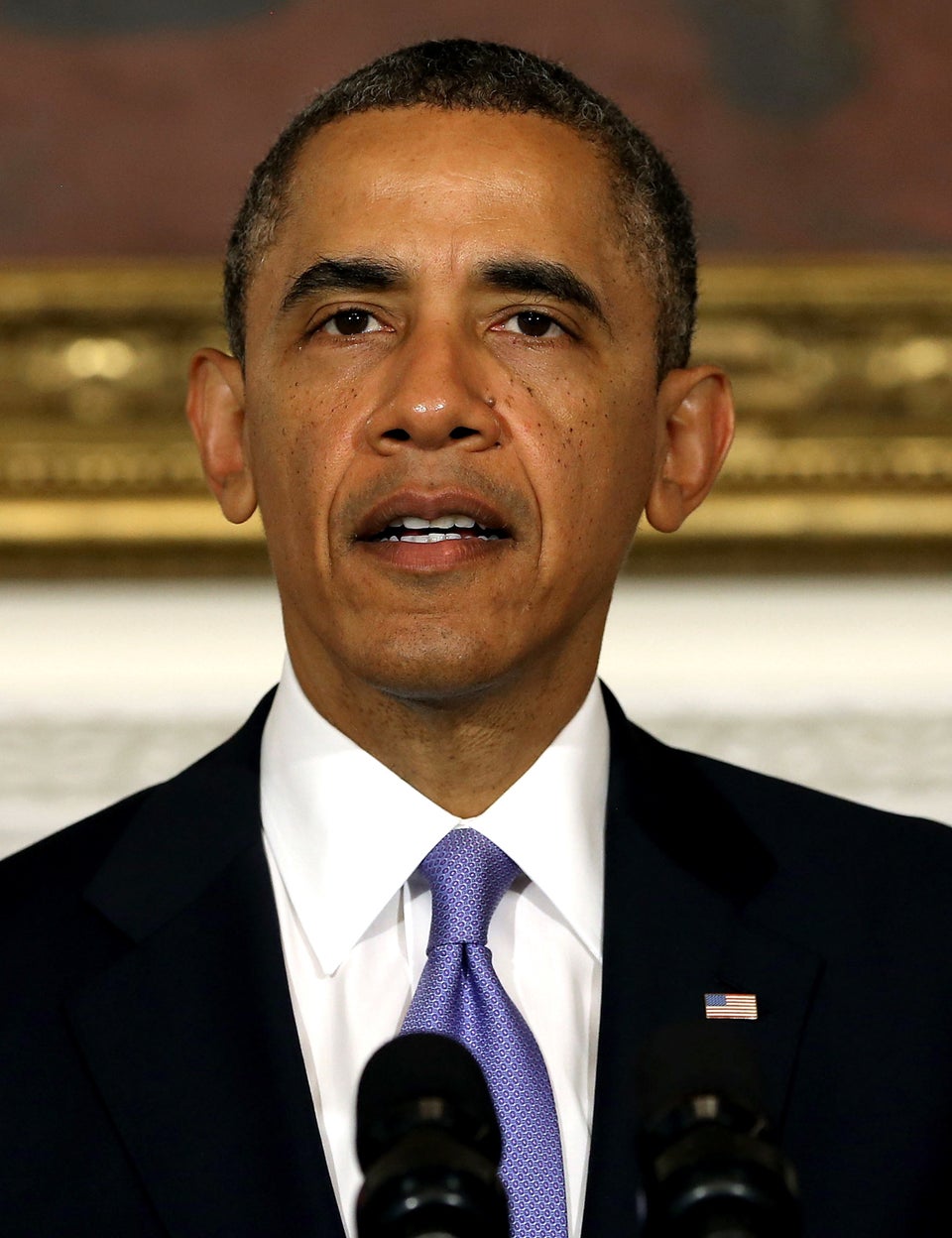 11 Ways Immigration Reform Helps The Economy
Popular in the Community