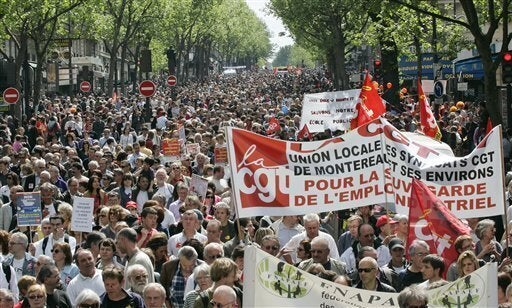 Virtually no one in the US celebrates May Day, International Workers' Day - and yet it all started here, and we continue to export the violence faced by the workers it commemorates. Workers who sew our clothes, grow our flowers, mine the metals used in our cars and cellphones are still facing the same problems faced by US workers a century ago.
It is worth taking a minute to reflect on what the world should have learned from the violence of the Haymarket Square, Chicago protests of May 1886, to push for an eight-hour workday. Those protests were violently dispersed by police. An anonymous bomb sparked a police riot and resulted in the shooting of several people, and was then used as an excuse by a hostile US government to quell further labor dissent.
Once, organizing in support of decent labor laws was a life-threatening proposition here. It still is, in places like Colombia, the Philippines, Zimbabwe and Pakistan. Where civilian governments fail to exercise effective control over military and paramilitary, it's the law of the jungle for workers - but just business as usual for investors.
On April 19, while President Obama was shaking hands with Colombia's President Uribe, mine workers for a US coal company in Colombia were being violently assaulted by Colombia's National Guard. The workers were engaged in a peaceful demonstration in solidarity with a worker who was killed on the job on March 23, and to demand enforcement of better safety and health protections in the workplace. National Guardsmen surrounded the meeting with tanks, injured several workers, and detained the union leaders.
In the meanwhile, during the same weekend and halfway around the world in the Philippines, courageous Filipino workers in the country's export processing zones held a sympathy strike in support of 33 garment factory union leaders. These organizers have been in hiding since a March 17 warrant was issued for their arrest, posting criminal charges against these mainly women workers for defending themselves from a violent assault by police on their picket line. Masked men wearing military uniforms and wielding guns and other lethal weapons violently dispersed the striking workers and threatened to kill them; yet it is the workers who face criminal charges by the Philippine government.
Our trade agreements with these countries could help, but they don't. Agreements like the proposed US-Colombia free trade deal fail to tackle the political realities in countries where violence is the norm. It's time for some preconditions to labor conditionality, to make sure that the Haymarket Square riots cannot keep being repeated around the world.
First, as a precondition to signing a trade pact the US needs to apply a means test to determine who really controls the governments of our trade partners- the civilian authorities or the military.
To stop companies and militaries or paramilitaries from acting in collusion with one another, there need to be transparency of payments measures and other anti-corruption laws in place and enforced.
Finally, and only if the other preconditions are in effect, human rights norms need to be in place to provide final and uncompromising safeguards to those who face violence, to ensure that the perpetrators can be brought to justice. But that's not all- even with preconditions in place, workers around the world STILL don't enjoy the right to an eight-hour work day or even to the basic protections of labor law. There are less violent ways to prevent workers from enjoying legal protection for the basic right to associate.
In many countries, including Colombia and the Philippines, a weak labor code has weakened union members' rights to collective bargaining and made it extremely difficult for workers to form unions. Subcontracted labor recruitment is increasingly common around the world, where middlemen hired by large companies are paid to recruit, transport and distribute workers' wages. These contracted workers find themselves in a legal loophole, not entitled to coverage under the country's basic labor laws. Labor rights clauses in trade agreements or corporate codes cannot be enforced unless companies and governments find ways to measure these forms of repression.
We should think about commemorating May Day this year by standing in solidarity with the workers of Colombia and the Philippines, and anywhere where organizing is a life-threatening proposition.
Calling all HuffPost superfans!
Sign up for membership to become a founding member and help shape HuffPost's next chapter