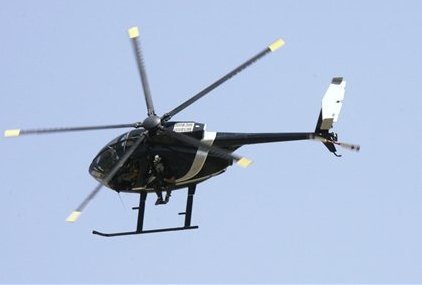 Let me be the first to wish you Happy Mission Accomplished Day, which arrives in less than 24 hours. In a just world, the media will provide as much coverage tomorrow about what has transpired in Iraq since that not-so-magical moment on the aircraft carrier as they did on the day itself, but they won't, so it is up to others to do it.
Feel free to dust off all the great quotes from that day, such as Chris Matthews gushing over Bush, "He won the war. He was an effective commander. Everybody recognizes that, I believe, except a few critics." As Bush spoke before the Mission Accomplished banner, American casualties stood at 139 killed and 542 wounded. That was nearly 4000 lives lost ago, and a Rand Corp. study released this month reveals that we now have 300,000 vets with mental problems of some sort.
Just to remind you: The jet landing with Bush emerging in his flight suit and cod piece, it turned out, was a pure stunt. The White House had said that the Abraham Lincoln was too far offshore for the usual helicopter landing, but when the big moment arrived the carrier was only 30 miles off San Diego, an easy trip by copter.
To focus on just one other aspect today (my new book on Iraq and the media goes into all this in-depth), let's explore the issue of the Mission Accomplished banner itself. Surely you recall that there was great controversy over it but here's a refresher.
-First the White House claimed that the banner was the Navy's idea, it had nothing to do with it - the sailors just wanted to celebrate their own homecoming, no more than that.
-When word emerged that the White House had actually made the banner, a spokesman explained, well, the Navy was not cut out for that sort of thing so we produced it - but it was still all the sailors' idea!
-Okay, the White House admitted, we not only made it, we hoisted it - but still, it was for the sailors!
-"Even that explanation didn't sit well with some long-time Bush aides," Time magazine later reported, quoting one: "They (the White House) put up banners at every event that look just like that and we're supposed to believe that at this one it was the Navy that requested one?" Other insiders recalled staffers boasting about how the president had been specifically positioned during his speech so that the banner would be captured by cameras.
And so "bannergate" was born - along with the image of the president spiking the ball on the five-yard line before scoring a real touchdown. "He blamed the sailors for something that his advance team staged," said General Wesley Clark. "I guess that next thing we are going to hear is that the sailors told him to wear the flight suit and prance around on the aircraft carrier. This is a president who does not want to take accountability." Well, some things never change.
Popular in the Community