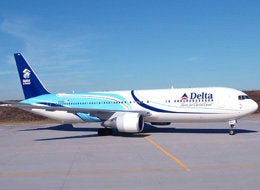 Smita Premkumar grew up fairly well-to-do in Mumbai. Her father, now
retired, was Chief Secretary for the Indian state of Maharashtra. She
moved to the United States 15 years ago, earned her Ph.D. in genetics
and statistics from Louisiana State University Medical Center in New
Orleans, joined the American work force and in 2004 was hired by Delta
Airlines in Atlanta, where she is now general manager of onboard
product, overseeing a $12 million budget.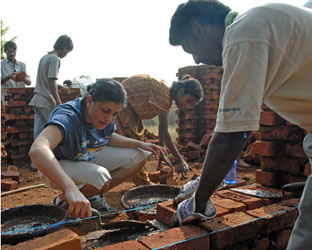 At the age of 36, she owns a new 2-bedroom loft in the up-and-coming
Edgewood section of Atlanta and is living what many would consider a
charmed American dream. As would she. But all along, she says, she
never forgot the pockets of extreme poverty she witnessed in the
villages surrounding Mumbai. In Hindi, they are called jhopadpatti -- slums.
"For years I have been wondering what I can do to help them," she said.
Ms. Premkumar was particularly drawn to the Habitat projects; over the
last decade 100 Delta-sponsored homes have been built in the U.S.,
Ghana and South Africa. Last year she spend several days with Delta
colleagues on a build just south of Atlanta.
Several weeks ago Ms. Premkumar had a chance to fulfill an old dream
that coincided with Delta's penetration into international
destinations, including nonstops from New York's JFK to such cities as
Accra, Ghana, and yes, Mumbai, India.
"As we open new market internationally, we also want to export the good
will programs to communities, as we have been doing for 70 years," said
Scarlet Pressley-Brown, Delta's general manager for Global Diversity
and Community Affairs. Some 10,000 Delta employees have donated time
throughout the world.
When Delta hooked up with HFH India's ambitious IndiaBUILDS campaign, a
five-year strategy to serve 250,000 Indians with improved housing and
sanitation, Ms. Premkumar joined about 40 Delta employees plus -- for
the first time -- half a dozen Delta customers who earned the
opportunity to volunteer by bidding their Delta SkyMiles in an online
auction. Three SkyMiles members bid more than 118,000 miles each (which
will be donated to Habitat for Humanity) and won a voluntourism package
for two that includes round-trip coach tickets to Mumbai, seven nights'
accommodation, all meals and transportation within India and the chance
to roll up their sleeves and work side-by-side with Delta volunteers.
Upon her return just before Thanksgiving, Ms. Premkumar shared notes
from her diary:
"The village of Nagewadi is in a remote area north of the commercial
center. Delta and Habitat helped build 8 homes for tribal farmers and
their families. The village has a mix of kucha and pukka houses. The
pukka houses belong to people that can afford a home; the kucha houses
are made from reed and cow dung paste. I was assigned to build a home
for Chebi and Vithal Thorad, and their three girls, Ashwini, Sadhna and
Manda.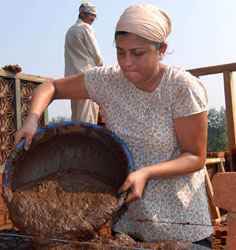 We worked all day from 8 am to 4:30 pm in 95 degree heat. The home was built from bricks and mud. Following a brief learning curve, I soon got the hang of it. The last day of the build we decorated the houses for a dedication ceremony that was very emotional. We presented the families with steel cooking utensils for cooking. The children had created Rangoli's (colorful designs on the floor to signify celebration/a happy occasion). We took several Polaroid pictures of the kids and families and left them behind for them. The joy on their faces was precious. This rewarding feeling and the smiles on the children's faces makes it all worthwhile. To me it was a life-changing experience. There is no doubt in my mind that we got more out of this than they will."
Her final note revealed a take-away lesson we could all relate to,
whether we grew up in wealth or in poverty: "Today time is a more
precious commodity than money. We are busy people with cell phones and
Blackberries keeping us connected every moment of the day. We are busy
saving for the future and taking care of ourselves and our loved ones.
This experience helped me hit the pause button for a few days."
Listen, I am trained as a journalist to be at least as cynical as you.
Airlines are often seen as one of the enemies in the environmental
movement.They use a lot -- a lot! -- of fossil fuel. On average large
planes get .42 miles per gallon, according to the Bureau of
Transportation Statistics, in D.C. You do the math from Point A to B
(New York to Mumbai is 7,800 miles), multiply those miles by however
many airlines you can rattle off in 30 seconds, then multiply that by,
safely, 10 and you will have a lot of fossil fuel released into the
ozone on a daily basis.
So Delta does a good turn and expects me to roll over, look the other
way at their emissions and pat them on the back for trying to balance
the account with some do-good publicity. Generally, I am not so easily
had, but when I talked to Ms. Premkumar and read her diary entries, I
realized change can occur from within, one person and one program at a
time. So I commend people like her and Ms. Pressley-Brown. I applaud
Delta for raising close to half a million dollars for the Breast Cancer
Research Foundation through corporate contributions and the sale of
"pink" products on flights. I salute them for offering customers who
buy a ticket through Delta.com the chance to
donate $5.50 for domestic roundtrip flights and $11 for international
roundtrip flights to the Conservation Fund to plant trees throughout
the U.S. and abroad. And I respect their efforts to raise consciousness
about that old horse of the environmental movement, recycling, by
collecting more than 83 tons of materials in just four months since
last June.
These are small drops in the planetary bucket but with such industry
role models, perhaps we can have our air travel with a little less
guilt.
Related