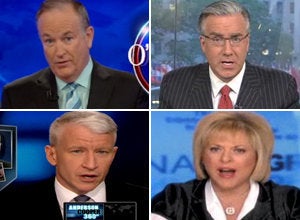 Nielsen's May 2009 ratings are in, with Fox News again leading the cable news race by wide margins.
Fox News Wins Ratings Race (Again)
Fox News retained its #1 spot, averaging more total viewers in Monday-Sunday primetime (1.959 million, up 24% over May 2008) than CNN (767,000, down 22%) and MSNBC (756,000, up 10%) combined. HLN came in 4th with 535,000 total viewers, up a staggering 41% over May 2008. In weekday primetime, Fox News averaged 2.292 million total viewers, again more than MSNBC (891,000) and CNN (842,000) combined. HLN came in 4th with 618,000 total viewers.
In the Monday-Sunday prime demo (A25-54), Fox News took first with an average of 463,000 viewers (up 30% over May 2008), again more than MSNBC (250,000, down 9%) and CNN (194,000, down 37%) combined. HLN came in 4th with 192,000, again up a staggering 40% over May 2008. In the weekday prime demo, however, HLN (219,000 viewers) bested big sister network CNN (216,000 viewers) for the third place crown, while Fox News averaged 561,000 viewers and MSNBC averaged 270,000 viewers.
MSNBC Beats CNN (Again)
May was the third month in a row that MSNBC beat CNN in the weekday prime demo and the second in three months beating CNN in total viewers in weekday primetime, solidifying its standing as the #2 network in weekday primetime. Additionally, "The Rachel Maddow Show" was up 60% in total viewers over the 9PM timeslot a year ago (895,000 in May 2009 vs. 560,000 in May 2008 for Dan Abrams' "Verdict"), and up 14% in A25-54, where it beat "Larry King Live" at 9PM for the 7th time in 8 months.
Programs
Fox News claimed 9 of the top 10 programs in weekday primetime, with the "O'Reilly Factor" (2.989 million total viewers, 702,000 A25-54) leading the pack for the 102nd consecutive month. "Hannity" (2.165 million total viewers, 551,000 A25-54), "Glenn Beck" (1.962 million total viewers, 472,000 A25-54), "On the Record with Greta van Susteren" (1.814 million total viewers, 452,000 A25-54), and "Special Report with Bret Baier" (1.784 million total viewers, 392,000 A25-54) rounded out the top 5. MSNBC's "Countdown with Keith Olbermann" was the only non-Fox News show to crack the top 10, coming in at #10 with 1.094 million total viewers and 323,000 A25-54.
Olbermann, Cooper Shed Viewers Year-to-Year
May 2009 was the first month since September 2006 that Keith Olbermann's "Countdown" declined against the previous year in the A25-54 demo. In May 2009, Olbermann averaged 323,000 A25-54 viewers, down 21% from his primaries-fueled May 2008 average of 408,000 (though up considerably from May 2007's average of 200,000). Olbermann has been a ratings juggernaut for several years on MSNBC, with his last year-over-year monthly decline coming in September 2006 (compared against September 2005's numbers, which were inflated due to Hurricane Katrina coverage).
HLN Through The Roof
HLN ratings are booming, with the network up 41% in Monday-Sunday primetime total viewers, 40% in Monday-Sunday primetime demo, 11% in total day total viewers, and 19% in total day demo. In weekday primetime, HLN is up 43% in total viewers (619,000 in May 2009 vs 434,000 in May 2008) and 40% in the A25-54 demo (220,000 in May 2009 vs 157,000 in May 2008). Nancy Grace posted the best May performance in the network's 27-year history at 8PM in both total viewers (873,000) and the A25-54 demo (304,000).
Calling all HuffPost superfans!
Sign up for membership to become a founding member and help shape HuffPost's next chapter