"I saw women on the street cars with their little changer belts... And they had caps with bills on them and they had form-fitting jackets," Dr. Angelou recalls. "I loved the uniforms! So I said, 'That's the job I want.'"
Though Dr. Angelou admits that she didn't think much about the accomplishment of becoming the first black street car conductor at the time, her mother certainly did. After Angelou had been denied an application for the job, her mother encouraged her not to accept defeat. "I went back to my mother and said, 'They wouldn't even allow me to apply,' and she asked me, 'Why? Do you know why?' I said, 'Yes, because I'm a negro,'" Dr. Angelou tells Oprah. "'[My mother] said, 'Yes, but do you want the job?' I said yes. She said, 'Go get it.'"
Vivian told the then-16-year-old to go sit in that office every day, arriving before the secretaries and not leaving until after they left -- something Dr. Angelou says she did for two weeks, amid jeers and harassment. "They laughed at me, they pushed out their lips and used some negative racial [slurs]," Dr. Angelou says. "But I sat there... I was afraid to tell my mother that I wasn't as strong as she thought I was."
After two weeks, Dr. Angelou got the job. In the video, she also talks about what happened after she was hired as San Francisco's first black street car conductor -- telling Oprah a story involving Vivian and her pistol -- and also reveals what she learned about herself from the experience.
Before You Go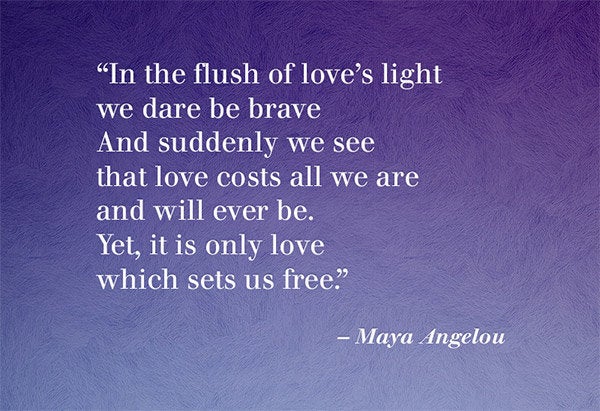 7 Inspiring Quotes From Maya Angelou